Why Fans Will Pretty Much Buy Anything Rihanna Sells
Rihanna rose to fame in the music industry, cultivating a tough-girl persona that fans absolutely loved. Over time, Rihanna has branched out, becoming a business mogul unlike any other.
These days, Rihanna is known equally for her work in music as well as for her businesses – and perhaps even more surprising is the fact that fans just can't get enough of her products.
What's more, there is no sign of her brand slowing down anytime soon. Read on to learn what Rihanna's businesses are and why she inspires such deep fan devotion.
What businesses does Rihanna operate?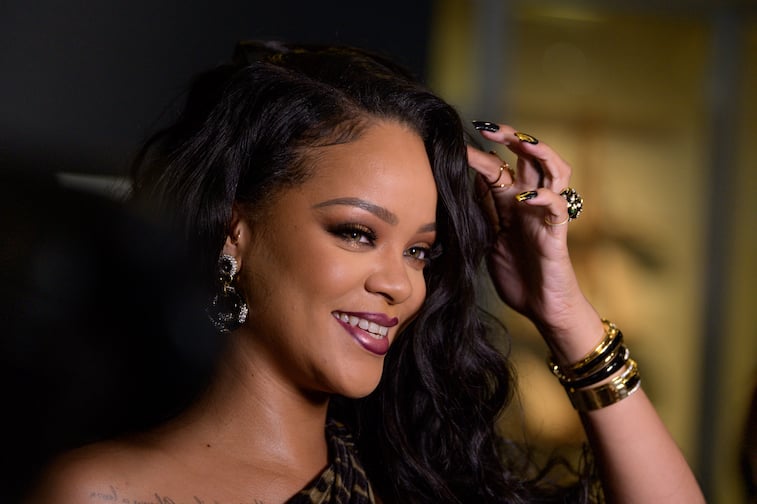 Rihanna first started appearing on the popular music charts in 2007 with songs like "Umbrella" and "Don't Stop the Music." Critics loved her music and fans couldn't get enough of her wit and charming personality. There was every reason to think that Rihanna would continue to dominate the charts for decades to come.
Still, she proved to be multi-talented and in 2011, she released her first fragrance. The initial launch would lead to three more successful fragrances, and ultimately, a booming cosmetics empire that would shatter records and inspire millions.
In late 2017, Rihanna launched Fenty Beauty, a cosmetics line designed to cater to all skin tones. Nothing quite like Fenty Beauty had ever really existed in the world of beauty before, and it became immediately popular, praised for it's winning formulas as well as the overall message that great makeup is for everyone.
Rihanna didn't stop there, however. She went on to launch her own lingerie line in early 2018, and she has also collaborated on shoe designs, jewelry collections, and a luxury fashion line. Rihanna is truly unstoppable, and definitely one of the most successful women of the decade.
Rihanna's fans are fiercely loyal to her
In addition to the quality of the products that she releases, it seems as though part of Rihanna's success can be attributed to the devotion of her fanbase.
According to a 2016 study, Rihanna's fans are 3.7 percent more likely to purchase products from her than from any other celebrity. That is a pretty staggering figure and one that requires some study.
After all, Rihanna hasn't been as present in music lately as she has been with her other businesses, so in theory, fans could have stopped paying attention to the things that she does — but in fact, she has managed to become even more popular in the years since her hiatus from the music industry.
Why do fans love Rihanna so much?
There are a plethora of reasons why Rihanna's fans have remained so utterly devoted to the star. For one, she's a complete original. Hailing from Barbados, Rihanna's music has always carried a bit of reggae flair, making it different than almost anything else on the radio.
That originality has carried over to her personality as well. Rihanna has never minded calling out other celebrities on social media and doesn't seem to have much of a filter – something that is truly unique in the manufactured world of the music industry.
Of course, fans have also cited her incredible fashion sense, her many tattoos, her open and honest attitude towards relationships, and the difficult circumstances surrounding her childhood as reasons to love her.
Ultimately, Rihanna's popularity isn't due to one thing, but a combination of factors that have all contributed to sending Rihanna soaring to the top. With a net worth of $260 million, and in the prime of her career, Rihanna is clearly only just getting started.
Stay tuned to Showbiz Cheat Sheet for all the latest Rihanna news!