Why Gage Edward Is Threatening to Hire a Lawyer, According to Jeff Lewis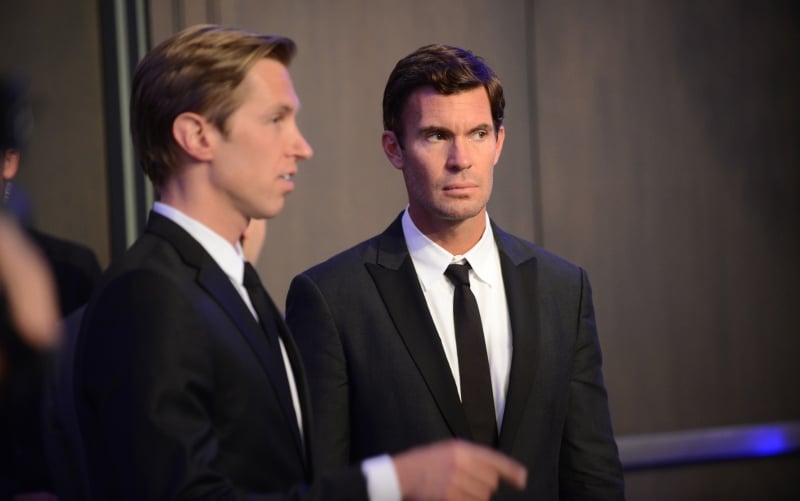 The former Flipping Out couple recently broke up and seem to be figuring out how to deal with it for the sake of their daughter, Monroe. At first, Jeff Lewis said there was hope of them getting back together. Now things might be getting worse! Lewis claimed Edward threatened to hire a lawyer. Here is everything you need to know.
Gage Edward and Jeff Lewis has split and now live apart
The Flipping Out star revealed on his show, Jeff Lewis Live that he and Edward are no longer together. He also revealed a lot about the state of their relationship leading up to the split.
"This has been a long time coming. We were in separate rooms a significant portion of last year, so it was kind of like a roommate situation," said Lewis. He also revealed why they tried to stay together for so long.
"I think the reason we hadn't ripped the Band-Aid off and separated is because a) we had the baby and neither one of us want to leave the baby and then b) financially, it wasn't the best time because I have four properties right now — three of which are in construction and one of which is sellable," he said.
Edward reportedly felt Lewis announcing their split made it final
Edward hasn't spoken publicly about the breakup, but Lewis has talked about their alleged private conversations on his show. In one episode, he revealed that Edward felt like things changed when Lewis announced their split.
"I did talk to Gage yesterday," Lewis said before revealing, "He said, 'You know, I really feel like by you announcing that, it made things final.'"
The designer disagreed. "And I said, 'You know, I don't think that it actually made it final. I think every single person we know is hoping for a reconciliation.'"
He continued with "I don't think anyone would be upset if we worked it out in a month or two or three or four or five." Lewis has continued to be open about their conversations and Edward has continued to be silent. It sounds like their differences might lead them to court.
Edward reportedly threatened to hire a lawyer because things are going down a destructive path
Lewis revealed on his show, that his ex threatened legal action against him. He talked about Edward's frustration with the state of their relationship.
"Yesterday we had a very enlightening heart to heart about how this could go, and I did not like how this could go," the Flipping Out star said on March 7, according to People. "It was very eye-opening to me. It was very much of a wake-up call."
The radio show host said Edward told him "If you continue down this destructive path, if you continue coming at me, you're going to force me to hire an attorney. You're going to force my hand."
In a previous episode, Lewis accused Edward of going on a date with someone else. He called the mystery date a "home wrecker." In another episode, Lewis said he accidentally texted Edward after a therapy session and it included something critical about the boyfriend and Edward responded, according to People.
Lewis claimed his response said "It's harassment, malicious, and continuing to show you have a full intent to destroy my character. Those weren't therapy notes, they're notes for your radio show."
Read more: Jeff Lewis Claims Gage Edward Is Dating Someone Else After Breakup
Check out The Cheat Sheet on Facebook!