Why This 'Gilmore Girls' Star Wants Another Season On Netflix
One of the most beloved WB-CW series, Gilmore Girls, received the streaming treatment when it was revived for a single, short season on Netflix. Here's what one Gilmore Girls actor would want to see if the series returned once again.
Gilmore Girls originally ran for seven seasons
The WB hit drama series began in 2000. Starring Lauren Graham and Alexis Bledel as mother-daughter duo Lorelai and Rory, the show depicts the young mother and her teenage daughter growing and changing in a small Connecticut town. It also shows their friends and family, most notably Lorelai's wealthy mother and father, from whom she's initially estranged.
A lot changes over the course of the series, from significant others to familial relationships. Additionally, one behind-the-scenes change made all the difference: Creator Amy Sherman-Palladino and her husband, Daniel Palladino, left at the end of Season 6. Season 7 was a bit of a departure and led to the series' cancelation in 2007.
The Netflix revival received mixed reviews
Many fans were not happy with the end of the series. Sherman-Palladino was in agreement, as she had always had a plan for how she would end the show, including the final words that would be uttered. Fortunately, she had a chance to amend this.
In 2016, a Netflix revival came in the form of a four-part miniseries, titled Gilmore Girls: A Year in the Life. Each episode was essentially a movie, named for the four seasons that made up the year depicted. In the end, Sherman-Palladino was able to have the four words she planned to wrap up the series.
What one Gilmore Girls actor wants to happen
Actor Scott Patterson, who plays Luke, was recently asked by Us Weekly what he would want for his character in a new season. "Well, I'll tell you one thing, [there] better be a big, fat wedding [for Luke and Lorelai]!" he said. "I think that's what we should give [fans] … I think now it's time to give them, after 20 years, what they want."
Patterson even had some ideas for the Palladinos, saying that the celebration should be, "big, funny, fun." "Filled with drama, filled with laughs, filled with, you know, Miss Patty [forgetting] the dancers and then they [would have] to replace them with little children or dogs," he said. "Something very cute and goes right to the heart. A community pulling together to make it all happen."
Could there be another season on Netflix?
So will this wedding ever come to fruition? Patterson feels positive about the future of more Gilmore Girls. "If everybody can make the right deal, then it'll happen," he said. "If everybody's available, then, you know, it could, it could happen…there's always hope."
Getting everybody together might be one of the biggest issues. Right now, Bledel is busy with the Hulu series The Handmaid's Tale, while the Palladinos are hard at work on their Emmy-winning Amazon series The Marvelous Mrs. Maisel. And Graham's focus is elsewhere entirely, as she continues to write books and channel her passion into her own book club.
Here's why many fans don't want more Gilmore Girls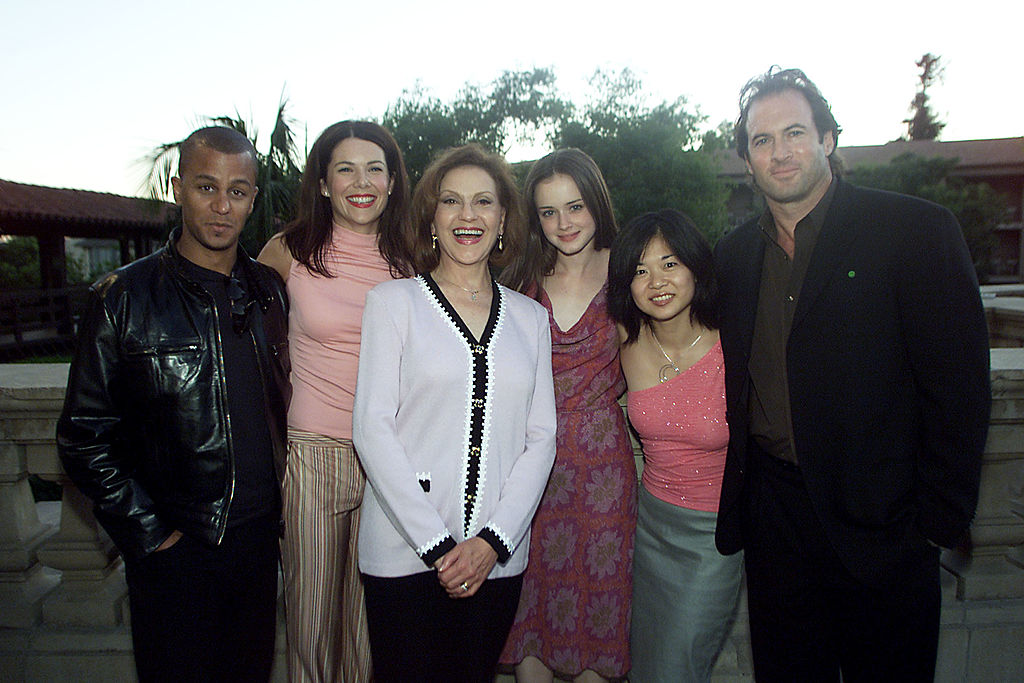 While some may be clamoring for a big Lorelai-Luke celebration, others are satisfied with what they were given. After all, Sherman-Palladino was able to end Gilmore Girls the way she wanted: With a cliffhanger. And maybe it should stay that way.
Still others weren't as pleased with the revival series, especially the depiction of Rory, who fails to ever really grow up and become a working adult. If the show does return, we hope it will be to establish more growth for this once beloved character, as well as reveal what she plans to do about her pregnancy.