Why 'Grey's Anatomy' Fans Might Never See Callie Again After All
After years on the air, Grey's Anatomy is now a virtual who's-who of former cast members who've made the show into the phenomenon it still is. While many have come and gone, one true favorite was Dr. Callie Torres (played by Sara Ramirez) who was a part of the show for over a decade until leaving a few years ago to have some time off.
Fans have been sorry to see her leave, because she was the only bisexual character on Grey's, something not revealed until later seasons. Her relationships with some of the male doctors, followed by a marriage to Arizona Robbins, made the Callie character one of the most complex and celebrated on TV.
Now Shonda Rhimes wants Ramirez back to play Dr. Torres. The problem is, Ramirez now has a cushy job over at CBS on Madam Secretary.
The legal problems when working at a different network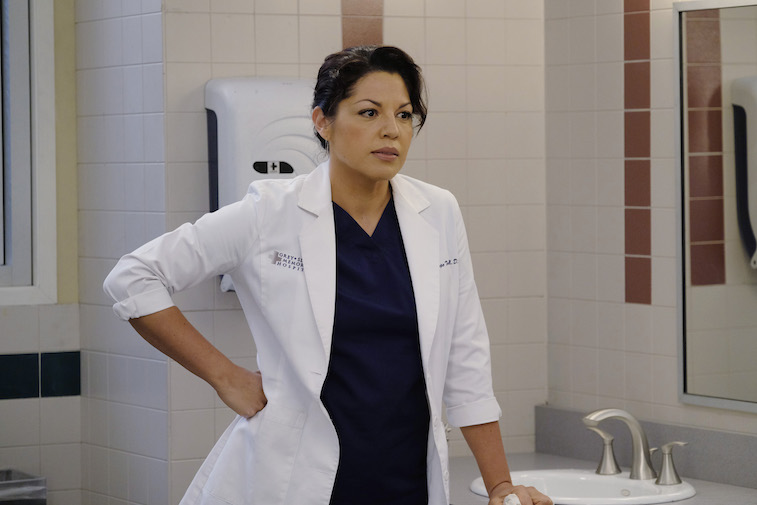 It's certainly not the first time an actor left one show and then started work on another. Sometimes it involves working on the same network, as we've seen with Michael Weatherly leaving NCIS to star in Bull on CBS.
While Ramirez certainly deserves a starring vehicle, she's at least playing an important role on CBS's Madam Secretary. She's now playing Kat Sandoval, Elizabeth McCord's new policy advisor.
Even though she's considered a newbie to the show, she's already nurtured a new character that's hitting it off with fans. However, Ramirez will never shake off the Dr. Torres character considering the impact she made.
According to Rhimes, she's asked Ramirez to come back to guest-star on Grey's Anatomy. CBS put a kibosh on it for a while, no doubt knowing Ramirez was a prized star now devoted to a new network.
Proof that the main networks are still in competition with one another
In more recent years, it wasn't unusual for a star to appear on two different shows on different networks. The extreme competition between ABC, CBS, NBC, and Fox is something more attuned to a different era before cable ate into their profits.
If the networks still work together on many things and sometimes share stars, they don't always share their top talent. Perhaps that looks like something out of the old studio system from 70 years ago when stars had to work under an exclusive contract.
One thing for sure is Madam Secretary has become a prized show on CBS, even if the network doesn't receive the ratings they once did in their heyday.
More than that is valuing the worth of the celebrities they've landed. Those perplexed why Ramirez maybe won't act on Grey's Anatomy again should look to see how talented she really is. Don't fret completely, though, because Ramirez herself has been hinting for a while toward a compromise.
Various reports have been circulating for 2 years on Ramirez's return
Google up the story of Ramirez returning to Grey's and you'll find dozens of stories since 2017 of she said/network said about the return of Dr. Torres. Ramirez has said she wants to return, yet said the ball was in ABC's court. Others have said it's more up to CBS.
Now there seems to be more definitive news maybe it really will happen, including an Arizona Robbins romantic reunion. Sooner or later, it seems the competition between networks gives way to give fans what they really want to see. Ramirez hinted on Twitter about it possibly being a reality soon once a deal is reached.
As a multi-talented actress and singer, Ramirez is obviously valued by ABC and CBS, which might involve a tug-of-war over finding her way back to her TV roots.
In a time when so many actors are sometimes undervalued, it's refreshing to see TV networks have to negotiate again over using a star on a favorite drama.