Why 'Hamilton' Is the Coolest Broadway Musical Ever
Musical theater may not be your thing. That's fine — between Disney adaptations and stuffy old song-and-dance numbers, Broadway has seemed largely out of touch with the modern world for quite some time. But that's starting to change, and in a major way, thanks to Lin-Manuel Miranda. He's a 35-year-old Washington Heights native, and a recent recipient of the MacArthur fellowship. He's also the composer, writer and star of Hamilton, the biggest hit on Broadway today.
[Update, 2/16/16: 'Hamilton' has won a Grammy Award for Best Musical Theater Album.]
[Update, 4/19/16: 'Hamilton' has been awarded the Pulitzer prize for drama.]
[Update, 5/3/16: 'Hamilton' has garnered a record 16 nominations at the annual Tony Awards.]
There's a reason everyone from Madonna to President Obama have made time in their busy schedules to see this exciting new musical. It's a biographical rendering of the life of founding father and U.S. treasury secretary Alexander Hamilton, set primarily to rap and hip hop music. While that may sound a little surprising, Miranda explains that Hamilton "is a story about America then, told by America now." And it's more than just telling the story. Here are a few ways it's changing the face of Broadway for the better.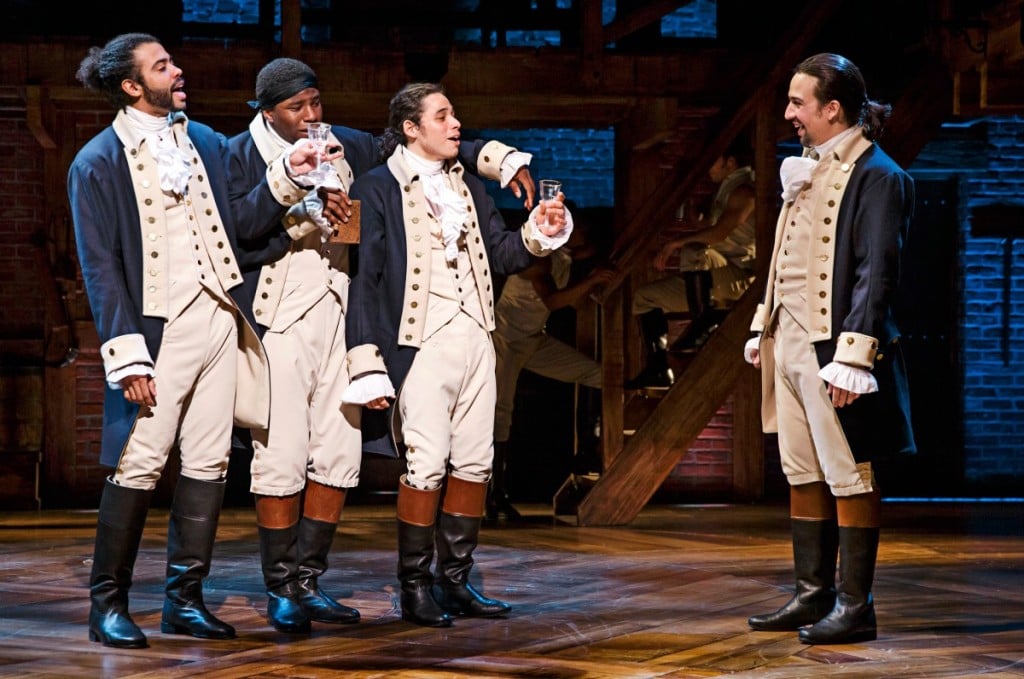 It has a revolutionary cast

Chances are when you hear the words "Founding Fathers," you picture a bunch of white guys in wigs. That's because, without question, that's exactly who they were. But Hamilton imagines a world in which the people that came together to found our nation as we know it looked much more like our nation does today. Miranda, a Puerto Rican American, plays the titular character; his friend and eventual adversary, Aaron Burr, is played by African American Leslie Odom Jr. In fact, across the board, the cast is made up of minority performers — and it's not uncommon to see a woman playing a Revolutionary soldier.
These casting choices are obviously intentional, but they're far from gimmicky. They speak to one of the musical's greater themes — that our nation was founded on and fought for by people who, like many minorities today, felt they had little power under their government. And for all the press that Hamilton has received for its diverse casting, each and every person delivers an incredible performance that should serve to silence anyone that may struggle to stretch their imagination.
It has a groundbreaking soundtrack
It wouldn't really matter what the show looked and sounded like if the story within the music wasn't good. But Lin-Manuel Miranda outdid himself with the show's book and lyrics, crafting song after unforgettable song about Hamilton, his friends, their struggles, and their victories. His ability to turn a phrase and string thoughts together at a rapid pace help to solidify Hamilton's status as one of the smartest Broadway plays ever produced.
And because Hamilton isn't your average musical, Miranda made sure it didn't have an average cast recording, either. He enlisted The Roots' Questlove and Black Thought to produce the recording and help retain the show's grittier, hip-hop flavor. The results are well worth a listen, as it's as well-produced and catchy as anything you'll hear on the radio today. Since its release on September 25, the 46-track album has broken Broadway album sales records, found a place on the Billboard rap album chart, and earned universal praise from fans and critics. And its crossover appeal has only helped raise the show's profile and send yet another signal that it's cool to listen to showtunes. At least, these showtunes.
It makes history cool
When you add all of its various parts together, Hamilton is a great reminder that history, like Broadway, deserves a closer look. If you've taken a high school history class, you probably know the general story of the American Revolution. But this show lets us take an intimate look inside the lives and minds of the people that made it happen. It moves with a nonstop momentum that makes you feel like their movement wasn't something that happened once — that it's actually happening right in front of you, right now.
Hamilton also transcends the political boundaries that have built up over time. Both former Vice President Dick Cheney and Hillary Clinton have seen and praised the show. And it's been recommended by more than one critic that every presidential candidate should take the time to see it, too.  That's a reasonable request — by adding a little hipness to history, it serves as a reminder of where we came from that's almost impossible to ignore.
But even if the newest crop of presidential hopefuls never stop by, Hamilton won't have any trouble filling seats. It's been playing to sold-out crowds since it opened, proving that a musical this revolutionary has the ability to reach past the traditional crowd and get a new generation of people excited about going to the theater.
More from Entertainment Cheat Sheet: