Why is Chef Mila from 'Below Deck Med' Off to a Rough Start?
It started with small audible coughs. When Chef Mila Kolomeitseva got to Sirocco on Below Deck Mediterranean, she didn't seem to have that energetic start to the season as seen from past chefs.
But Captain Sandy Yawn was excited to hire Kolomeitseva. She was impressed with her Le Cordon Bleu training and wanted to give a woman a chance to shine in a Below Deck kitchen. "It's the best training in the world and she's a female so I have high hopes," Yawn says in a confessional interview.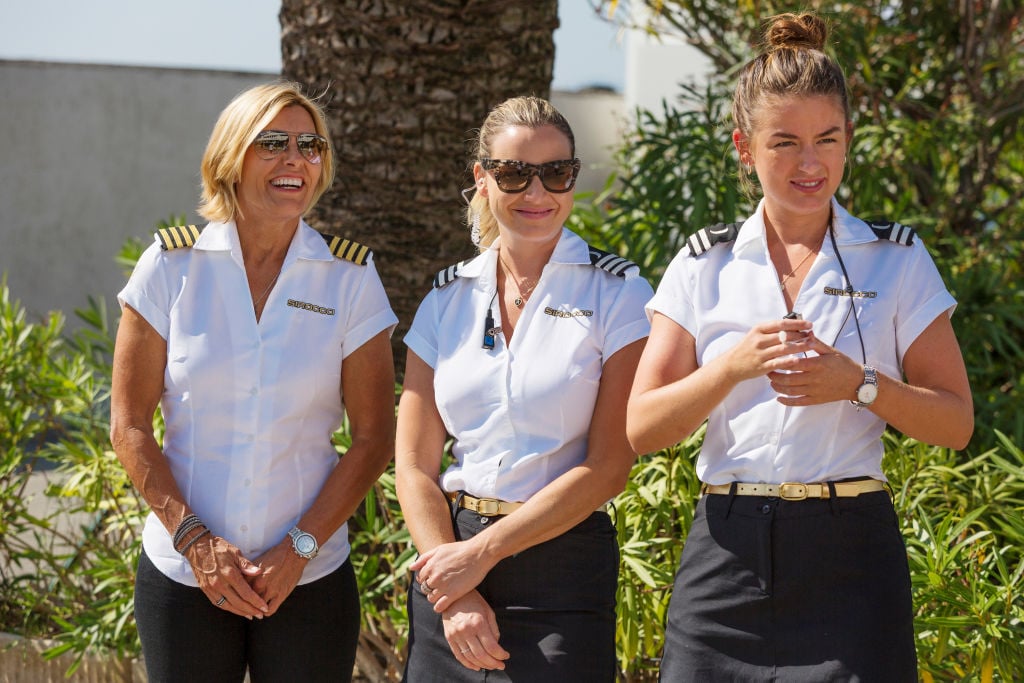 But Yawn looks a little stunned when Kolomeitseva is taken aback that she is the captain. "Captain!" Kolomeitseva says giving Yawn the once over. "Nice to meet you captain, first time I've seen a captain like that!" Although the comment was off, Yawn takes it in stride. But then things unravel from there.
The cough should have been a hint
As the crew flips the boat from the previous charter, Kolomeitseva finds a bevy of moldy and spoiled food left behind from the previous crew. She gags as she pulls disfigured produce from the refrigerator and pantry, even having to run to the bathroom to vomit.
But then viewers learn Kolomeitseva is not grossed out just by moldy produce. Instead, she reveals she is fighting a bout of food poisoning. She confesses she shouldn't have eaten a shrimp pasta dish the night before and now she's struggling hardcore with some serious tummy troubles.
The word that the chef is ill gets to Yawn. Rather than panic Yawn calmly goes into problem-solving mode and taps third stew Anastasia Surmava to pick up the slack. Thankfully Surmava shares she worked as a chef on a yacht before. Plus, according to her profile, she learned from the best: her mom, who is a trained pastry chef.
She may not have been totally prepared either
Adding insult to injury, Kolomeitseva may not have totally prepared for charter. While the guests are on board, the crew learns some ingredients are missing–a pretty basic and important ingredient like milk.
So two crew members decide to help out and pick up milk when they escort the guests on a land excursion. While this assistance is amazing, deckhand Jack Stirrup and Surmava get sidetracked on their milk mission. They let the guests wander the streets while they search for the milk–to be more efficient.
But when the guests are ready to return to the yacht and Stirrup and Surmava are MIA, things get a little tense. Thankfully, the guests are very cool and the land excursion ends without incident.
Oh those tacos
The last red flag of the episode was the actual food itself. Guests during last season of Below Deck thought serving chicken was for "poor people." So the crew (especially Yawn) become alarmed when they see what Kolomeitseva wants to serve.
Kolomeitseva made burgers for lunch and a Mexican themed night for dinner. But the ingredients she used could have been pulled from a box picked up at the local grocery store. Yawn spies the tacos and asks if they are for the crew. But Kolomeitseva says the food is for the guests. "Seeing the tacos is very disturbing," Yawn says in a confessional interview.
The Internet basically blew up after the service was shown. "Pays 10's of thousands of dollars… gets Hidden Valley ranch on burgers…," deckhand Colin Macy-O'Toole tweeted. Chief stew Hannah Ferrier also tweeted a hilarious meme and "When guest food looks like crew food then you know you are in trouble!!" Chef Ben Robinson, who is rumored to eventually take over tweeted, "First she's ill, now it's tacos… This may not be a healthy start to the season."
And this is just episode one. Oh boy. Stay tuned to Below Deck Mediterranean every Monday night on Bravo 9/8c.