Why Is Everyone Obsessed With Meghan Markle and Prince Harry's New Baby?
Meghan Markle just gave birth to the newest member of the royal family: a baby boy named Archie Harrison. Given the media attention, you'd think she had just found the answer to world peace. Ever since Prince Harry and Meghan announced that they were expecting, the world has been speculating about what they would name the child, where it would live, and even what type of food it would eat.
There's always been a fascination with the royal family, but the level of attention that baby Archie has received is out of this world crazy. Just why is it that everyone is obsessed with Meghan and Harry's baby?
When was Archie Harrison born?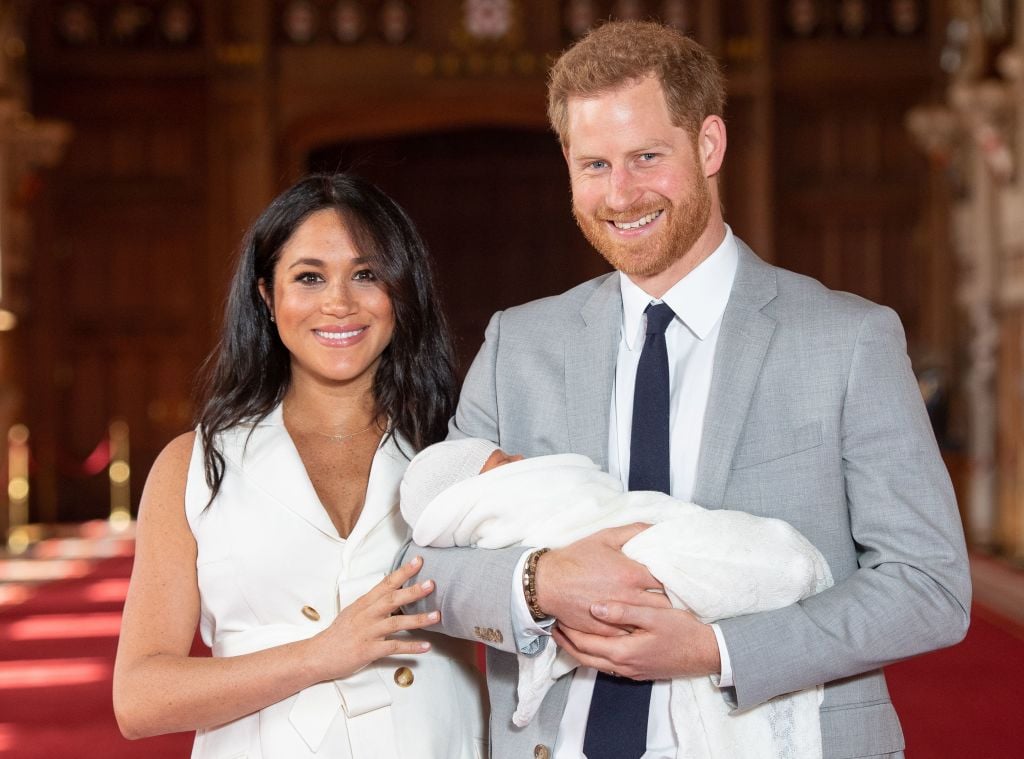 Meghan gave birth to Archie Harrison on May 6 at 5:26 am. The baby weighed in at 7 pounds 3 oz. The royal family announced that Harry and her mother, Doria Ragland, were by her side.
Harry gave a short interview on the Windsor grounds shortly after the baby's birth. The new father beamed as he talked about his new baby and his wife and told the press that he was "over the moon." The prince also revealed a couple days later that they simply liked the name Archie and chose Harrison because it meant Harry's son.
Baby Sussex is Princess Diana's grandchild
Princess Diana was considered the people's princess by citizens all across the globe. The former wife of Prince Charles died tragically in a car accident in 1997, leaving her two young children — Harry and Prince William — without a mother.
William and Harry have held just as precious of a spot in the people's hearts as their mother. In a way, it's as if followers feel that they have to look out for the princess' children.
There was a similar media frenzy when William welcomed each of his three children. People wondered what the princess would have been like as a grandmother and paid close attention to whether these heirs to the throne would bear a resemblance to the late princess.
Baby Archie has a Hollywood factor too
The obsession with Harry and Meghan's little bundle of joy is exponentially higher thanks in part to his mother's celebrity status. Meghan starred on the hit drama Suits before leaving the show, and the industry, to marry the prince. In addition to the typical attention that the royal family receives, thousands of American fans have been following the couple, anxious to watch Meghan's fairytale life unfold.
Meghan's celebrity status also brought some negative attention to the couple and some extra scrutiny from followers. Some people argued that she was using the prince to climb the social ladder, namely notorious talk show host Piers Morgan, who claimed to be friends with Meghan before she met Harry. He alleges the duchess ghosted him the night she met Harry at a party.
Don't forget about Meghan's famous friends. When you have a baby shower hosted by Serena Williams and invite the who's who of Hollywood, you're bound to get a little extra attention.
In the end, people love the royal family and babies
Sure, Harry and Meghan have millions of people wanting to know every detail about their baby. And every ounce of information is dissected by the press. But, when it comes down to it, people love babies. Whether a Hollywood actress or your office co-worker, people obsess over the new bundle of joy. People love to buy baby gifts, awe when you bring the baby to the office to show it off for the first time, and remark at how quickly the little one is growing up. Archie just happens to have a bigger stage.