Why Is Kim the Only Kardashian Sister With a Stable Relationship These Days?
Kim Kardashian is the only Kardashian-Jenner sister with a stable love life. Is there a reason for this?
The Kardashian family is well known for putting it all out there, both in terms of their careers and their personal lives. Kim Kardashian, in particular, elevated the family to great success, becoming the breakout star of Keeping Up with the Kardashians.
Although Kardashian lives an incredibly busy, public life, she's managed to create a very happy home for herself. Kardashian and her husband, Kanye West, have weathered controversies and challenges, and now have four children together. Even so, they remain each other's biggest support system.
Still, it didn't come easy for Kardashian: She had to kiss a few frogs before she found her prince. Kardashian's first two marriages were not successful but even so, she's now the only sister in the famous family who is truly in a stable relationship.
Kim Kardashian's first two marriages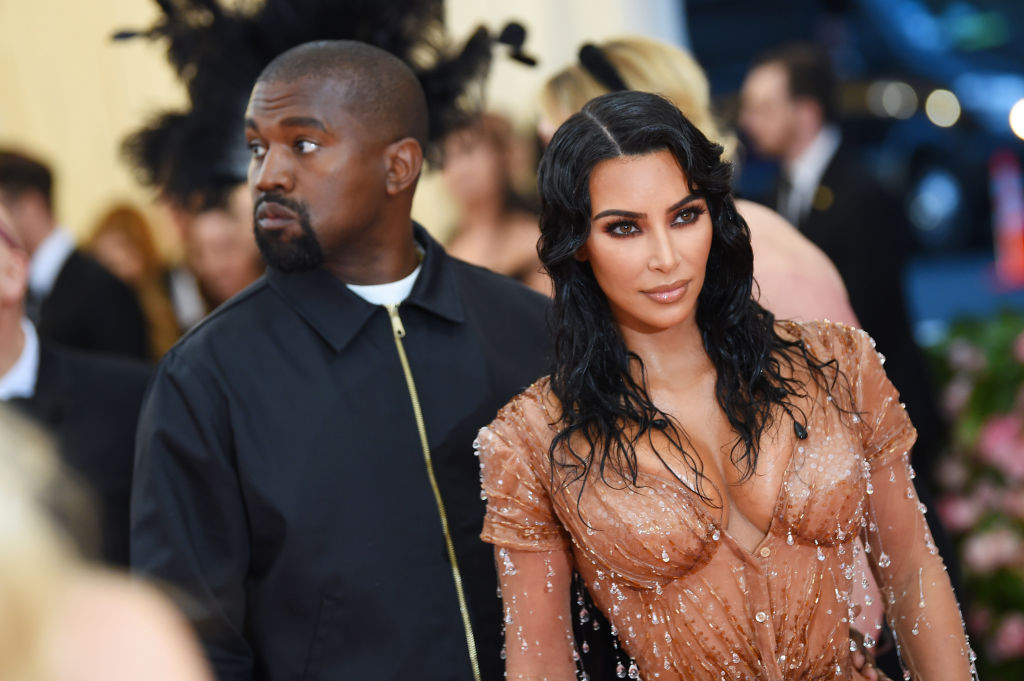 While a lot of people were aware of Kardashian's second marriage, which we will get to in a minute, very few of them are aware that Kardashian was actually married to a music producer named Damon Thomas when she was only 19 years old. Thomas was a full ten years older than his teen bride, and the marriage only lasted three years. Thomas and Kardashian separated in 2003 and she revealed years later that he was very controlling, which led to the breakdown of their relationship.
For years, Kardashian dated Reggie Bush, but they never tied the knot. Instead, in 2010, she found love with NBA star Kris Humphries. Their relationship caused a media circus and resulted in a filmed wedding special that was totally over the top.
In spite of their extravagant engagement and wedding, Kardashian and Humphries didn't stay married long. In fact, Kardashian filed for divorce only 72 days after they tied the knot. Reflecting on the super-short marriage, Kardashian admitted that she only really married Humphries because she thought it was what she was supposed to do and that she knew their marriage was over even while on their honeymoon. 
Kanye West is the perfect match for Kim Kardashian
Kardashian didn't stay single long after she split from Humphries. She started leaning on her longtime friend, West, and the two started dating in early 2012.
Reflecting on when she knew West was the one for her, Kardashian stated that their time together was "super chill and effortless," and she almost regretted wasting time and energy on the other men in her life. The couple moved quickly, having their first child in 2013 and getting married in 2014. Unlike Kardashian's previous two marriages, this time it really seems like it is for life.
There are a lot of reasons why their relationship works so well. They were friends for years, so by the time they started dating, they already knew each other really well. They are compatible, and Kardashian's whole family loves West. Kardashian and West are clearly soulmates, supporting each other every step of the way, even through tough times.
The other Kardashian/Jenner sisters are still struggling
Although Kardashian is happily married, her sisters haven't had such good luck.
Kourtney Kardashian was in a long-term relationship with Scott Disick, but the two broke up several years ago. She is now single, co-parenting her children with her ex.
Khloe Kardashian has had a notoriously difficult time with men. After her fairytale wedding to Lamar Odom in 2009, they divorced in 2013 amidst speculation that Odom had been unfaithful to the youngest Kardashian sister. Her most recent boyfriend, Tristan Thompson, is alleged to have cheated publicly on her several times.
Kendall Jenner is notoriously private regarding her personal life and doesn't like to share information about whom she is dating. However, it is believed that she is currently single.
As for Kylie Jenner, she just split from Travis Scott, her boyfriend of two years and the father of her baby daughter, Stormi Webster.
Perhaps, like Kim Kardashian, the other Kardashian/Jenners just need to go through a bit more trial and error before they find their perfect partners.