Why Isn't Taylor Swift On Spotify?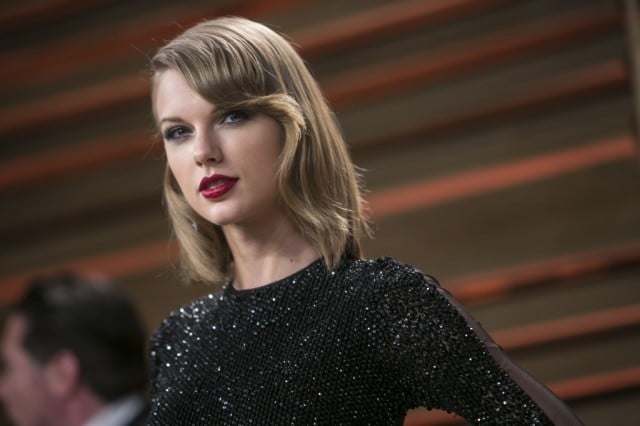 If you haven't already opened Spotify and realized to your shock and horror that Taylor Swift's music is mysteriously missing from the popular online streaming service, the harsh reality is that, yes, Swift and her record label Big Machine Label Group, yanked Swift's brand-new album 1989 and her entire catalog from Spotify on Tuesday.
"We love Taylor Swift, and our more than 40 million users love her even more – nearly 16 million of them have played her songs in the last 30 days, and she's on over 19 million playlists. We hope she'll change her mind and join us in building a new music economy that works for everyone," Spotify said in an announcement on its blog posted on Tuesday. "We believe fans should be able to listen to music wherever and whenever they want, and that artists have an absolute right to be paid for their work and protected from piracy. That's why we pay nearly 70% of our revenue back to the music community."
The streaming service also posted some funny playlists dedicated to Swift that you can check out on the blog post, including one that spells out "Hey Taylor, we wanted to play your amazing love songs and they're not here right now" in song titles.
Swift has been vocal in the past that artists should be paid for the art they create, a prospect that with Spotify is dubious at best. Many have tried to figure out exactly how much money the streaming service pays artists per stream, to no avail. While it's hard to determine the exact figure, it's definitely small. In a Wall Street Journal op-ed earlier this year Swift wrote, "Music is art, and art is important and rare. Important, rare things are valuable. Valuable things should be paid for. It's my opinion that music should not be free…"
Swift is one of the rare artists popular enough that people really want to hear her album. The debut single "Shake It Off" has been one of the top singles of the year and is currently at No. 2 on the Billboard Hot 100. According to data from Nielsen SoundScan reported by Billboard, 1989 has been the first album of 2014 to sell more than a million copies in its first week on sale. Swift sold 1.287 million records during 1989's first week on sale despite a genre change for the singer, due to a concentrated media blitz that included a controversial music video for "Shake It Off" and a Diet Coke commercial co-starring lots of kittens. Billboard said that number represents the largest sales week an artist has seen since 2002.
Swift is one of the few artists on the planet big enough that removing her music from a prevalent service like Spotify could end up helping her. People obviously want to hear the album badly enough that they're willing to buy it. Taking the record away from those people who would've been content to just stream it on Spotify forces those listeners to make the choice to either pony up for the album or go without. It's a gamble, but one that Swift is probably going to win on.
What could potentially be damaging for her is not really losing people listening to her record, but damaging her public image. Historically, people don't respond well to extremely rich celebrities who cry "pay me" to their average-income adoring fans. Back in 2000, the metal band Metallica famously sued the file-sharing service Napster over people using it to illegally download their albums. Metallica won the suit, which eventually resulted in the bankruptcy of Napster, but the band was also famously parodied on an episode of South Park that insinuated the members of group needed more money to build more golden swimming pools for their mansions.
Of course wealthy artists who sell obscene amounts of albums have the most clout to change the music industry for artists who could really use being paid for their stuff streaming on Spotify, but they're criticized because they aren't the ones who truly need the money. Swift herself hasn't publicly commented on the matter, but her response will help determine whether people end up interpreting her decision as righteous or stingy.
Meanwhile, there's the curious fact that Swift's tunes are still available on competing streaming services like Beats and Rdio. Some, including Bloomberg, are speculating that she's nursing an exclusive streaming deal with Apple's new Beats music streaming service, which would make her a decent chunk of change while embracing the new landscape of a streaming-based music industry.
Follow Jacqueline on Twitter @Jacqui_WSCS
More from Entertainment Cheat Sheet:
Want more great content like this? Sign up here to receive the best of Cheat Sheet delivered daily. No spam; just tailored content straight to your inbox.