Why Isn't Tayshia Being Considered For 'The Bachelorette'?
ABC posted a photo on Instagram today of Hannah G., Hannah B., and Caelynn captioned "1 will be your next Bachelorette, and the other 2 you'll see in Paradise! Guess who."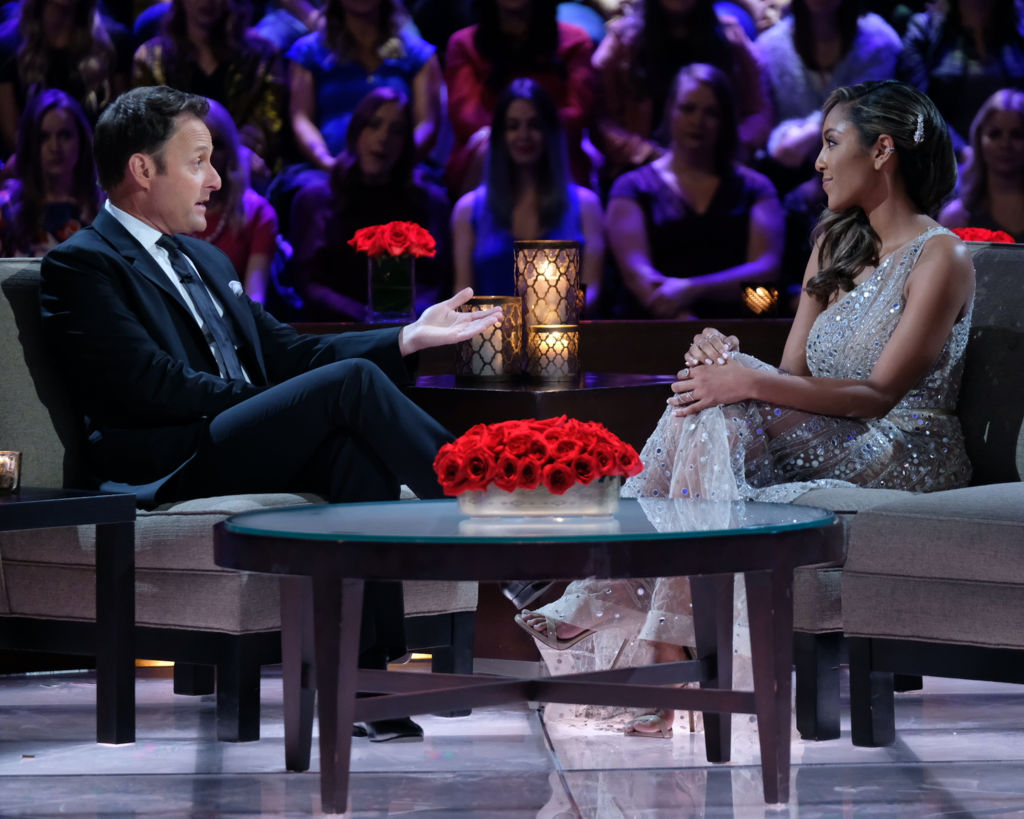 Fans of the show have been speculating for weeks as to who the next bachelorette could be. We knew for certain that the next bachelorette was coming from Colton's season, but until this announcement, it really could have been anyone's guess. Typically, the two runner ups are considered: that would be Tayshia and Hannah G., and then fan favorites are also considered. Hannah B. and Caelynn are definitely covered under that category. Why, then, is Tayshia left out? Was she not considered for The Bachelorette at all, and will she not be going to "Paradise?" Here are some possibilities as to why.
Tayshia was camera shy
On last night's part one of the finale, we got to watch Colton heartbreakingly break off his relationships with Tayshia and Hannah G. When he came to Tayshia's room to talk to her about his decision, she asked him if they could step inside her room to get away from the cameras–not a very good bachelorette instinct. ABC wants its star and contestants to experience every emotion the show brings on, right in front of the cameras for America to see.
Does Tayshia have a boyfriend?
Another reason Tayshia might not have been considered for The Bachelorette is that she could possibly have a boyfriend. According to US Weekly, Tayshia had been dating a man named Chase Olswang up until the night before she left to go on The Bachelor. Chase even told US Weekly that he and Tayshia "fell in love really quickly." He explained that though they didn't have an official label, the two hadn't been dating anyone else.
The source went on to tell US Weekly that, since the show's ended, Tayshia's been in contact with Chase again. Maybe Tayshia didn't want to do The Bachelorette because she wants to give dating Chase another try.
'The Bachelorette', historically, has had an issue with diversity
Through the years, The Bachelor and The Bachelorette haven't been the most diverse of shows. Contestants and bachelors/bachelorettes are still overwhelmingly white.
"It wasn't until Rachael Lindsay came on the scene that the Bachelorette crown was given to a person of color. (As a point of reference, the show had already been on for 12 seasons.) So while all of the women in this above photo are beautiful, intelligent, viable options, they are also all overwhelmingly white, which has become a prominent pattern on this show," says Bustle.
Is Tayshia not being considered for The Bachelorette because of the show's ongoing problem with diversity?
There's still a chance she could end up on paradise
Just because she wasn't in the final running for The Bachelorette doesn't mean Tayshia won't necessarily end up on "Paradise." We're pretty sure we'll be seeing Demi in "Paradise" and she wasn't featured in the photo, either.
If Tayshia's not giving her old relationship with Chase a shot, we'd love to see her mature, calming presence in "Paradise," heaven knows that show needs it.
Read more: 'The Bachelor': Demi Was the Star of Women Tell All

Check out The Cheat Sheet on Facebook!