Why J.K. Rowling Fans Are Calling Her A TERF For Anti-Trans #IStandWithMaya Tweet
J.K. Rowling started trending on Twitter on December 19. She's not releasing a new book or anything Harry Potter related. She tweeted #IStandWithMaya, but supporting Maya came at the expense of the trans community. Many Rowling fans and LGBTQ supporters tweeted the author imploring her to revise her tweet which they considered transphobic.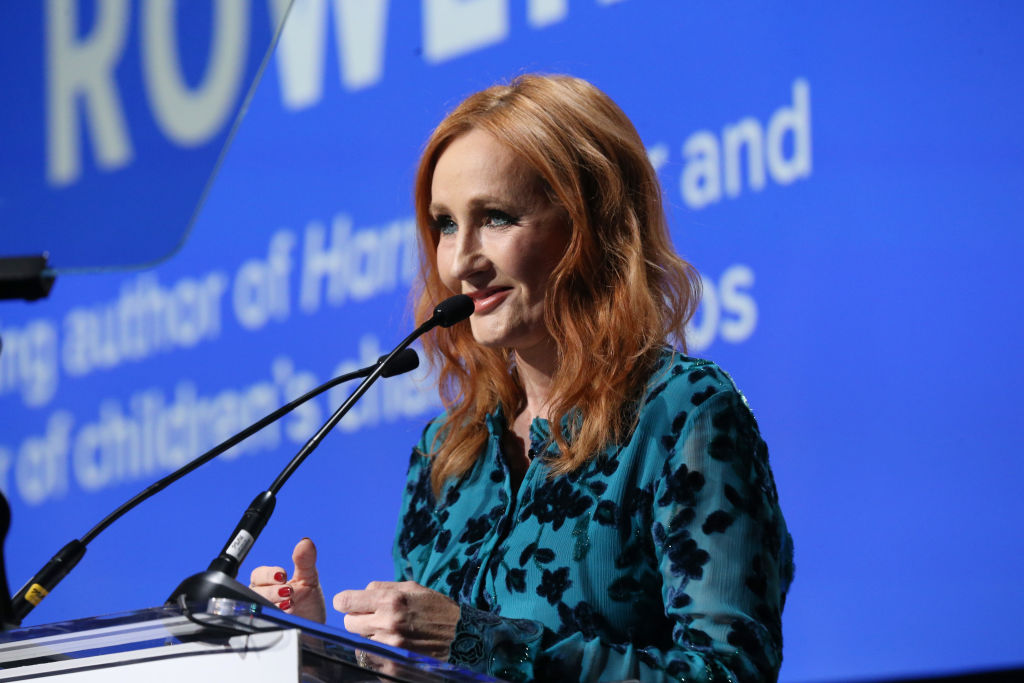 Trigger warning for the details of the case to which J.K. Rowling refers. The subject, Maya Forstater, uses generalizations about gender and makes noninclusive judgments. 
What JK Rowling meant by #IStandwithMaya
Centre for Global Development visiting fellow Maya Forstater tweeted on September 2, 2018, "expanding the legal definition of 'women' so that it can include both males and females makes it a meaningless concept." The Centre did not renew her contract at the end of 2018 and Forstater filed a claim of sex discrimination on March 15, 2019. On November 21, the Employment Tribunal decided against Forstater.
J.K. Rowling tweeted #IStandwithMaya on December 19, her first tweet since September according to UK's Metro .
Why this tweet makes J.K. Rowling a TERF
ACT UP New York explains why J.K. Rowling's comments make her fit the label of TERF  – trans-exclusionary radical feminist.
@sineadactually agrees, writing, "well it's finally happened. JK Rowling has taken the mask off and shown everyone what trans people have been telling you for yeas: she's a terf."
@spacialesbian added, "jk rowling has been a terf this whole time which people would know if they actually listened to trans women."
@marcyjcook began a thread with "OK so @jkrowling has come out as a full TERF and gaslighting everyone that doesn't understand what has been going on." 
Trans people have support against J.K. Rowling
Trans people are not alone in expressing the hurt J.K. Rowling's comments caused them. Allies are supporting and amplifying trans voices in this. The LGBTQ civil rights organization Human Rights Campaign tweeted:

https://twitter.com/HRC/status/1207675378325770246
@mspowahs asked cis readers to listen to trans people. "A thing I hope cis people are learning about the JK Rowling thing is to trust trans people when we tell you someone does not have our interests at heart," she/they wrote. "Same goes for POC and racism disabled folks and ableism – the marginalized are attuned to the dogwhistles of our enemies."
Tessa Netting defended the trans community.
Actor and activist Sara Ramirez corrected the author and asserted "trans women are real women."
These fans suggest other authors
If readers no longer wish to support J.K. Rowling, many suggest finding authors who write from trans experience, or that of any marginalized group.
@elle_em wrote, "If you're mad at JK Rowling being an enormous transphobe here's a thing you can and should do: support trans writers. Buy things written by trans writers. Review things written by trans writers. Recommend things written by trans writers. READ TRANS WRITERS"
@Mishka_Hoosen wrote, "SUPPORT LGBTQ AUTHORS. SUPPORT POC AUTHORS. SUPPORT TRANS AUTHORS." 
Rowling has lost @oldfriend99 who wrote, "Jk rowling got me into reading. Now that she's revealed her true colors, I will never read again."
@francisnoir also reminds readers that finding other authors doesn't make J.K. Rowling any less upsetting. "I undestand people saying 'support other authors don't be upset forget about her' in response to this JK Rowling being a terf but please let people, especially trans ppl feel upset and angry about this."