Why Jennifer Lopez and Alex Rodriguez Shouldn't Do a Huge Wedding
For the last couple of years, the media has followed one of Hollywood's IT couples around. Although Jennifer Lopez and Alex Rodriguez have both had their fair share of relationship drama, they have both never looked more in love. It seems that this time around they are both truly happy, and they want to do things differently to prove it.
If recent reports are correct, the newly engaged couple is planning to have a low-key wedding. This time around the idea of doing something over the top doesn't really seem to fit with what they have going on, and we can't blame them one bit.
This is why we think Jennifer Lopez and Alex Rodriguez shouldn't do a huge wedding.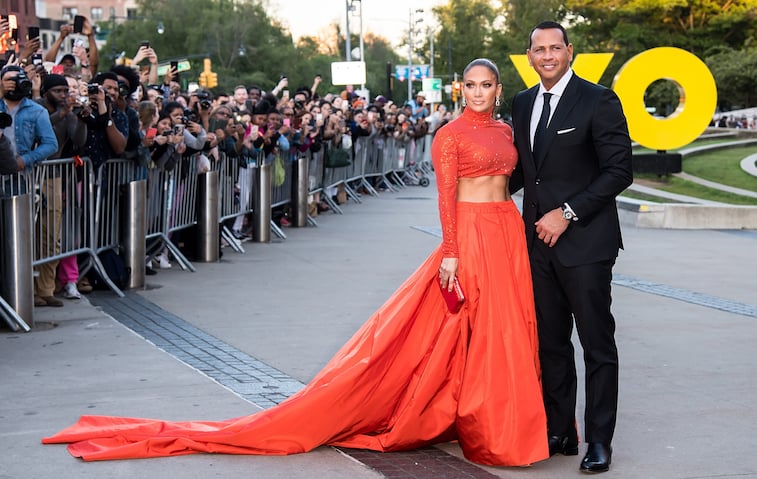 They have both had huge weddings before
When it comes to getting married, Alex Rodriguez and Jennifer Lopez, have a lot of experience between them. They also know what it is like to juggle their life and trying to plan the perfect wedding.
When it comes right down to it, a big wedding has never worked out for the couple, so why go through it all again? It turns out that they both agree; it's just not worth it.
A source told PEOPLE that the couple would rather not have a large wedding this time around. They love each other and want to get married, but they want it to be, "a small family celebration that will, of course, include all four kids." This makes sense because, from the start, they have been taking things slow and putting their family first.
The pair has managed to make their children feel important from the start. Jennifer Lopez has two kids from her past marriage to singer Mark Anthony, while Alex Rodriguez has two daughters of his own with his ex-wife.
Neither one wants to deal with the pressure
If you remember way back when, Jennifer Lopez had to jump through a lot of hoops, just to keep her wedding and plans out of the tabloids. There was even one time she needed to set up giant tents to prevent helicopters from shooting photos.
Not that that stopped images from leaking and she even had to say her vowels while helicopters flew overhead. Then there was the guest lists and the rules. Once she made all the guests give up their phones at the door, to help ensure privacy.
Not this time around. The pair have decided that having a small wedding is better for them and their family. No need to add to the pressure. All they really want is to say "I do" in front of the people they love the most. Chances are the press will still try their best to get images, but at least they won't have to deal with the stress of having hundreds a A-listers and tons of staff to juggle.
Why Jennifer Lopez and Alex Rodriguez shouldn't do a huge wedding
When it comes right down to it, Jennifer Lopez and Alex Rodriguez shouldn't have a huge wedding, because they are past that kind of attention. When they were younger, and still trying to build their fame a fortune, they had other goals in mind. Having a big wedding meant more attention.
Now, they have moved past those goals, and want to share their life and family with each other. There is no need to create the frenzy that they once sought.
The priority instead is to protect, raise, and support their merging family, with as little friction as possible. Showing the kids that they are the honored guests at the wedding really goes a long way in making them the focus.
By having a small, family-centered wedding, they're proving to the world that they are actually in love, and it's not for show. They both seem to have had enough show for now.
The family is also planning on traveling around America this Summer, while Lopez finishes up her tour. The busy family seems to have enough going on than to deal with a big expensive wedding.