Why Kanye West Describes Marriage With Kim Kardashian As 'Heavenly'
Kanye West might have gone through some mental health struggles but he knows that he can always count on his wife, Kim Kardashian, for support and encouragement. West has been making the rounds and visiting various talk shows in order to promote his latest album, Jesus Is King, and in many of his interviews, he has been talking about his marriage.
Most notably, during West's visit to James Corden's Late Late Show, he raves about how "cool" it is to be married to Kardashian. Keep reading to learn about West and Kardashian's marriage, including how long they have been married and how West describes their union.
Kanye West loved Kim Kardashian from afar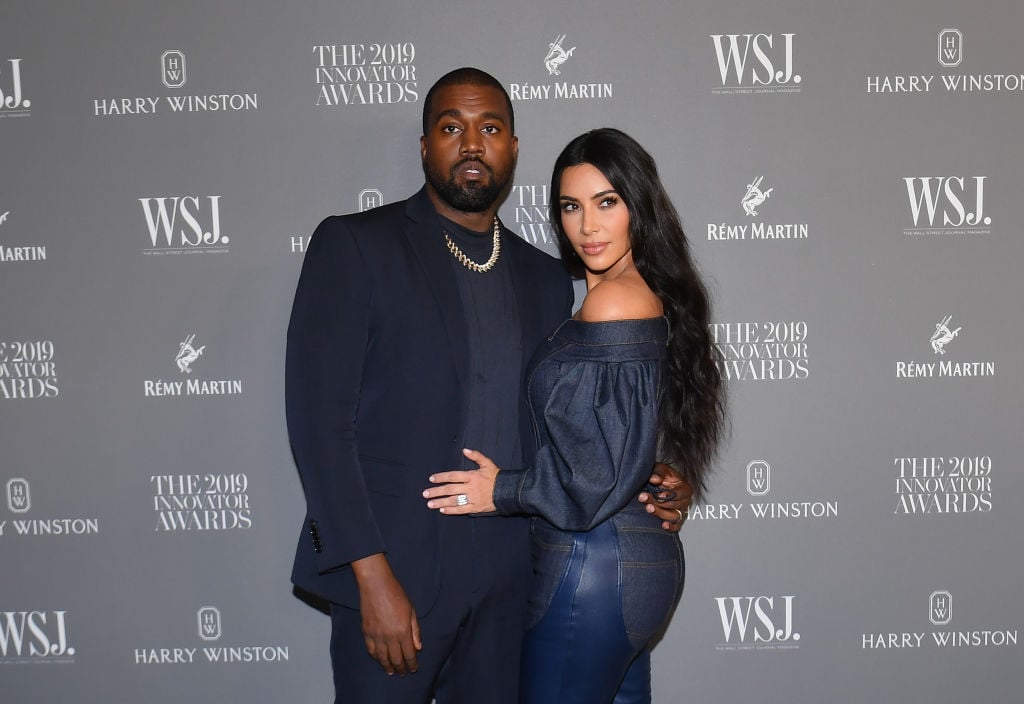 West first met Kardashian in the early 2000s, long before she became a star on reality television. The two became fast friends and stayed in contact over the next few years, with West even making occasional appearances on some early episodes of Keeping Up with the Kardashians.
While Kardashian dated a series of famous basketball players, reportedly, West maintained a crush on her from a distance. He even wrote some song lyrics that seemed to be about Kardashian, referring to her as the "cheerleader of my dreams."
Still, Kardashian went on to marry Kris Humphries in 2011, leaving West despondent. He wrote another song around the time of Kardashian's wedding to Humphries, where he rapped that he "fell in love with Kim, around the time she fell in love with him." The marriage infamously lasted only 72 days, with Kardashian filing for divorce from Humphries amidst a media firestorm.
Following her split from Humphries, Kardashian reconnected with West, and the two realized that they were meant for each other after all.
Kanye West and Kim Kardashian's fairytale wedding
After West and Kardashian officially started dating in early 2012 and they didn't wait long to start a family of their own. Only months after they started dating, Kardashian got pregnant, giving birth to her and West's daughter in June 2013.
By then, they knew that they wanted to spend forever together and on Kardashian's birthday, in October 2013, West proposed to his girlfriend. Kardashian said yes, and the two tied the knot in an incredibly lavish ceremony in Florence, Italy, in early 2014. 
In the years since, West and Kardashian have grown even closer. They have had three more children, sons Saint and Psalm, and daughter Chicago, along with their older daughter North West.
While there have been occasional rumblings about problems between the pair, none of the rumors have ever been substantiated, and Kardashian always publicly supports her sometimes-off-balance husband. For his part, West provides the love and support necessary as Kardashian pursues a law career as well as maintaining her filming schedule and running several successful businesses. 
How does Kanye West describe marriage to Kim Kardashian?
When West appeared on the Late Late Show in October 2019, he opened up about marriage to Kardashian. He stated that he believes every year of marriage equals to about 100 in "dog years" so even though he's only been married to Kardashian for five years, it's actually more like "500 years."
While that sounds negative, West was quick to state that even though at one point, he might have felt like it would be "uncool" to marry a reality star like Kardashian, it is actually "heavenly," "great," and "magnificent."
West also stated that he wants seven children with Kardashian — they currently have four — and that he loves their family nights at home. It seems that the often-controversial rapper has a soft side as well, that is evident when he is talking about his wife and family.