Why Kate Bush's Comeback Is and Isn't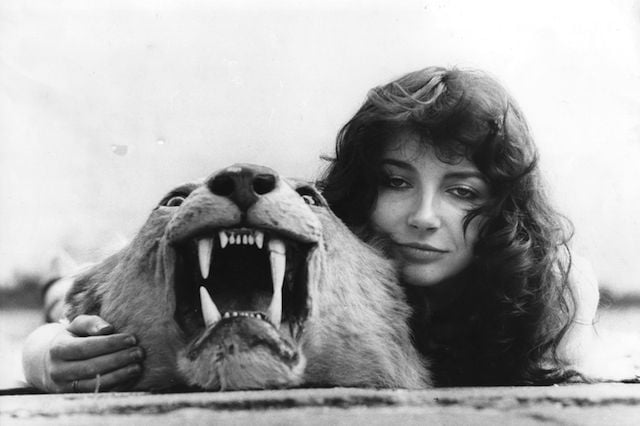 Influential cult pop star Kate Bush played her first show in 35 years in London earlier this week, garnering raves from both the press and fans for her return to the stage after anxiety drove her away from performing in the wake of her final tour in 1979.
Bush was 21 years old at that time, having been signed by EMI at the age of 16, and she's 56 now. In the intervening years Bush has continued to make artsy pop concept records, albeit with frequently long gaps between them. Young fans of singers like Florence Welch and Lady Gaga might not even know who Bush is, though the aforementioned ladies wouldn't exist without her. She even did the birth-from-an-egg thing before Gaga.
Bush is also a feminist icon in pop music. She is the only female British artist ever to have a No. 1 song that she wrote herself ("Wuthering Heights") and throughout her career has had a reputation for insisting on retaining creative control of her work, something that is particularly notable given the young age at which she was signed to a major label. Her songs are not preoccupied with nothing but sex and men, but are exercises in female fantasy.
"I'd never heard music like this before — music made by women that wasn't strictly about falling for a guy, that instead ran on the fuel of wild feminine imagination distilled from myth and fairy tales, and fed by the isolation of being that weird girl in class that nobody knows how to befriend. That weird girl, me," wrote NPR's Ann Powers.
Bush never reached the same level of popularity in the U.S. that she did in her native Britain, in part due to her refusal to tour. But her influence is just as important in American pop music, both with mainstream artists like Gaga and indie ones like Bjork, Joanna Newsom, Lykke Li, Feist, and numerous others.
Singers like those name-checking her as an influence have helped Bush's cult following grow over the years, to the point that tickets for her current 22-date "Before the Dawn" tour sold out in just 15 minutes, as fans who thought they'd never have the chance to see the elusive pop star leapt at the opportunity to see her perform.
Bush's first concert in London didn't disappoint them. Part pop concert, part highly staged musical, the show astounded critics and fans. According to the program handed out at the show — a program at a rock concert? — the spectacle took 18 months of collaboration between Bush and various musicians, actors, stage experts, designers, animators, puppeteers, an illusionist, and the novelist David Mitchell.
"'Before the Dawn' is light and film and movement and theater, but also a rock show, dense, cathartic and physical. The audience, still as stones during the music, stood to cheer whenever tiny between-song intervals allowed," reads a review by The New York Times.
"The staging might look excessive on paper, but onstage it works to astonishing effect, bolstering rather than overwhelming the emotional impact of the songs. The Ninth Wave is disturbing, funny and so immersive that the crowd temporarily forget to applaud everything Bush does. As each scene bleeds into another, they seem genuinely rapt: at the show's interval, people look a little stunned," said a rapturous review from The Guardian.
Another reason "Before the Dawn" feels a bit more like a musical than a rock show is that it's only happening at the Eventim Apollo in London. She's not really touring, just playing 22 dates at the same theater. Fans who are dedicated enough are coming to London from all over the world for the chance to see her, but had Bush decided to take the show on the road, she might have been able to pick up some more new ones. It looks like this won't be the way for her to finally get famous in America, though it's doubtful that's what the 56-year-old legend wants anyway.
Follow Jacqueline on Twitter @Jacqui_WSCS
More from Entertainment Cheat Sheet:
Want more great content like this? Sign up here to receive the best of Cheat Sheet delivered daily. No spam; just tailored content straight to your inbox.