Why Katie Holmes and Jamie Foxx Broke Up
Is anyone else surprised by Katie Holmes and Jamie Foxx's break up?
In case you missed it, a source revealed to People magazine on Aug. 19 that the pair ended its six-year relationship a few months ago. While the stars never confirmed their romance, they seemed like a match made in heaven: They both work in the entertainment industry, they're good-looking, and, judging from photos, they had undeniable chemistry. So, what went wrong?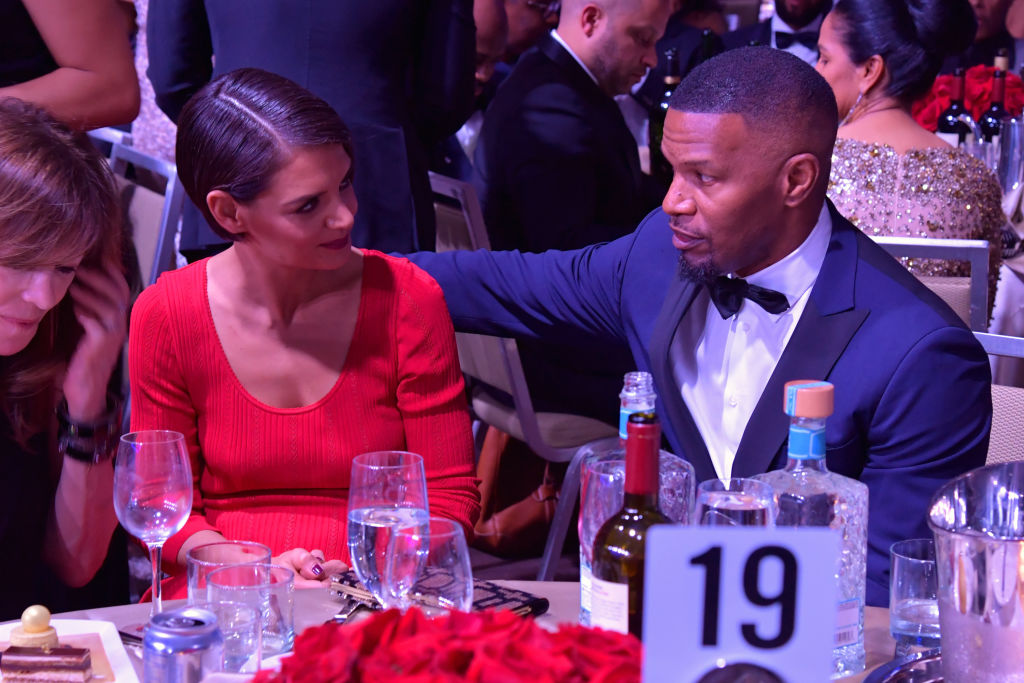 The reported reason Holmes and Foxx broke up
An Entertainment Tonight source said on Aug. 19 that Holmes and Foxx are reportedly just too busy for each other. Neither star "wanted to uproot or totally merge their lives," the source said.
"They are just both caught up with their own families, careers and obligations that their relationship had to take a back seat," the insider explained.
"They never had a typical relationship," the source added. "They have always been incredibly independent and their lives didn't revolve around each other. They lived separately and in different cities and saw each other occasionally."
As of writing, the actors have not commented on the reports. But the claims aren't totally surprising. Throughout the years, the couple would reportedly see each other at random, meeting up at hotels around the country and sneaking out of back doors to avoid eyewitnesses.
But despite their busy schedules and unique romance, there's reportedly still a chance Holmes and Foxx will get back together.
How long were Holmes and Foxx together?
These two had reportedly started dating in 2013 — about a year after Holmes officially split from Tom Cruise, with whom she shares a daughter, Suri. (Foxx has two daughters from previous relationships: Corinne, 25, and Annalise, 10.)
They kept quiet about the romance, but they didn't do the best job of hiding it. Eventually, they started gravitating more toward cameras, even posing together for photos at the Met Gala in May. But it seems like the relationship soured some time after the event. 
A source told Page Six on Aug. 19 that they overheard the Dawson's Creek alum telling her girlfriends at a restaurant that she and Foxx hadn't been together "for months."
Foxx has been seen with other women
During the week of Aug. 11, the Ray actor was seen out with two different women, fueling rumors that he's moving on.
Us Weekly reports that he was first seen out with a "blonde mystery woman." On Aug. 15, they reportedly got some grub at a restaurant and lounge in Hollywood called the Delilah and Highlight Room.
Days later, Foxx reportedly went out with a brunette. They visited a nightclub and left holding hands. Multiple publications later identified the woman as singer, songwriter, and model, Sela Vave. According to People magazine, she isn't his new lady — she's his newest artist.
"She's just a girl he's helping out, a young singer," a source told the publication on Aug. 17. 
Another source echoed the claims to E! News, explaining that Foxx and Vave weren't on a date. The insider claimed the two had simply hit the club in celebration of rapper Lil Pump's 19th birthday.
However, it's still unclear who that mystery blonde is.
Vave has opened up about Foxx
The singer tends to comment on her relationship with Foxx on her Instagram page, explaining that he's basically a mentor and a major source of inspiration.
"I am so grateful to this man!" she captioned a June photo of the two. "Thank you so much @jamiefoxx for everything you do and for believing in me. #feelingblessed."
Meanwhile, Foxx told Power 106 in July that Vave is fascinating to him.
You can read more about Vave here.