Why Kylie Jenner Unfollowed Former BFF, Jordyn Woods, On Instagram
It's the scandal that never ends. It goes on and on again. And when you think it's over it just starts back up again. It's the scandal that never ends. Sorry, that was the sound of us slowly slipping into madness from having to hear about the Jordyn Woods/Tristan Thompson scandal yet again. Kylie Jenner just added fuel to the fire when the Kylie Skin owner officially unfollowed Woods on Instagram five months after the scandal.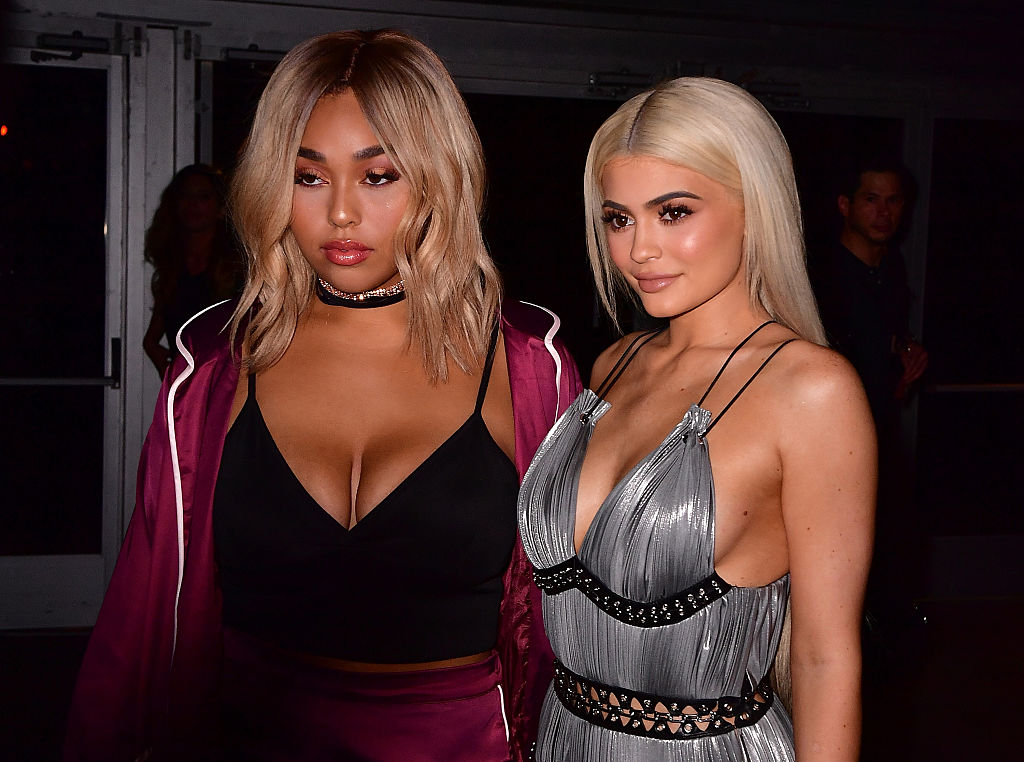 The Tristan Thompson/Jordyn Woods Scandal
In case you missed it, which we don't know how you would have, the scandal broke back in February. A source reported that Woods and Thompson (Khloe Kardashian's then-boyfriend and baby daddy) were spotted kissing at a party and that Woods gave him a lap dance. Of course, KarJenner stans immediately came out of the woodwork to drag the 21-year-old for these allegations. Feeling the need to defend herself, Woods chose to utilize her godmother's platform, Red Table Talk, to tell her part of the story. Woods maintained that she did not give Thompson a lap dance, but that he did kiss her while she was intoxicated and that she apologized to Khloe Kardashian for the encounter.
Why you always lying
35-year-old Kardashian was quick to tweet out her ire and disdain towards the 21-year-old after Woods' episode went live. "Why are you lying Jordyn Woods? If you're going to try and save yourself by going public, INSTEAD OF CALLING ME PRIVATELY TO APOLOGIZE FIRST, at least be HONEST about your story. BTW, You ARE the reason my family broke up," Kardashian tweeted out. But, after Twitter dragged her for filth, she rescinded the part of her statement that blamed Woods for her family's downfall.
Keeping Up With The Kardashians Season 16 finale
Things went a little quiet for a while. That was until the KarJenner clan based their whole season finale off of the strength of the scandal. Honestly, they should be thanking Woods for the new creative material, but that's neither here nor there. Jenner, who had been playing the role of Switzerland up until that point, took the finale as an opportunity to finally speak out about her feelings towards her former BFF. In a conversation with her sisters, Jenner admitted that Woods royally screwed up and even said she was scared of her former bestie because of her actions.
Unfollowed on Instagram
But despite all of the drama, Jenner still seemed to be cordial with Woods. The two remained amicable when Woods moved all her things out of Jenner's home and when they spotted each other in a club some weeks after the scandal. Jenner's perceived neutrality throughout the scandal made it even more shocking for KarJenner stans when she unfollowed Woods yesterday after five months.
So just what was the reason for this possible snub? While we don't know for certain why Jenner made this choice we can make some inferences from a recent clip of the upcoming season of Keeping Up With The Kardashians when Jenner spilled her guts to Khloe Kardashian about where her feelings for Woods stood.
Season 17
"So, Jordyn. Do you miss her, want to be friends with her," Kardashian probed. "I think that this whole Jordyn situation needed to happen for a reason. For me, for her, for you, for everybody. She was my security blanket. She lived with me. We did everything together, I just felt like, 'Oh, I have Jordyn. I don't need anything else.' And I feel like there's a part of me that needed to grow without her. Sometimes people are there for certain reasons at certain times in your life and then not there for others," Jenner explained in a surprisingly eloquent speech.
Break up with your girl friend, we're bored
So perhaps Kylie Jenner unfollowed Jordyn Woods just to get some much-needed space. After all, the two did go through somewhat of a breakup, and it's a pretty natural reaction to unfollow an ex after a relationship ends. We guess this rule could apply to ex-best friends as well. While it seems a bit petty to unfollow someone this late in the game, we won't deign to try and comprehend how Jenner is feeling.
As for Woods, well she seems fairly unbothered by the whole thing. In fact, at the time of this article, Woods still follows Jenner on the gram, so it's likely she hasn't even noticed the change. Too busy securing the bags to focus on follower count we guess.