Why Kylie Jenner Was Really Spotted Boarding a Plane With a Wedding Dress
Kylie Jenner is celebrating her 22nd birthday this weekend and fans began freaking out after she was photographed boarding a private jet with what looked to be a wedding dress.
The youngest member of the KarJenner clan along with her boyfriend, Travis Scott and her mom, Kris Jenner, were seen catching a plane en route to a yacht on Tuesday. But why was the makeup mogul bringing a big white dress with her?
Jenner and Scott raised eyebrows with their trip attire
Jenner's birthday celebrations actually started a little early. As she shared on Instagram, Scott filled the entryway of her home with red rose petals and a note that read, "Happy Birthday!!!! We're just getting started. Love you!!!"
"My house is covered in ROSES! @travisscott and it's not even my birthday yet!!!!! Omg," the reality star captioned the video post on Aug. 5.
But the biggest eyepopper for fans came when photos surfaced of Jenner getting on the plane with a white dress, which had a visible train, and a garment bag that appeared to be a suit or tuxedo for Scott.
The pics got everyone talking and wondering if the couple is planning to say "I do" on Jenner's actual birthday.
They are not getting married in Italy
Fans can pump the brakes on the wedding talk though because multiple sources insisted that Stormi's parents are not going to tie the knot this weekend.
"She's headed to Italy for her birthday," one insider who spoke to ET said. "She's definitely not getting married on this trip."
Furthermore, as TMZ noted, none of Jenner's sisters boarded the flight with her although Kourtney will reportedly be joining them at some point during the trip. Caitlyn Jenner was also nowhere to be found and you would think that Kylie Cosmetics founder would want her whole family around if she was going to get married.
So why did they pack a white gown and suit for their trip?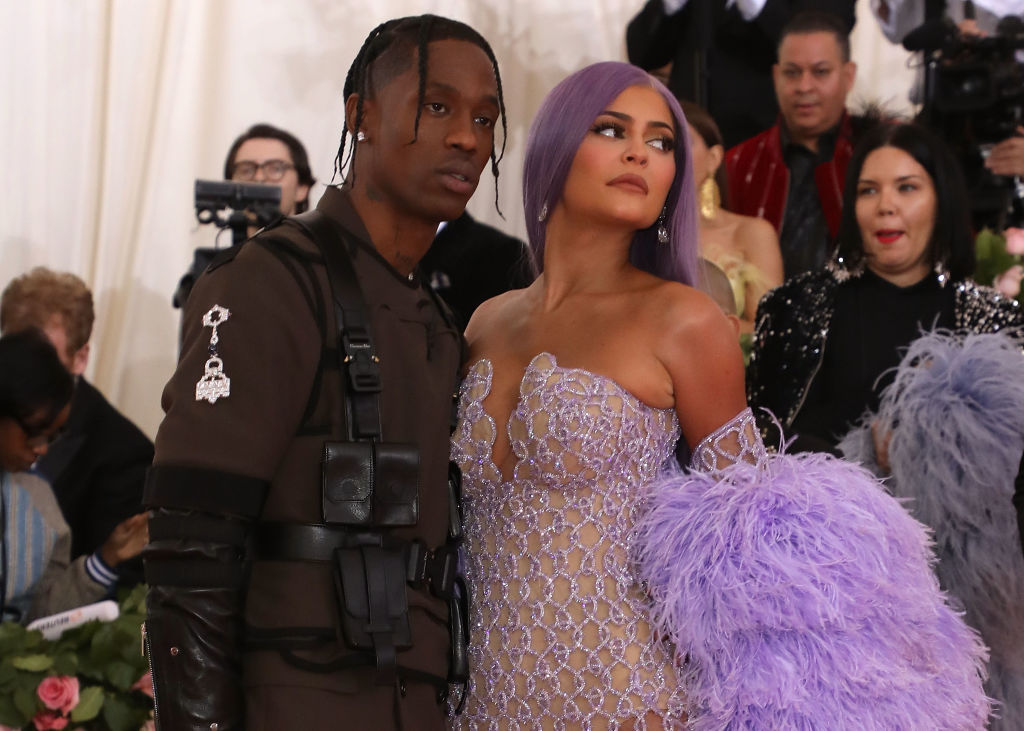 You're probably asking yourself why the pair would bring along that fancy white dress and suit (or tux) if they're not getting hitched this weekend. Well, there could be a couple of reasons for that.
One is simply that they just plan on getting dressed up in former wear for Jenner's bash on the mega-yacht. And another is that the Keeping Up with the Kardashians star and her rapper beau could just be trolling everyone with marriage rumors again.
Jenner and the "Butterfly Effect" artist have famously trolled the media and their fans in the past from calling each other "husband" and "wifey" to gold bands and "engagement" rings popping up Jenner's fingers every so often.
Also, the KarJenner family is a walking and breathing PR machine. Jenner was mindful that the paparazzi were around when she got on the plane and she knew that seeing what appeared to be a wedding dress would have everyone back home talking about while she's not even in the country. And now, fans are speculating about what's going to happen this weekend and will be scanning her Instagram for any pictures she puts out.
Mission accomplished Kylie.
Check out Showbiz Cheat Sheet on Facebook!