Why Matthew McConaughey Won't Play a Stripper Again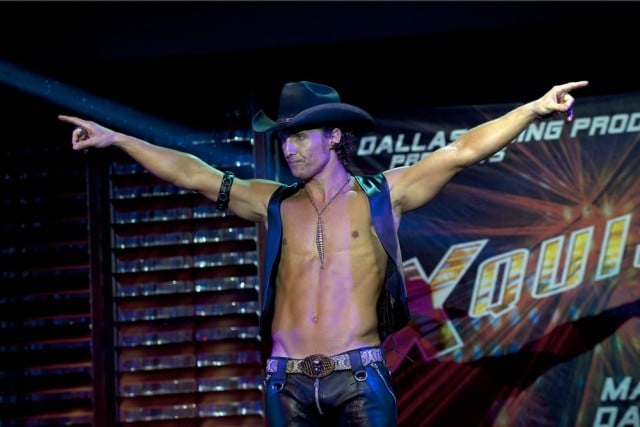 As this year's McConaissance rages on for newly serious actor Matthew McConaughey with increasing anticipation for his upcoming film with Christopher Nolan, Interstellar, the actor is continuing to push away from his old, hunky image. Part of that effort includes refusing to return for the sequel to the male stripper movie Magic Mike, Magic Mike XXL, as Indiewire has confirmed.
Magic Mike, co-starring Channing Tatum as a young stripper in a male strip club owned by McConaughey's character, became a surprise success in 2012 when critics actually seemed to like it and women packed into theaters to get a bigger helping of male eye candy than they're usually given the opportunity to purchase. The film has an 80 percent Fresh rating on Rotten Tomatoes, with critics saying that thanks to Steven Soderbergh's direction and solid performances from Tatum and McConaughey, the film turned out surprisingly smart for a movie about strippers.
"Matthew McConaughey dominates every scene he's in as Dallas, the club's malign owner and exultantly preening onstage host," said The Wall Street Journal's review of the film.
Though some will cite Magic Mike as the beginning of the career renaissance McConaughey is going through that the media has cutely dubbed "the McConaissance," really, that film is too close to his other beefcake roles, in which his abs are more important than his acting, to be really considered a departure for the actor's career. McConaughey's status as one of the best actors in the business was solidified with an Oscar win for his role as an AIDS patient in Dallas Buyers Club; his turn as the tortured philosopher-detective Rust Cohle in HBO's True Detective was then called the best performance of his career after that Oscar win.
Now, McConaughey has his sights set on another Oscar win with Nolan's Interstellar. In that film, McConaughey plays an astronaut who accepts a mission into space that will save humanity, despite the fact that in doing so, he's leaving his children behind for an unknown period of time. The premise is that near-future Earth has run out of natural resources, most importantly food, and so a talented astronaut is needed to undertake a mission to scout out a new planet for humans to inhabit. McConaughey's character, a talented engineer, is reluctant to leave behind his son and daughter, but his skills are needed to save humankind.
The Oscar race plus a general desire to focus on more serious films is likely what led McConaughey to turn down reprising his role as the star stripper Dallas. The actor is currently filming the Gus Van Sant movie The Sea of Trees, so his schedule might not have worked out to do XXL anyway.
McConaughey isn't the only one not coming back for XXL, as Soderbergh himself handed over the directing duties to Greg Jacobs, though Soderbergh is still heavily involved in the film. Jacobs is the one who confirmed to Indiewire that McConaughey won't be in the sequel. Jacobs said that most of the cast — including Tatum, Matt Bomer, and Joe Manganiello — would be reprising their roles, but otherwise the movie will be "very different" from the first film.
"What am I allowed to say?" Jacobs told the publication. "It's road trip movie and put it this way, it's different enough that once you see it you'll understand why we made a sequel. No one will be accusing us of making the same movie twice." Jacobs had better hope that the different elements can be enough to make up for the absence of McConaughey and his abs.
Follow Jacqueline on Twitter @Jacqui_WSCS
More from Entertainment Cheat Sheet:
Want more great content like this? Sign up here to receive the best of Cheat Sheet delivered daily. No spam; just tailored content straight to your inbox.