Why Meghan Markle Adopted a Dog: 'Because Ellen Told Me To'
Meghan Markle is a known animal lover. She's a proponent of the adopt-don't-shop philosophy when it comes to pets. As it turns out another famous person in Hollywood gave Markle an extra push to adopt one of her dogs. That person being actor, comedian, and talk show host, Ellen DeGeneres. Get all the details from Markle herself (she explained the story to Best Health) ahead.

About Meghan Markle's dogs

The now Duchess of Sussex adopted two dogs — a Labrador-shepherd mix named Bogart and a beagle named Guy — years before she met Prince Harry.

Guy and Bogart often made appearances on the Duchess of Sussex's now-deleted Instagram account, snuggling alongside their mom as she drank a glass of wine on the couch in her former Toronto home or soaking up the sun in the backyard.

What happened to Meghan Markle's dogs when she moved to England?

Sadly, Bogart had to stay behind in Canada when Markle moved to London to live with Prince Harry. Reportedly, Bogart couldn't make the journey across the pond because of his old age. Markle arranged for her dog to live with close friends in Canada while Guy made the move with her.

Guy has taken to life with the British royal family quite seamlessly. Photographs surfaced of the pooch riding in a chauffeured car with Queen Elizabeth II.

Ellen DeGeneres convinced Meghan Markle to adopt a dog

Ellen DeGeneres played a role in Markle adopting Bogart. "I was in LA and I went to this dog rescue [shelter] and they had gotten him and his brother," Markle told Best Health in 2016.

She continued on with her story: "So I saw him and I was sitting there with him and then Ellen DeGeneres and Portia de Rossi walk in. Now, I don't know her, but Ellen goes 'Is that your dog?' And I said, 'No,' and she's like, 'You have to take that dog.' And I said, 'Well, I'm deciding.' And she's like, 'Rescue the dog!'

"It's sort of like if Oprah tells you to do something," Markle added. Needless to say she adopted the dog. But, as Markle's story goes, DeGeneres wasn't done convincing the former star of Suits to adopt the dog.

"I'm sitting there holding him and she's like 'Have you thought of a name for him yet?' And I said, 'Well, I think I'd name him Bogart,' and she's like 'You're taking the dog home.' And she walks outside to get into her car but instead of getting in she turns around and comes and taps on the window glass and she yells 'Take the dog!' And so I brought him home. Because Ellen told me to," Markle said.
Prince Harry and Meghan Markle adopted a dog together

Markle and Prince Harry share a black Labrador retriever together, supposedly named Oz though the name is still up for debate (Meghan Markle said everyone kept "getting her name wrong") whom they adopted shortly after getting married in May 2018.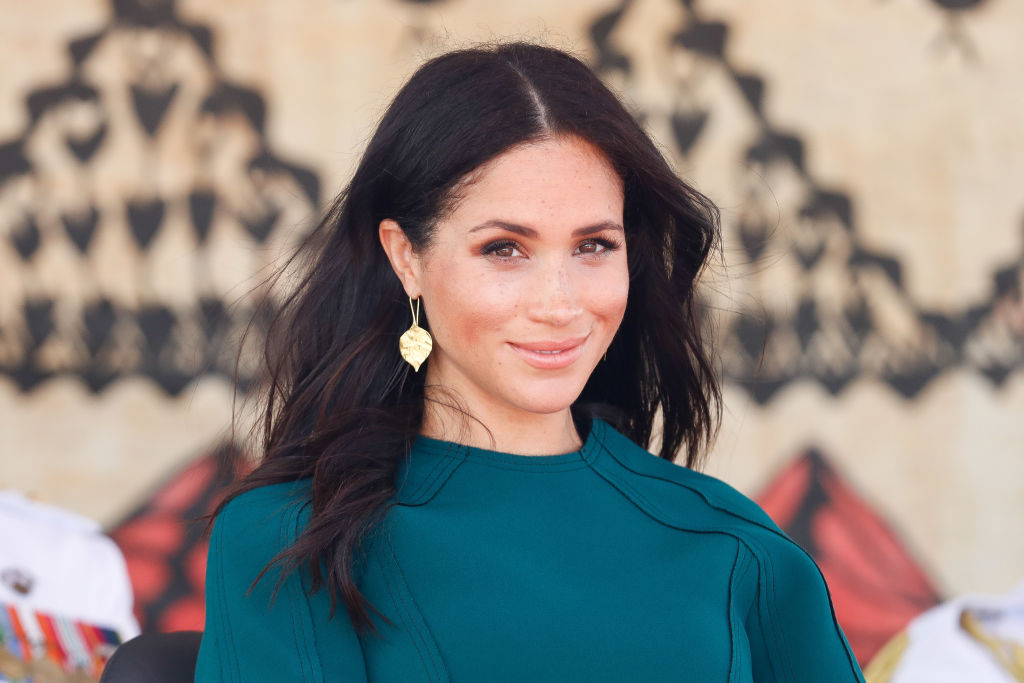 "The couple got the dog — believed to be a Labrador — in early summer [2018]," according to People.

Now Guy has another furry friend to play with at Frogmore Cottage while Bogart lives in Canada.