Why Meghan Markle and Kate Middleton Don't Actually Compete Against Each Other
A new poll has just been released that reveals who the most popular members of the royal family are, and the results are somewhat surprising. Kate Middleton, the wife of Prince William and the future queen, consistently ranks as one of the public's favorite royals. Meanwhile, Meghan Markle, former actress and the wife of Prince Harry, has always struggled with her public image.
Still, this recent poll reveals that Middleton and Markle are quite close in terms of popularity. Middleton ranks as the fourth most popular royal and Markle as the sixth most popular, with several places behind her sister-in-law. Read on to determine whether their public popularity places Markle and Middleton at odds within the family circle and how the two duchesses truly feel about each other.
Are Meghan Markle and Kate Middleton feuding?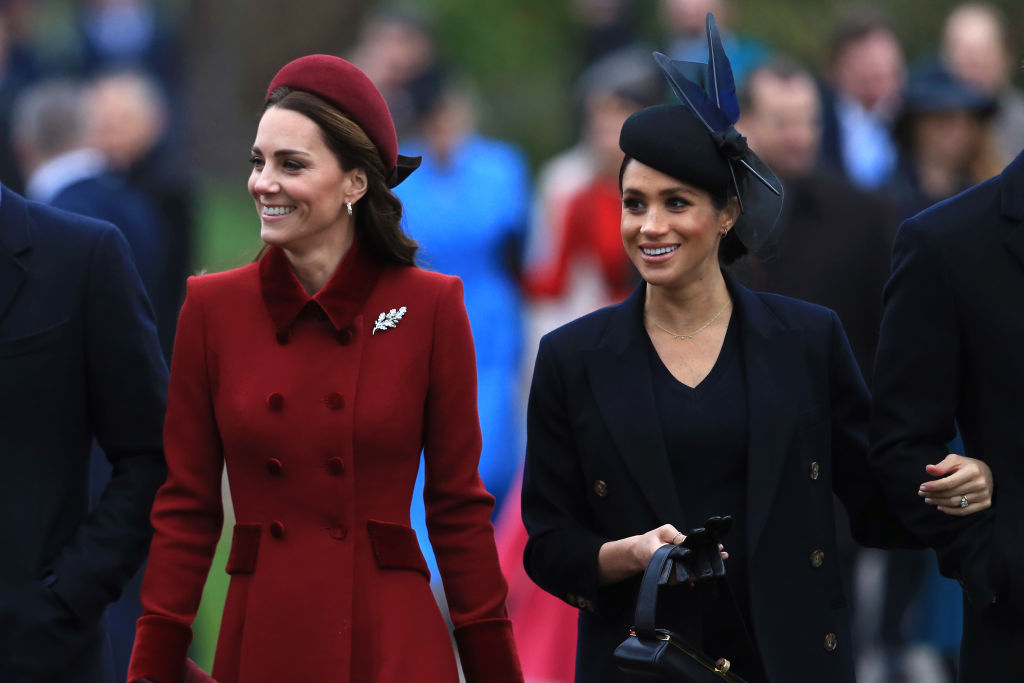 When Markle married Prince Harry in May 2018, all seemed to be well within the royal family. The sweet image of Prince Charles walking Markle down the aisle to meet Prince Harry at the altar seemed to signify that the royals were happy to welcome Markle into their midst. Still, not long after the wedding, rumors of a bitter feud between Markle and Middleton began swirling.
Sources claimed that Markle and Middleton's personalities clashed and that Middleton took issue with Markle's "diva-like" behavior. The rumors got even louder when Markle and Prince Harry separated their household from Prince William and Middleton's. The Duke and Duchess of Sussex moved into their own private residence and spruced it up with millions of dollars in eco-friendly renovations. The media seemed determined to portray Markle and Middleton at odds, no matter what happened.
Kate Middleton and Meghan Markle get along quite well
The reality of the feud is that there is no evidence to support bad blood between Markle and Middleton. In fact, many sources state that it is completely made up and that the media just likes to paint successful women as not being able to get along. Markle and Middleton have a lot in common, despite growing up in completely different circumstances: Middleton in upper-class England and Markle in California. Despite that, all signs point to the fact that they actually get along quite well.
According to recent reports, Markle and Middleton have grown a lot closer since Markle's wedding, and they even text each other quite frequently. They have even been spotted out together, most recently at a Wimbledon match, laughing and clearly enjoying each other's company. It seems likely that Markle asks Middleton for parenting advice since she's a new mother and Middleton has three young children of her own to raise while still navigating the pressures of the spotlight.
Meghan Markle and Kate Middleton each have their own duties
The media's relentless obsession with pitting Markle and Middleton against each other is pointless in any case. Regardless of how the press feels about either of the duchesses, the fact remains that they are secure in their positions as two well-respected members of the royal family.
Unlike politicians, the royals aren't elected into office, so Markle and Middleton aren't at risk of losing their places within the family. They also keep quite busy. Middleton is preparing for when Prince William takes the throne, as she will be by his side. Markle has her own projects to work on, including parenting Baby Archie and taking on special assignments, such as guest-editing the September issue of British Vogue.
No matter what the polls say, both women have ardent public support as well as the unwavering support of their closest family members. This is one royal feud rumor that can finally be put to rest.