Why Meghan Markle and Prince Harry Will Never Reveal the Name of Their Dog
Meghan Markle and Prince Harry are loving their new family dog, a black Labrador they adopted from a shelter — but they have yet to reveal their beloved pet's name. The former actress was forced to give up her old Labrador-German Shepherd mix, Bogart, when she moved to London. Although we know the name of their Beagle, Guy, here is the reason why they will never reveal the name of the newest addition to their family.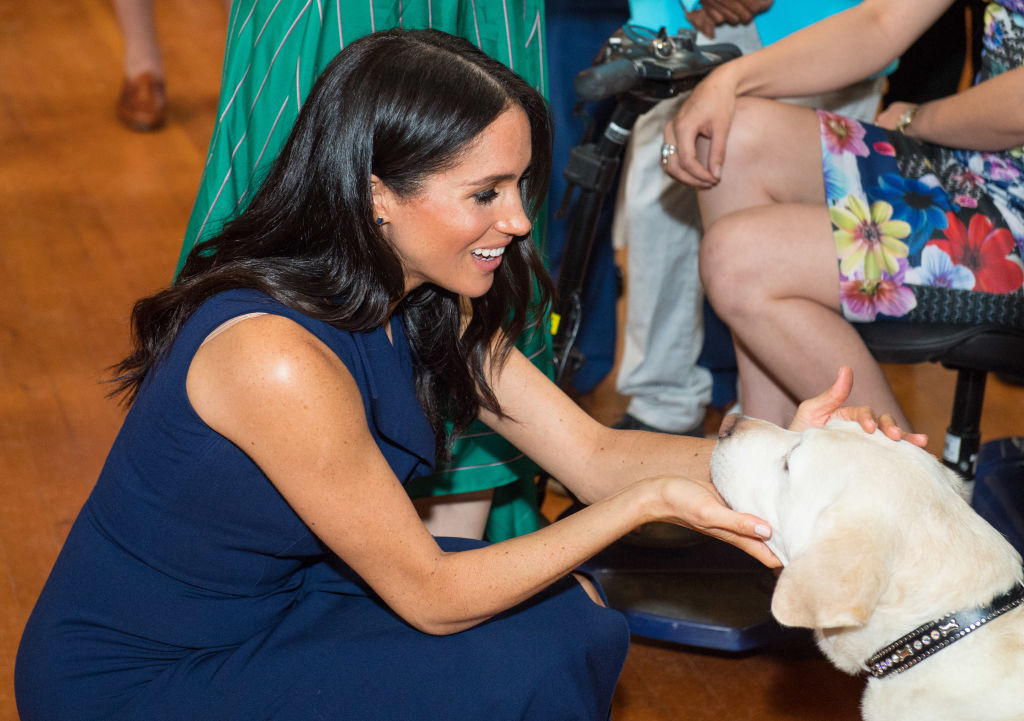 Markle and Harry keep new dog's name secret
Markle flew her beagle to London a few months before she tied the knot with Harry in 2018. The former Suits star has always been a dog-lover and is a huge advocate of adopting pets.
When it comes to pets, some members of the royal family choose to keep their names a secret. According to Express, Kate Middleton and Prince William were hounded with questions when they got their first dog, Lupo.
The press secretaries got so tired of the questions that they advised against releasing pet names, which means we probably won't ever learn what Meghan Markle and Prince Harry call their latest addition.
"I think it drove press secretaries crazy that they regularly had all of us asking what was the name of this dog," royal expert Omid Scoobie shared. "Harry and Meghan have chosen not to release the name of their most recent addition of their family."
As royal watchers will recall, Middleton and William did not announce the name of their dog. Instead, Kate Middleton revealed it when a child asked her at a public event.
While Markle and Harry have remained silent on the issue, there are some people who believe the dog's name is Oz. Fans believe the dog may have selected the name following their Australia tour last year.
Inside Meghan Markle and Prince Harry's tour of South Africa
Markle and Harry are currently on a grand tour of South Africa. The couple started their tour last week and have been making the rounds in several countries.
Although this marks the pair's first trip abroad as a family of three, Harry left Markle and Archie behind for a quick visit to Malawi.
Luckily, the two reunited over the weekend when Markle appeared to a classroom at Nalikule College of Education via Skype. Harry told the students that he's sure there is someone else they would like to talk to before introducing Markle on the screen.
After Markle thanked everyone for coming, the students started singing a song for her in what turned out to be an adorable moment for the couple.
Harry was visiting the college as a part of an effort to promote a charitable organization called Cama, which helps young women in Malawi stay in school.
Meghan Markle and Prince Harry's tour is scheduled to last ten days. The couple will be visiting several regions in South Africa before wrapping up their stay.
Markle and Ellen DeGeneres meet at a dog shelter
It's no secret that Markle is fond of adopting dogs from local shelters. In fact, Markle's friendship with talk show host Ellen DeGeneres started during a chance meeting at a shelter when she adopted her beagle, Bogart.
In the fall of 2017, DeGeneres opened up about her first meeting with the future Duchess of Sussex. Markle also talked about the encounter in a story written for Best Health.
Meghan Markle revealed that DeGeneres did not know who she was when they crossed paths at the shelter. Markle was on the fence about adopting a dog when DeGeneres convinced her that it was the right thing to do.
After taking him home, Markle frequently shared photos of Bogart on social media. She loved the dog so much that she flew him to London when she got engaged to Harry.
On her show, DeGeneres confessed that she did not remember meeting Markle at the shelter. But she did ask Markle to invite her to the wedding, which unfortunately did not happen.
While DeGeneres did not make the wedding, she is close to Markle and Harry. In fact, the TV host is one of the few celebrities who got to hold Archie after Markle gave birth in the spring of 2018.
DeGeneres has yet to divulge the name of Markle and Harry's new dog, though we can only hope that the couple's secret comes out eventually.
Prince Harry and Meghan Markle have not commented on the rumors surrounding their pets.