Why Meghan Markle and Queen Elizabeth Need a Sense of Humor These Days
Along with royal life comes plenty of glitz and glamour, as we all are well aware. Family members such as Kate Middleton and Meghan Markle get to live in wonderful homes, wear sparkling pieces from the royal jewelry box, and vacation in the most beautiful places in all the world.
However, that doesn't mean that royal life is simple. There is a strict set of rules to follow that applies to the outfits that the royals wear to the topics that they can or more often, cannot, discuss in public. One slip of the tongue or a moment caught off guard can be breaking news at any moment!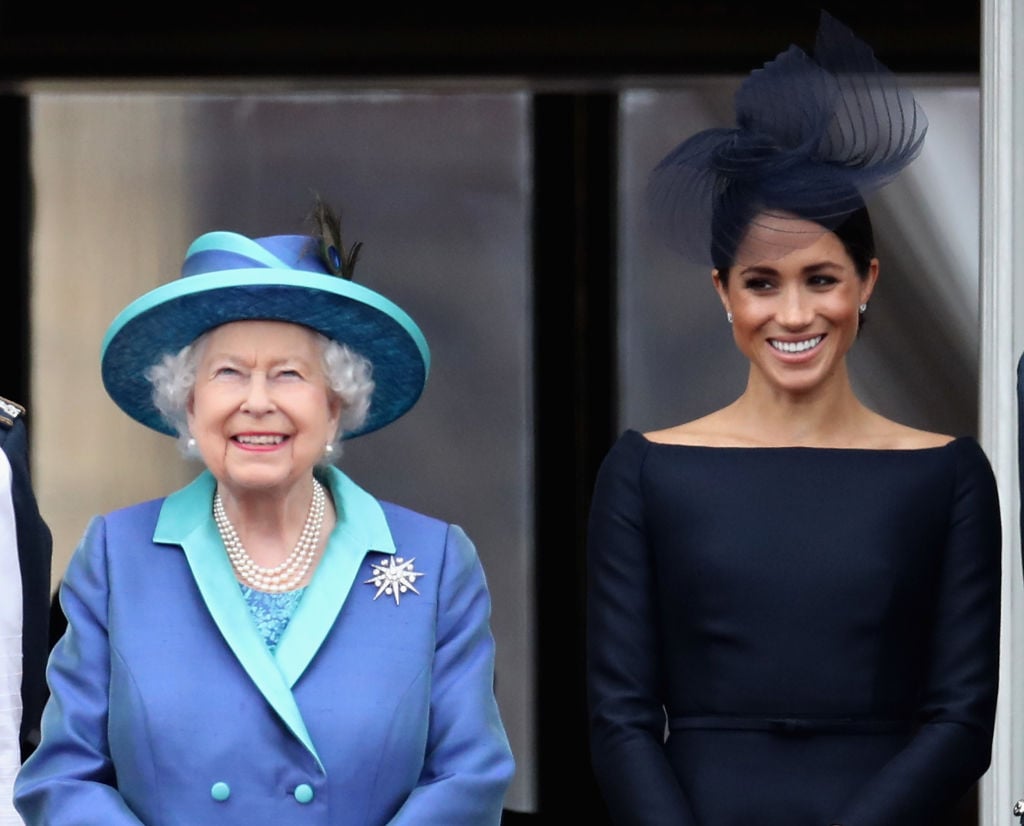 Markle is hardly ever seen without a genuine smile on her face, despite the severe scrutiny that she is often dealing with due to her new role as Duchess of Sussex. Queen Elizabeth, as well, is said to make people laugh behind closed doors. So, why is it so important for Markle and the queen to have a sense of humor these days?
Meghan Markle's life has drastically changed
It seems like just yesterday that Markle was living in Toronto and playing the role of Rachel Zane in the legal drama Suits. Her life was relatively quiet, and she spent a lot of time with her co-stars, attending events and restaurants, or doing some of her favorite activities such as yoga. According to Torontolife, Markle spent time working on her now-defunct blog — The Tig — and hanging out at her home in Seaton Village.
Now that she is the wife of Prince Harry, Duchess Meghan is dealing with a much higher level of fame. She is constantly being photographed, and everything that she says and does is analyzed by the news media.
Queen Elizabeth is quite the funny one
We may assume that the ruling monarch has a stiff, serious personality at all times, yet this couldn't be farther from the truth. In fact, Parade reports that her majesty's quick wit often leaves people giggling, and she doesn't hesitate to speak her mind behind closed doors. It turns out that being a queen doesn't mean that cracking a joke from time to time isn't allowed.
The royal family has been under extreme scrutiny lately
The unfortunate fact is that the royal family has received more than its fair share of criticism recently. In particular, Prince Harry and Markle. They were scrutinized for taking a private jet to Nice, France, and according to Insider, a few friends jumped to the couple's defense. Since joining the royal family, details of Markle's life have become headline news, and most people don't hesitate to weigh in with their opinions. There is no doubt that this is difficult for the duchess, as she is being criticized by so many people around the world.
Why is it important for Meghan Markle and Queen Elizabeth to have a sense of humor?
It is important simply so they can get through the day. Living life under a microscope can be stressful for anyone. Recently, Markle joked about the "turn" that her acting career took, as reported by HuffPost.
Not only that, but she made her grandmother-in-law snort with laughter during her early days as a duchess. This is proof that the royals are just like us in so many ways. Surely Markle and the queen know that they can't let the negativity and the criticism get to them, which is why it is important for them to remain humorous and lighthearted.