Why Meghan Markle Has Been Advised Not to Take Photos With Beyoncé
Meghan Markle has a busy schedule, but she found time to hit the U.K. premiere of Disney's live-action remake of The Lion King. Not only did she attend the July 14 event, but she also hit the red carpet, where she mingled with Beyoncé, who voices Nala.
Photographers were able to snap a few pictures of the ladies as they talked. But it appears that Markle and Beyoncé didn't pose for any photos to mark their very first meeting. Why? The Duchess of Sussex has reportedly been advised not to take photos with the "Run the World" singer.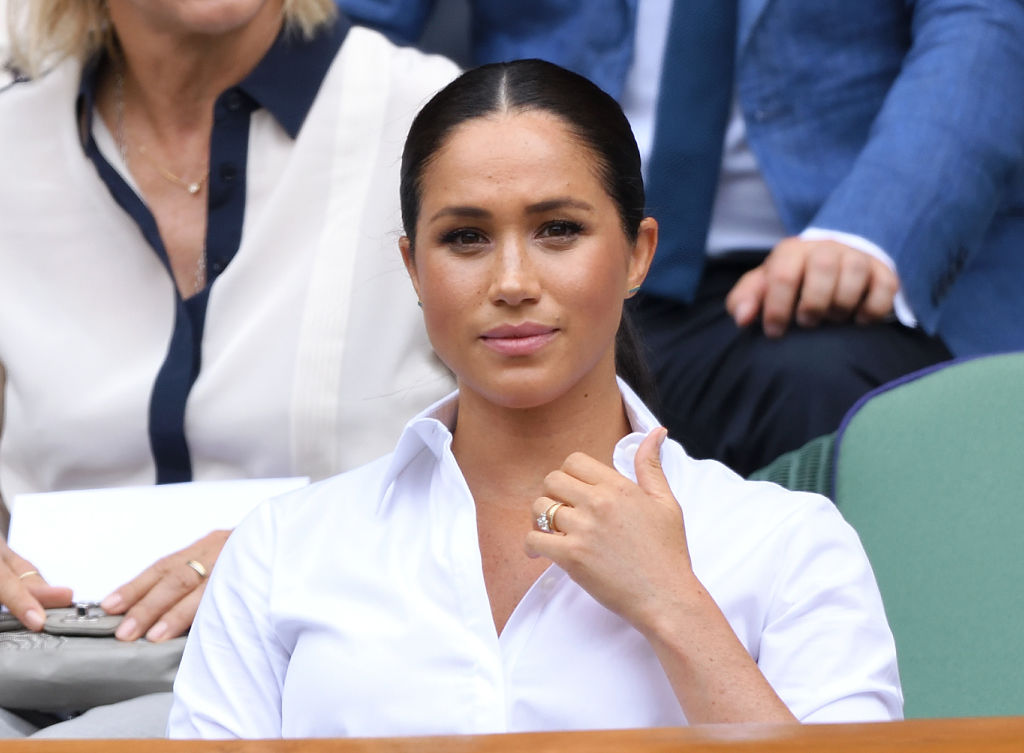 Sources said she would face backlash
Royal commentator Justin Sylvester told E! News, "If she takes a photo with Beyoncé everyone's going to say, 'She's so Hollywood, this is not what Royals do.'"
But he also said Markle could spark criticism if she decided not to pose for a photo. "If she doesn't take the photo with Beyoncé everyone is going to say, 'She snubbed her [or] she's too good for her," Sylvester continued.
He told the outlet that Markle would be "doomed," no matter what she decided. "She's damned if she does and she's damned if she doesn't," he said.
There are predictions that a photo of Beyoncé and Markle will surface soon
At least one person believes that the stars will take a photo together despite those concerns. Journalist and broadcaster Melanie Bromley predicted, "Of course we will see a picture of them together, absolutely we will."
According to Bromley, they simply declined to take a photo on the red carpet because they preferred to take one "inside the auditorium."
Markle and Beyoncé had the cutest conversation
A video uploaded to Twitter by The Daily Mail's Rebecca English shows Markle sharing a sweet moment with Beyoncé at the premiere. They hugged as the Lemonade singer told Markle that her newborn son, Archie Harrison is "so beautiful" and that she "love[s] her family."
In response, Markle reportedly asked Beyoncé for some deets on her 2-year-old twins, Sir and Rumi Carter. As they talked, their husbands, Prince Harry, and JAY-Z, even joined in on the conversation.
Beyoncé is a big fan
The "Formation" crooner paid tribute to Markle when she won a BRIT Award in February. During the acceptance speech, Beyoncé posed with a portrait of the duchess in the background.
Artist Tim O'Brien told OprahMag.com that the tribute was an "ode" to Beyoncé and JAY-Z's "Apesh*t" video. (The video shows the couple posing in front of the Mona Lisa). "I think that choosing to feature a person of color in the royal family—at the Brit Awards—instead of the Mona Lisa was brilliant," he explained. "It was the perfect fit."
According to Markle's makeup artist, Daniel Martin, the mom-of-one was thrilled and shocked by the tribute. He said that she responded with a "big eye emoji" after he sent it to her.
Considering all the love the stars appear to have for each other, it seems like they're absolutely going to take a photo together. Let's just hope they share a glimpse with us.