Why Meghan Markle Is 'Disappointed' With Her Security Protection
Meghan Markle is at the center of yet another tabloid controversy. The new mom has historically faced issues with the press painting her as difficult, uncooperative, and a diva from the very beginning of her relationship with Prince Harry. Exactly how much of the talk is rooted in truth is not certain but between the nonstop rumors and the fact that Markle is slowly emerging from her months-long maternity leave, the Duchess of Sussex is surely in for a tough rest of the year. The latest story sweeping the internet emerges following the backlash that Markle recently received at Wimbledon.
Meghan Markle's Wimbledon disaster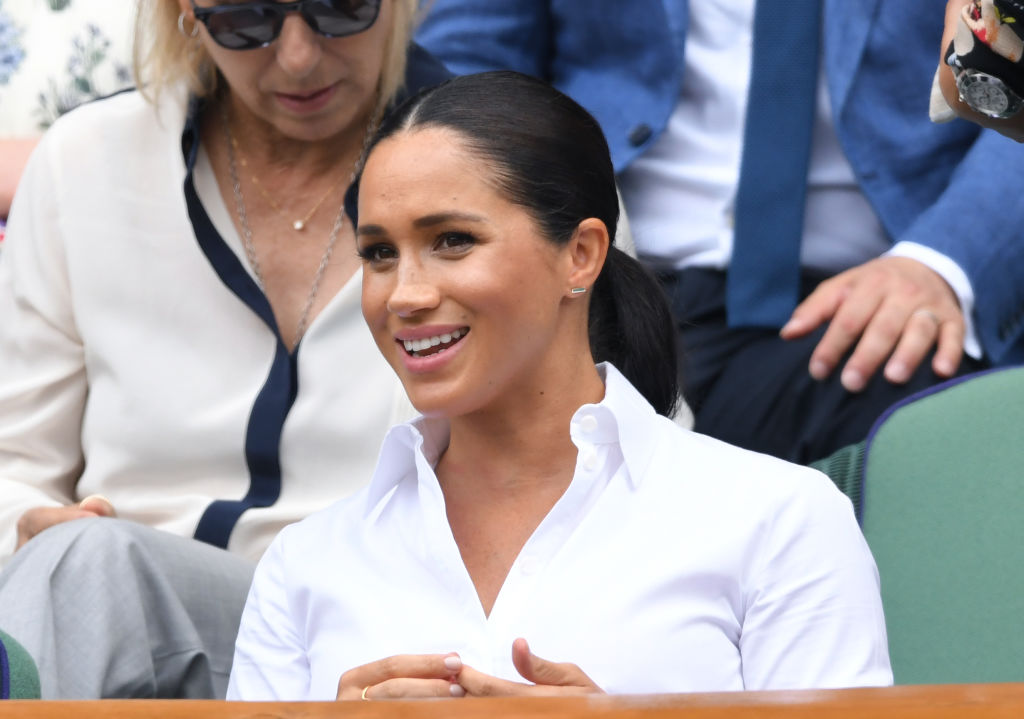 In early July, Markle made a rare public appearance without Prince Harry when she showed up at Wimbledon to watch her longtime friend, Serena Williams, play tennis. While many fans and spectators were shocked and delighted to see Markle, some of their excitement fizzled when they tried to get closer to take some snapshots of her. According to several bystanders, Markle's security guard shut down the photo ops, and stated that Markle was there in a "private capacity," and entitled to enjoy the game without posing for photos.
While Markle did take some photos with fans at the event, including several young children, the majority of bystanders hoping for a picture got turned away by Markle's security officer. Needless to say, the backlash following the incident was swift and immediate.
Meghan Markle is reportedly angry at her security
The press and public wasted no time lambasting Markle over the Wimbledon appearance. Fans were angry that Markle's security insisted she was there as a private citizen when the royal family's lifestyle is by and large financed by British taxpayers. Even more royal watchers were upset that Markle apparently demanded that privacy at such a public event as the Wimbledon games.
While the royal family hasn't spoken out about the incident, and aren't likely to, a recent news story claims that even Markle is upset with how the day played out. The source states that Markle, far from being angry about people wanting to take photos with her, was not pleased with the way her security team handled the photo requests. The source goes on to say that Markle would have taken photos with anyone who wanted one and that the security officer was being too protective of her.
Meghan Markle could be trying to regain public favor
While this report is unconfirmed by anyone in the royal family, it certainly seems reasonable to assume that Markle would be bridling at the heightened security around her. After all, it does seem as though Prince Harry has gone to extraordinary lengths to protect Markle from the paparazzi, and many believe that he's determined to keep the same fate that befell his late mother from happening to his wife.
Markle, before her marriage into the royal family, was accustomed to some security, as she was a popular actress in a hit TV show. Still, she probably never anticipated the level of public interest in her activities that would develop after her marriage to Prince Harry. She could very well be uncomfortable with the security officers surrounding her in public.
Another possibility is that Markle sanctioned the actions of her security team and is trying to get back in the public's good graces by leaking such a story to the press. Although it is unlikely, Markle has been the subject of vicious reports for a long time. Perhaps she's sick and tired of the negative publicity and is making an attempt to reclaim her own narrative.