Why Meghan Markle and Prince Harry Might Not Return to the U.K. When Princess Eugenie Has Her Baby
Prince Harry and Meghan Markle have been adjusting to life in the United States since officially stepping down from their roles as working royals back in March. The two have taken up residence in Los Angeles, and there have been rumors about when the couple might return to the United Kingdom. But with Harry's cousin, Princess Eugenie, recently announcing a pregnancy, could Harry and Meghan return to the U.K. when Eugenie welcomes the 11th in line for the throne? Probably not.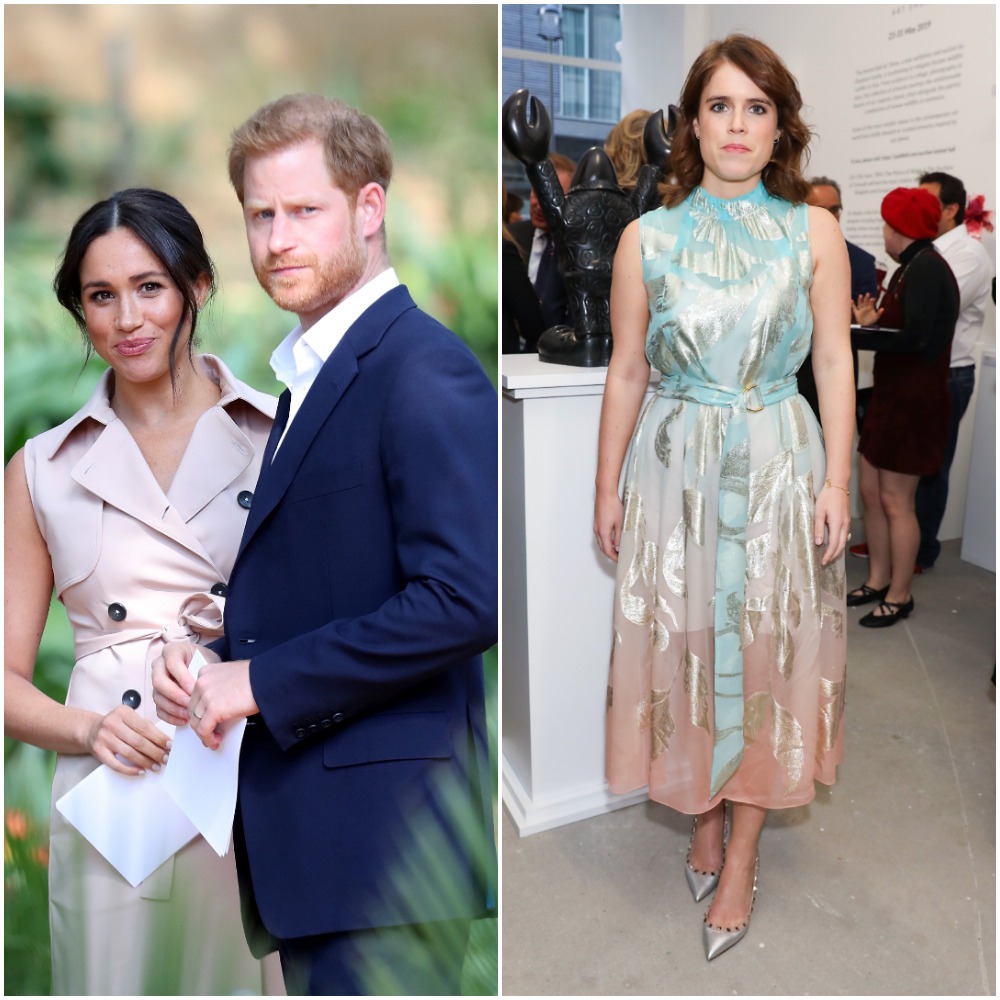 Prince Harry and Princess Eugenie were always close growing up
It's hard to understand what life is like as a royal for anyone who didn't grow up in that kind of family. But Harry and Eugenie can bond over the fact that they are both grandchildren of the queen, and it has helped them develop a close connection throughout their lives. The two could often be seen laughing together at royal events, and they've been regarded as two of the most fun members of the family.
When Harry married Meghan, things between those two and the public became rocky. But Eugenie always offered a line of support. When Harry and Meghan joined Instagram, Eugenie welcomed them through her own congratulatory post. And when Harry and Meghan introduced Archie to the world, Eugenie once again took to Instagram to express how "happy" she was for the couple, amid rumors that Meghan wasn't easy to get along with.
RELATED: Princess Eugenie Accidentally Helped Leak Prince Harry and Meghan Markle's Relationship To the Press, Source Says
Eugenie's baby is due in 'early 2021' which might not coincide with Harry and Meghan's schedule  
Eugenie and her husband, Jack Brooksbank, just announced that they're expecting their first child in "early 2021." The couple posted a photo of baby shoes to social media to mark the announcement, and though it's unclear when their exact due date is, it's likely sometime between January and March.
Harry and Meghan have remained in the United States since this past March, after the leaving the U.K. upon completing their final royal engagement. But it's been rumored that the two could return to the U.K. next year and potentially stay for several months. Express reports that Harry and Meghan might return in March for the Invictus Games, then stay through July to attend both Trooping the Colour (in June) and the unveiling of Princess Diana's statue (in July).
Should Eugenie welcome her baby before the Invictus Games, Harry and Meghan likely won't make the trip to the U.K. to meet the newest addition to the royal family. Rather, they would probably wait until it made more sense for his schedule — potentially sometime in March.
Has Harry stayed close with his cousin since moving to the United States?
Harry's relationship with the royals has remained unclear since he left for the U.S. Some sources have suggested Harry is on much better terms with his family, while others seem to think Harry and the royals are only drifting further. It's hard to tell where things stand with him and Eugenie; the two were close when they were young, but it's possible their lives have led them in two separate directions. Still, Harry will likely be thrilled to meet the couple's newest addition when he and Meghan are in the U.K. next.