Why Meghan Markle Skipped the Queen's Birthday Easter Sunday Service
It's a big day for the Royals — Queen Elizabeth II turns 93 today! The family turned out for Easter Sunday service at St. George's Chapel at Windsor Castle, but Meghan Markle was noticeably absent. Of course, this drummed up plenty of rumors about why the pregnant Markle would miss out on the celebration.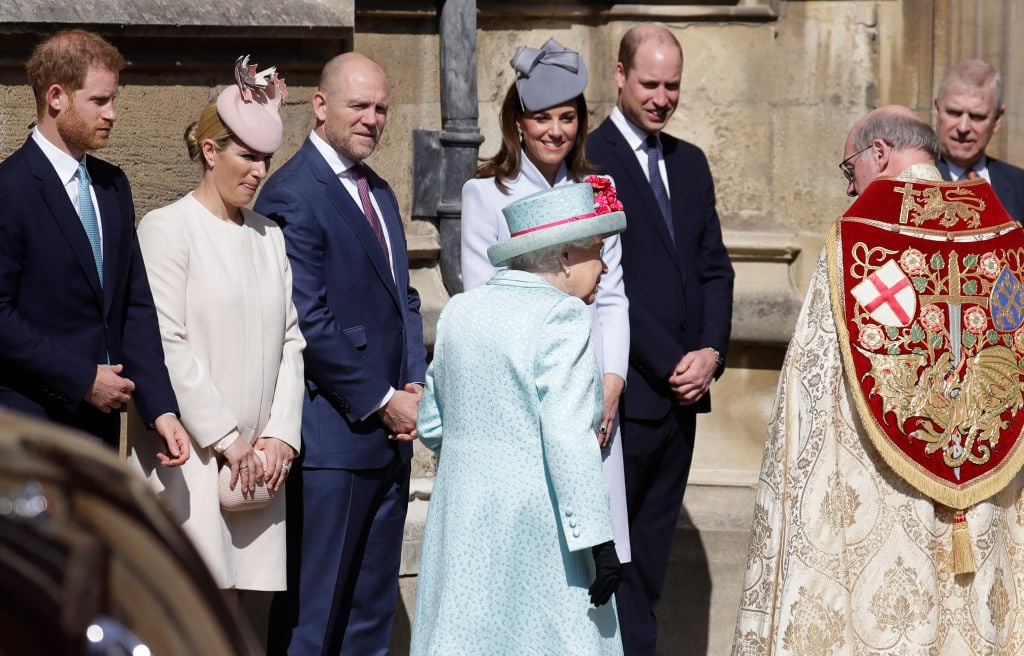 Prince William, Prince Harry, and Kate Middleton were in attendance
The Queen and her grandsons, Prince William and Prince Harry, as well as William's wife, Kate Middleton, were in attendance for the Easter Sunday service. Middleton was spotted giving a curtsy to the Queen as they entered the church. The Queen wore a vibrant blue coat with a matching hat that sported a pop of color around the rim.
Prince Harry attended the service solo, which has many wondering if Markle is in the final stages of her pregnancy and due to give birth soon. Zara and Mike Tindall, Prince Andrew, Princess Beatrice, Princess Anne, Sophie Countess of Wessex, her son James Viscount Severn, and Peter and Autumn Phillips also attended.
Royal birthday wishes flooded social media
The Kensington Palace and The Royal Family social media accounts paid tribute to the Queen on her big day. Kensington Palace shared a series of photos on Twitter and wrote "Wishing a very happy 93rd birthday to Her Majesty The Queen! #HappyBirthdayYourMajesty."
The Royal Family Instagram account posted a video that showed the Queen through the years, noting: "Happy 93rd birthday to Her Majesty The Queen! Our video includes a photograph from each decade of The Queen's life, from an image of her as a baby in 1926, to her visit to King's College last month. #QueensBirthday #HappyBirthdayHerMajesty."
Prince Harry and Meghan Markle wished 'Granny' a happy birthday
Markle may have been absent at the Easter service, but the couple's new Instagram account had a special message for the Queen: "Happy Birthday Your Majesty, Ma'am, Granny. Wishing you the most wonderful day! Harry & Meghan."
A series of photos showed the Queen as a young woman, as well as with Prince William and Prince Harry as young boys, and with Harry as a young man. There was also a photo capturing a sweet moment of the Queen with Markle, where the two shared a laugh, and a pic of the trio together.
Will Meghan Markle give birth today?
Since Markle couldn't attend the service, there are rumors that perhaps she will give birth today, which would mark quite an occasion, as it's also the Queen's birthday and Easter. While it's entirely possible that she could have the baby today, most fans agree that Prince Harry wouldn't have left her side if she was in labor or if it was her due date and that she's just at home resting.
The couple released a statement last week that indicated they would not be sharing the details of their birth, which has left fans guessing… some wonder if Markle already had the baby!
Buckingham Palace released a statement that explained: "The Duke and Duchess of Sussex are very grateful for the goodwill they have received from people throughout the United Kingdom and around the world as they prepare to welcome their baby. Their Royal Highnesses have taken a personal decision to keep the plans around the arrival of their baby private. The Duke and Duchess look forward to sharing the exciting news with everyone once they have had an opportunity to celebrate privately as a new family."