Why Meghan McCain Keeps Getting Knocked Around on 'The View'
It's been more than a month since Whoopi Goldberg appeared on ABC's The View. Though rumors circulated about her hosting the Oscars, it turned out Whoopi's been nursing an illness (pneumonia) and should return soon.
While that's obviously great news for Whoopi and her devoted fans, it might be better news for ABC and producers of The View. During the time she's been gone, the audience has seen its share of fireworks on the air — not mention lackluster performances among the show's co-hosts.
At the top of that list is Meghan McCain, the show's most conservative regular. According to reports, Whoopi had a hand in McCain's hiring (Goldberg was friends with the late John McCain), and her absence may be unsettling Meghan.
However, she has her own explaining to do. On multiple occasions in the past month, McCain has brought weak arguments to the table and even pouted when she's had a problem with her co-hosts.
McCain's 'hissy fit' and reported blow-up with 'View' producers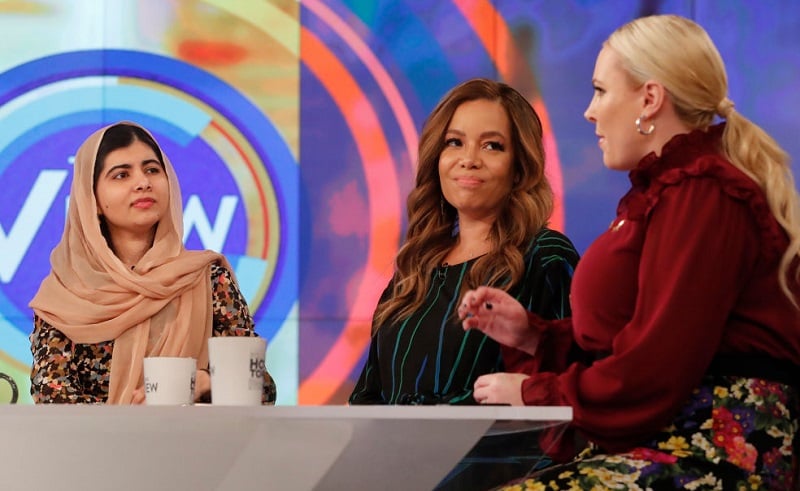 If you're looking for a particularly bad day for McCain, you needn't go further than February 11's show. As Joy Behar introduced a segment on Amy Klobuchar's 2020 announcement, you can hear McCain commenting in the background.
After the second interruption, Behar stopped and asked McCain, "Can I get through this, please?" Almost immediately, McCain started talking while Behar read through the tweets that were posted on-screen.
"So stupid," McCain said, after which Behar gave the camera a knowing look. Once Abby Huntsman and Sunny Hostin spoke on the subject, McCain jumped in, sounding offended.
"Can I say something now?" she asked. "Is that okay, Joy? Do I have permission to speak now on Amy Klobuchar?" Whatever happened off-camera, McCain interrupted herself. "Nope! By all means, keep going."
"If you're gonna have a hissy fit, we can't continue," Behar said, to laughter from the audience. According to Radar Online, the episode infuriated McCain, who took her complaints to the show's producers.
Unfortunately, for her, producers took Behar's side, an inside source reported. Though McCain felt unfairly treated, she didn't handle it well. In the first week of March, she again looked unprofessional during a visit with a presidential hopeful.
McCain's give-and-take with Gov. Inslee on the Green New Deal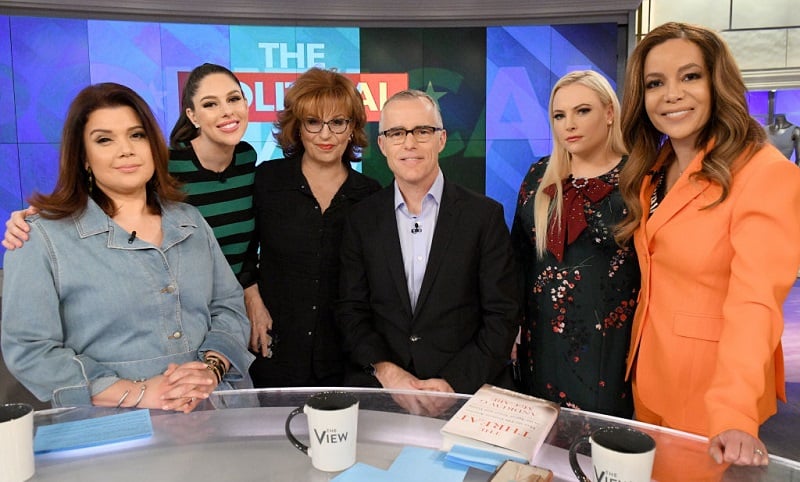 On March 4, Washington Governor and presidential hopeful Jay Inslee stopped by The View to discuss his candidacy. Inslee, whose main issue is climate change, had to know McCain would present an opposing viewpoint.
However, he couldn't have known how easily her arguments would be shot down. McCain started with the debunked claim that the Green New Deal would "would cost $93 trillion or, to every person in this room, $600,000 for each of your households."
"Well, this is a lot like the death panels you heard about in Obamacare," Inslee said calmly. "We don't have death panels and we don't have $600,000 costs."
But McCain had her talking points and wouldn't let go. She even cut off Inslee to make her next point. "We're talking about $51 trillion, the elimination of planes, the elimination of cows, no planes … It doesn't sound rational to me."
"It doesn't sound rational because those are the things that Donald Trump said," Inslee replied. Next, McCain tried to change the subject to talk about climate activists who use (in her opinion) too many resources. Cameras flashed at Inslee smiling like a father might to a teenage daughter.
At the end of her rant, he said simply, "That is not what is proposed with the Green New Deal." The crowd responded with applause, you were left with the feeling that McCain hadn't done her homework.
It's not something she can blame on her producers or anyone else. If she wants to make a living discussing politics on TV, she should come to work more prepared. Otherwise, we see a lot of pouting in her future.
Check out The Cheat Sheet on Facebook!