Why Netflix Could Be Making a Huge Mistake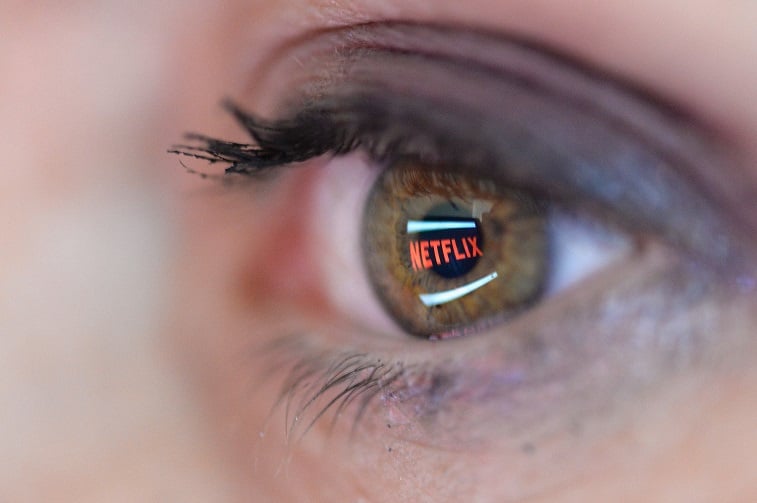 Ever have too much of a good thing? It appears that the leadership team at Netflix thinks so — and is reportedly experimenting with a way to ruin one of the best, most cost-effective consumer experiences available on the entertainment market today. If there's one thing that gives Netflix a big lift over competitors like Hulu, it's the fact that users can sit down, select something to watch, and jump right into it without interruption.
But interruptions are precisely what Netflix is experimenting with, in the form of ads.
Panic is hitting subscribers after Netflix has reportedly been running advertisements rolling onto the screen after television shows and movies had ended through it's on-demand streaming service. The news comes via Cord Cutters News, which says that readers reported the phenomena when using an Xbox One video game console to stream content. The reports have since spread to users of other devices, including Roku and Tivo.
When Cord Cutters News reached out to Netflix for comment, Netflix said, "we are always testing new things via the service, many of which never see a rollout. We have nothing more to add at this point."
Other news outlets have received confirmation from Netflix that experiments are under way as well, including a statement given to a reporter from Vice's Motherboard. "We are running a test to show some of our original programming," a Netflix spokesperson told Motherboard. "As with any Netflix product test, this may never come to all our members."
The advertisement tests in which Netflix is apparently taking part comes at a curious time, considering that the company's CEO Reed Hastings insisted, in an interview with The New York Times, that Netflix will rely on original programming to attract more subscribers and revenue, rather than dipping into advertising. The ads are apparently not for specific products and services, but are instead featuring trailers for Netflix's own content — new original movies and shows.
But that hasn't stopped people from getting up in arms about it, and worrying about how the service may change in the future.
In the fallout, Hastings has reached out via social media to calm fears that Netflix is turning into Hulu — which is much maligned for its advertisements, even though users pay to use it.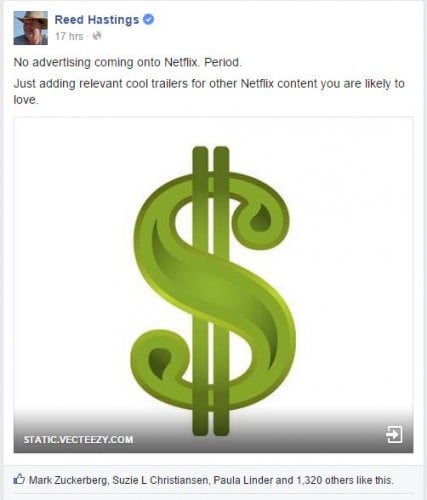 "No advertising coming onto Netflix. Period," Hastings wrote in a Facebook post, seen above.
While that's reassuring, if there's anything American consumers know, it's that talk is cheap. Still, it seems that Hastings knows how fragile and sensitive his user base is, especially considering the rather big reactions Netflix received after trying to make other large-scale changes to its business model.
That user base now stands at 62 million strong, spread across 50 countries. It's clear that Netflix has become monumentally successful without the use of advertising, and after the company managed to completely revolutionize home entertainment, it's left with only a handful of true competitors, while traditional media companies scramble to catch up. If Netflix does start incorporating ads into its streaming platform in an effort to bolster profits, it could easily result in users dumping their subscription. After all, what people like about Netflix is its fresh take on entertainment, and a shunning of traditional revenue-generating methods.
We recently wrote about the success that one of Netflix's main competitors, HBO, is experiencing. HBO, though a stalwart of traditional media and tied to cable and satellite carriers, has taken its customer's call for change to heart, and has adopted the Netflix-style content delivery system with both HBO Go and HBO NOW, leading the company to a new-found level of prosperity.
HBO is another entertainment platform that has risen to prominence through a subscription model, without the aid of advertising dollars. As a result, the company has been able to produce some of the most top-notch programming out there for years without interruption, or interference from advertisers. As legions of cord-cutters have blossomed, HBO has opted to adopt the Netflix platform to grow, while Netflix has borrowed HBO's style of producing original programming.
As a result, the two are quickly separating themselves from platforms like Hulu, which still incorporates ads. Considering how important the ad-free policy Hastings has put into place has been to Netflix's success, it only makes sense that the panic regarding these 'ad tests' should fizzle out soon.
Follow Sam on Twitter @Sliceofginger
More from Business Cheat Sheet:
Want more great content like this? Sign up here to receive the best of Cheat Sheet delivered daily. No spam; just tailored content straight to your inbox.