Why Nicki Minaj and Cardi B Are Feuding Again
Nicki Minaj and Cardi B's reported rekindled feud has it feeling like 2018 again.
Fans could not have been happier to see Nicki Minaj and Cardi B make up last year after their infamous fight during New York Fashion Week. However, that ceasefire might be over, as the two femcees have seemingly been shading each other during the week of Aug. 11.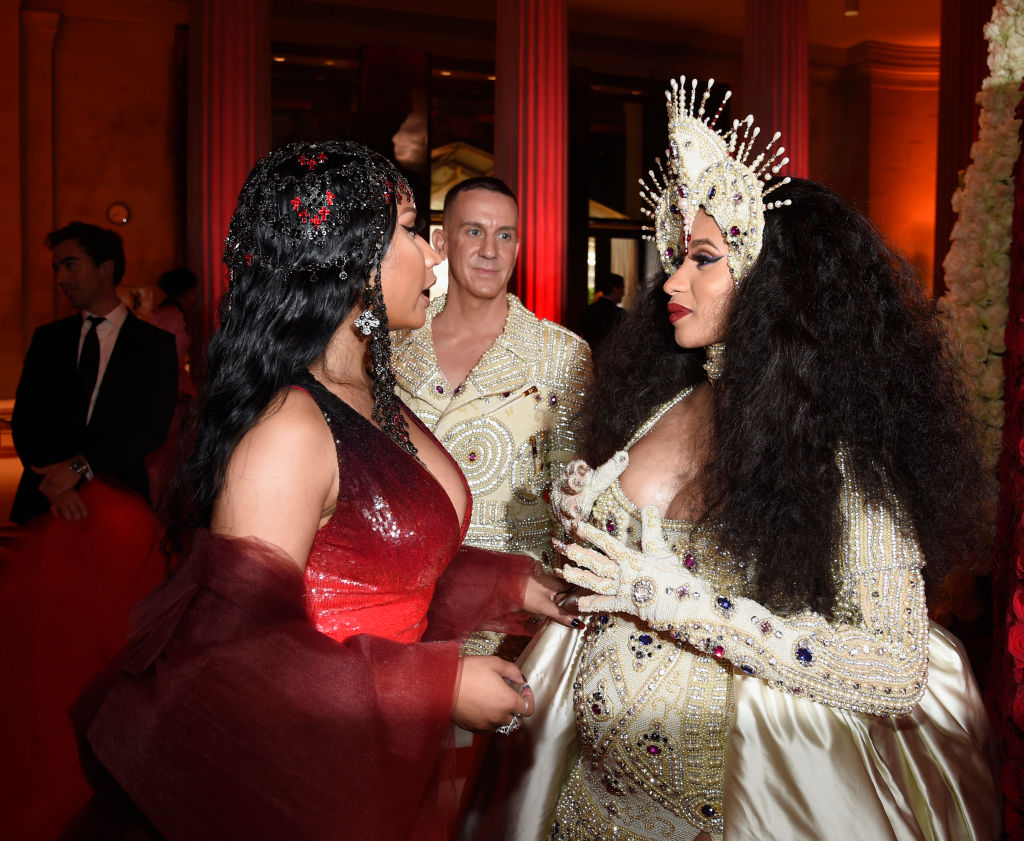 So, what happened? Why are they reportedly going at each other again? Here's what's going on between Minaj and Cardi B.   
It all started with comments Nicki Minaj made
So, Minaj hasn't gotten over all that drama surrounding "MotorSport," which featured Cardi B and caused their first fall out. Fans will remember how Cardi B made comments about the collaboration that Minaj said "hurt" her feelings.
In a new interview on the Joe Budden Podcast, Minaj accused media figures, like Budden, of instigating the drama around the track and spreading lies in an alleged attempt to ruin her career. She then reminded him of her "authentic come-up," explaining that she became famous solely on the strength of her musical talents.
"I still had to go through these things because of people like you who made a sport out of tearing down a young, black woman who's done nothing but come in this game with an authentic come-up, writing raps, and doing what the f*** was really necessary," she said (via Complex). "No Instagram, no reality shows, no sucking DJs' d*cks."
Cue the record scratch
Listeners interpreted the last line as shade toward Cardi B, who became famous through Instagram, as well as her spot on Love & Hip Hop: New York, where she worked with (and allegedly dated) DJ Self. Cardi B has also admitted to using ghostwriters on her critically-acclaimed debut album, Invasion of Privacy (2018).
But Minaj didn't stop there. She went on to talk about how social media users have recently been sharing their top 50 rappers and seemed to throw more shade toward a certain, unnamed person.
"I would feel so f*cking crazy if I had No. 1s and Grammys and ain't on nobody's top 50 list," she said in an apparent reference to Cardi B, who has several No. 1 singles and a Grammy Award. If you've seen any of the lists floating around on social media, you know that while Minaj landed on a handful of them, the "I Like It" rapper was noticeably missing from almost all of them. Shady, right?
Cardi B's alleged response to Nicki Minaj was even shadier
Shortly after Minaj's comments, Cardi B took to Twitter to share a list of some of the world's most successful albums, which included Invasion of Privacy.
"Only list I give a f*** about," she tweeted.
She later used Mariah Carey's 2009 hit, "Obsessed," to call out one of her haters. "Have you ever had somebody sooo obsessed with you?" she wrote on Instagram. "Sh*t starts to feel a little creepy … truly spooky."
Minaj did not respond to the comments, but her fans did. They unearthed an old video of Cardi B allegedly staring at and scrolling past one of Minaj's Instagram photos, suggesting she's actually the one who is "obsessed" with the "MEGATRON" rapper.
Later, Minaj changed both her Twitter and Instagram avatars to the same photo.
As of writing, that's the latest in this drama. But knowing them, it won't be the last. Stay tuned.