Why No One Likes Adam Sandler Anymore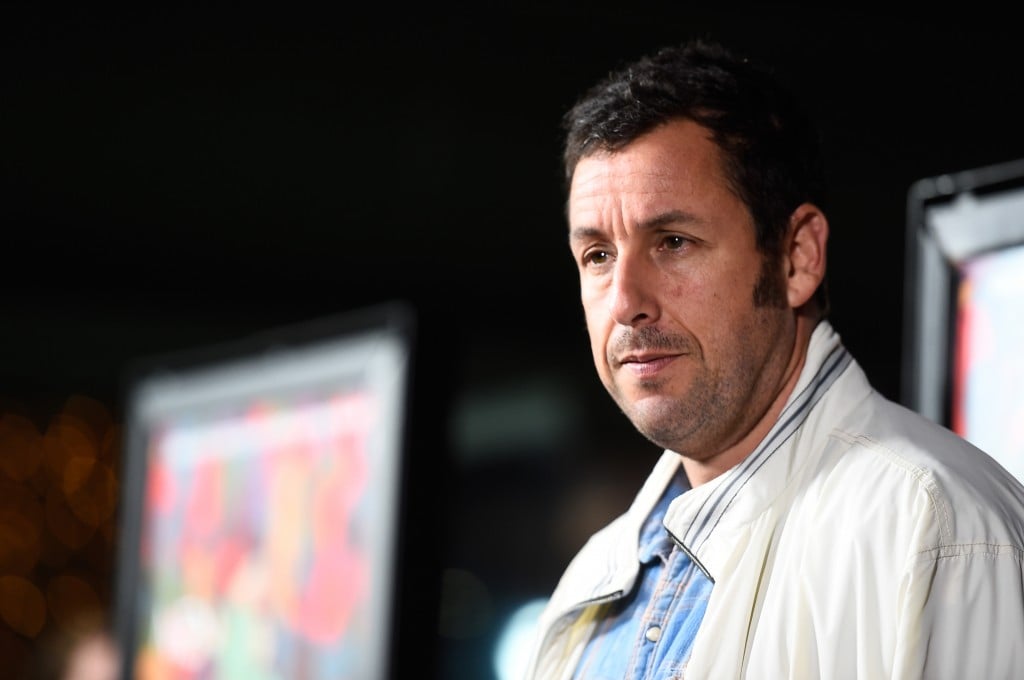 The last couple years, several controversies have dragged Adam Sandler's name through the mud, though at this point it's really uncertain whether that name could get any dirtier. The actor has been continuously offensive for the better part of his career, becoming more and more tasteless the further he gets from his SNL heyday. It's as if age is sapping out what little potential for humor Sandler ever had. His movies continuously tank at the box office, get lambasted by critics, and make no one with an IQ in the double digits laugh. So why does Hollywood keep giving him work? Why did Netflix, a company that has built itself a reputation for quality, give him a massive movie deal?
In June of 2015, Sandler's gross practices were called out by actress Rose McGowan, who tweeted about a casting note that came with a script she received for a Sandler film. That note requested that the woman auditioning for the part wear particularly revealing clothing to the audition. McGowan tweeted the note, making the obvious allusion that this was for an Adam Sandler film. She also later confirmed to E! that Sandler was the male star of that movie. Then a week later, McGowan tweeted that she was fired by her acting agent for speaking out on the sexist wardrobe request.
https://twitter.com/rosemcgowan/status/611378426344288256
I just got fired by my wussy acting agent because I spoke up about the bullshit in Hollywood. Hahaha. #douchebags #awesome #BRINGIT

— Rose✨McGowan (@rosemcgowan) June 25, 2015
The awesome thing about being an artist? You can't be fired from your own mind. #FREEDOM

— Rose✨McGowan (@rosemcgowan) June 25, 2015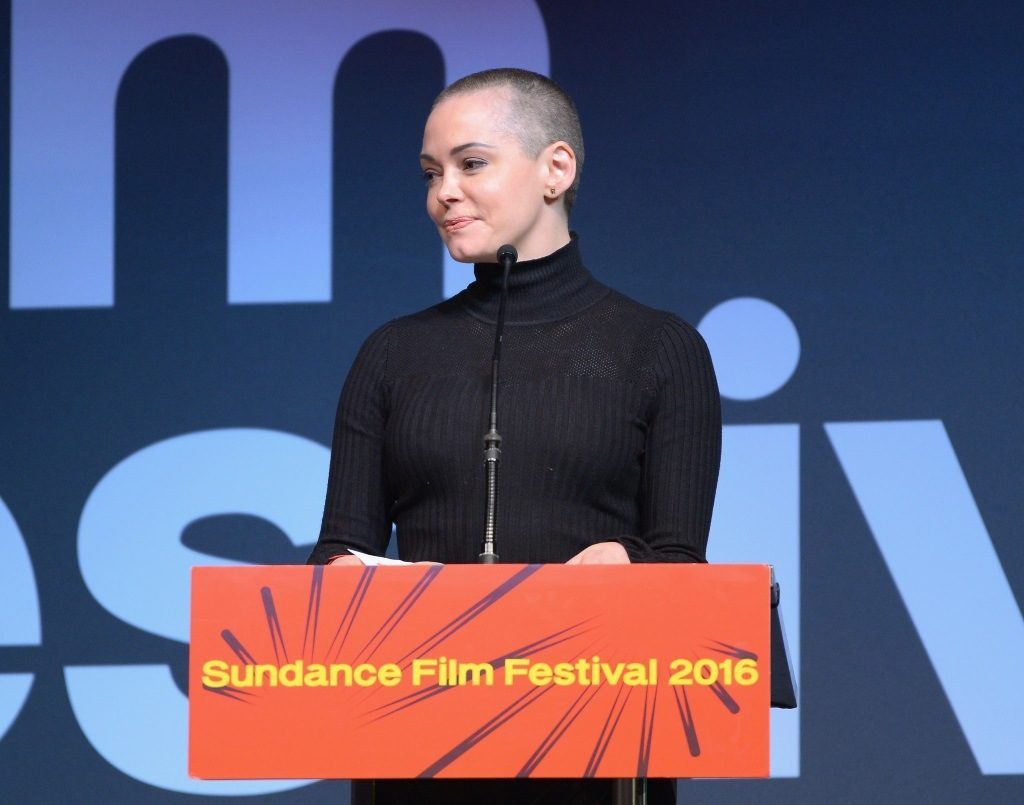 "I'm not trying to vilify Adam Sandler," McGowan later told E!, "Although someone did tell me that when he did his Netflix deal, he said, 'I signed with Netflix because it rhymes with Wet Chicks.' I mean, what? What in the fuck is going on? No!"
She went on to say that she never had any intention of accepting the part anyway, which is why she decided to tweet about the ridiculous, infantilizing casting note. Not only does the note tell the actress how to dress, but also makes the statement that she should be sure to "read the script" before coming in to the audition, as if a professional actor would fail to even read the script before attending an audition.
"It was just so dumb. I was offended by the stupidity more than anything," McGowan told E! "I was offended by the fact that went through so many people's hands and nobody red flagged it. This is normal to so many people. It was probably even a girl that had to type it up. It's institutionally OK."
This isn't the only time in very recent memory Sandler has been involved with something distasteful. Production on his Western spoof The Ridiculous 6 went through issues when about a dozen Native American extras walked off the set over the film's racist and offensive jokes. Character names include "Beaver's Breath" and "No Bra," while other "jokes" include a woman squatting and urinating while smoking a peace pipe. A report from Indian Country Media Network said that when the actors and a cultural advisor approached producers, they were told if they were offended they should just leave.
The resulting incident gained a lot of press attention, a lot of flak for Sandler, and backlash for Netflix. What's more is that this is likely just the beginning for the streaming service, with The Ridiculous 6 being only the first of the company's four-picture deal with Sandler.
"The movie has ridiculous in the title for a reason: because it is ridiculous. It is a broad satire of Western movies and the stereotypes they popularized, featuring a diverse cast that is not only part of — but in on — the joke," Netflix said in a statement to CNN. If you paid any attention to the media coverage, no one was really buying that.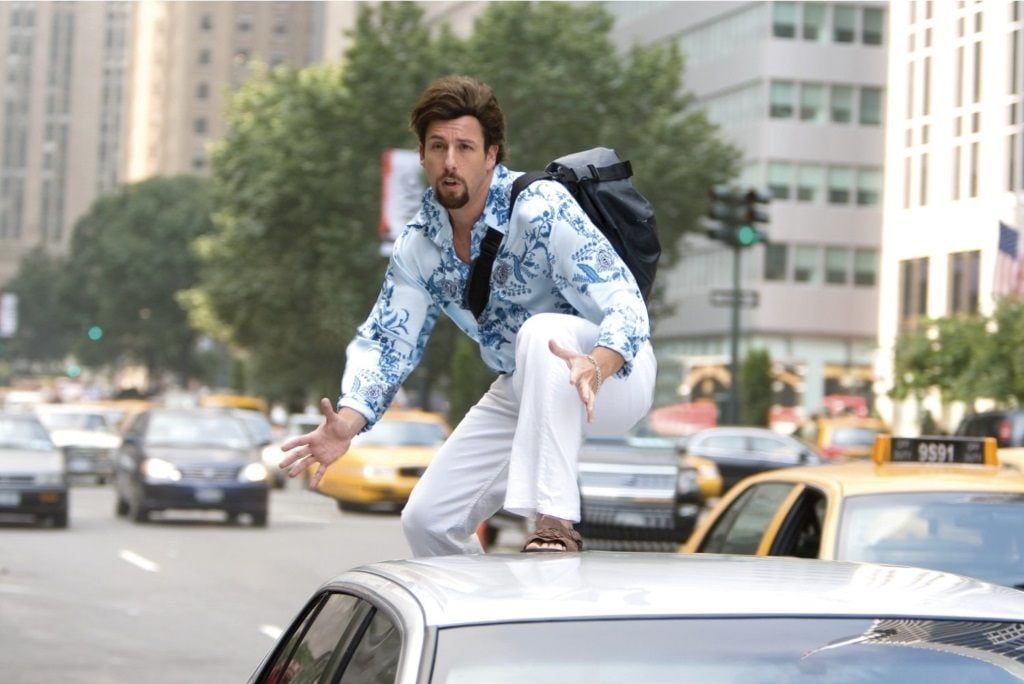 Also, more serious cultural critics have argued that Sandler doesn't even get to hide under the safety of arguing that his movies are satire. "Billy Madison and Happy Gilmore and Grown Ups and Jack and Jill … these films give no indication that they are self-aware or remotely critical of the subjects they take on. They may deal, if tangentially, with serious topics—race (Blended) and gay marriage (I Now Pronounce You Chuck and Larry) and, um, the Arab-Israeli conflict (You Don't Mess With the Zohan)—but they lack evidence of the intellectual infrastructure that is a basic requirement of satire," reads a piece of criticism from The Atlantic.
When Sandler cut that infamous deal with Netflix, it made waves for being another big move on the part of the streaming service to gain original movie content in addition to its original television series. He did indeed make that gross, immature comment about Netflix rhyming with "wet chicks" in the official announcement. Netflix said that part of the reason for wanting to work with Sandler was the popularity of his movies on the streaming service, but Sandler's older films came before the critical vitriol and popular disinterest that his recent career has earned. Netflix might soon be unhappy it made that deal.
Sandler made four movies in 2014, three in 2015, and has been recently releasing movies via Netflix (such as The Do-Over). Chances are you probably only heard about one or two of them at most. Did anyone see 2014's The Cobbler? That was a confusing question back when it came out in that spring, but what's certain is the critics that did watch it lambasted it with some truly heinous reviews and an 11% on Rotten Tomatoes.
Before that, he was in the preachy Men, Women, and Children, which fared fairly better for having him as a part of an ensemble cast — i.e., he was in it less so it wasn't as bad — but still the movie only got a 31% on Rotten Tomatoes for its look at how the internet has changed familial relationships. Sandler got the most flak for his truly offensive comedy Blended, which came out that same year to the kind of reviews where critics must be imagining stabbing the actor with their pencils while writing, and it just barely made back its $40 million budget at the domestic box office, according to figures from Box Office Mojo. The Do-Over, the latest picture spawned by Sandler's deal with Netflix, currently has a bottom-of-the-barrel 5% approval rating from the critics at Rotten Tomatoes. On the other hand, The Do-Over's rating is 5% higher than the universally loathed The Ridiculous 6.
And Sandler's recent attempts at box office success outside of Netflix haven't been much better. 2015's Pixels was also panned by the critics and currently has a 16% approval rating on Rotten Tomatoes. However, its $244 million total worldwide gross (per Box Office Mojo) was more than enough to sustain Sandler's career for what's sure to be many more years of offensive antics on and off the screen to come.
Additional reporting by Nathanael Arnold and Nick Cannata-Bowman.
Check out The Cheat Sheet on Facebook!