Why 'Orange Is the New Black' Will End After Season 7
It's the end of an era at Netflix. On July 26, the streaming giant will release the seventh and final season of its Emmy-winning series Orange Is the New Black, which follows the convicts of Litchfield Penitentiary.
Since its premiere in 2013, the show has earned widespread acclaim. It introduced plots and storylines with a diverse set of women at the forefront, raised awareness of prison issues and criminal justice reform, and earned more award nominations than we can count.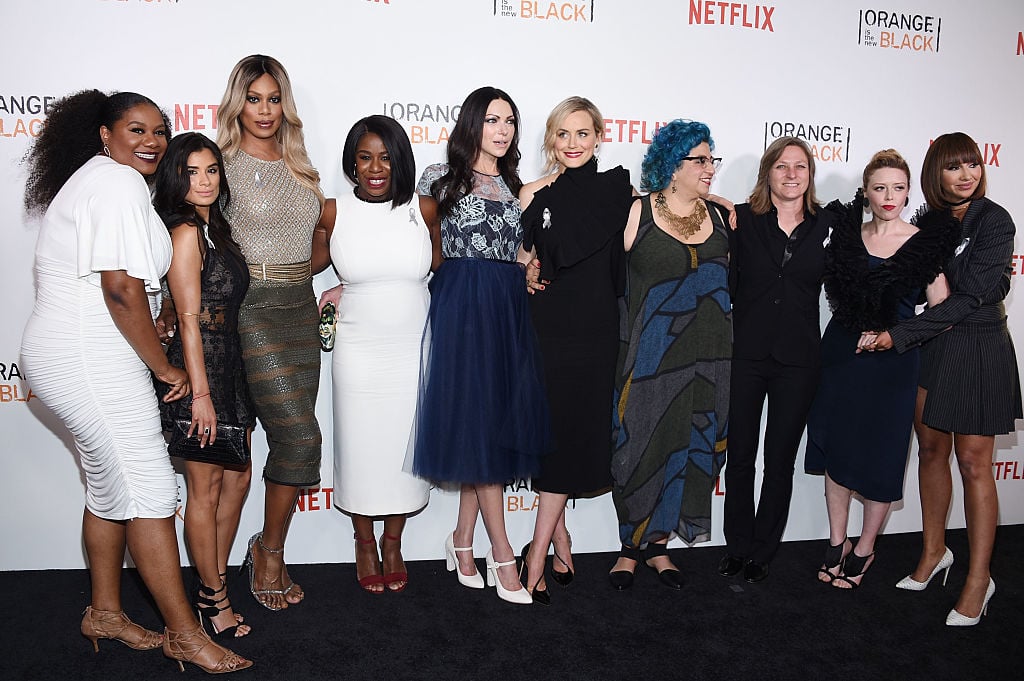 But alas, all good things must come to an end. "After seven seasons, it's time to be released from prison. I will miss all the bada** ladies of Litchfield and the incredible crew we've worked with," show creator Jenji Kohan said in an October 2018 statement (via Deadline). "My heart is orange but fade to black."
But why exactly is the show coming to an end? Here's what to know.
Nothing lasts forever
As Kohan said, it's time for the ladies to begin new chapters. And it's not like fans didn't see this coming. She hinted that the show would end after Season 7 in a 2017 interview with The New York Times.
Actress Beth Dover, who plays the controversial Linda Ferguson, elaborated on the decision to end the show in a July 16 interview with PopCulture.com, telling the site, "It just felt like the right time."
"I think Jenji always wanted seven seasons. You wrap it up in seven, and as much as I'd love to keep doing this forever and ever, it just felt like the right time to do it," Dover explained.
The show will go out with a bang
On June 26, Netflix released a trailer for the upcoming season, and it looks like viewers are in for a wild ride. As you probably know, Season 6 ended with Piper Chapman (Taylor Schilling) getting out of prison, and now she has to transition back into society. But that's not so easy. She makes copies in an office, meets with a probation officer for drug tests, and struggles to make friends.
Meanwhile, her wife, Alex Vause (Laura Prepon), is still in prison serving four more years — and it seems like she could get more time in the forthcoming season.
Prepon told The Hollywood Reporter in August 2018 that Vause is "really trying to stay on the straight and narrow for Piper," but noted that she has to do what's necessary to survive in Litchfield.
"I think Alex sees the reality of the situation and knows how much more time she's in there for," Prepon explained. "I think in the back of her mind, she knows she's going to have to do some things to survive that aren't going to lend itself to taking classes. And it's unfortunate."
An Orange Is the New Black spinoff could happen
Lionsgate is reportedly considering a spinoff series for the hit show, but the timing has to be "right."
"We're really proud of the long run that [the show] had," Lionsgate TV Group chairman Kevin Beggs told The Hollywood Reporter in November. "It remains one of Netflix's most-watched shows. We're ending on a high note. Keep in mind we own that series and will be distributing it for years to come. We're already in discussions and, when the timing is right, we'll talk further with Jenji about a potential sequel."
Dover commented on the possibility of a spinoff to PopCulture.com. She said that while she is unaware of a revival, "it really would be great to see."
"The show isn't going to be tied up in a nice little bow," Dover continued, teasing the series finale. "It's just like life. Life will continue. These women, some will be in prison, some will get out. Their lives will continue."
Hopefully, their lives will continue on television screens. We'll keep you posted with any future spinoff updates.