Why People Are Mad About Dior and Johnny Depp
Each week, you can count on at least one corporate entity being the target of a social media campaign to call them out for something. Forget about the Popeye's running out of chicken sandwiches saga because this time, Christian Dior fueled the flames of Twitter outrage with one of its product ads. And beloved actor Johnny Depp was smack-dab in the center of it too.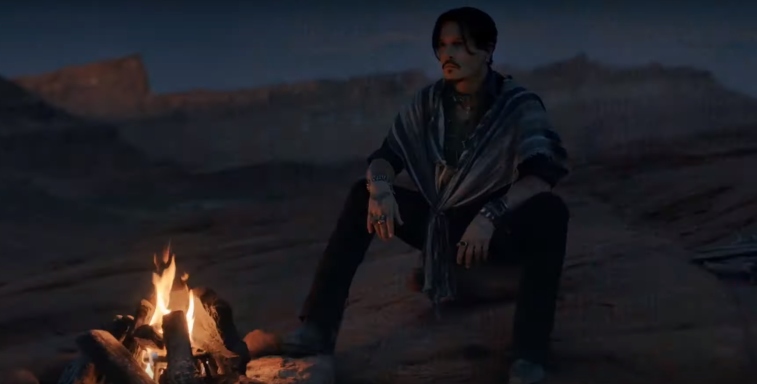 Dior released a new ad for one its fragrances, and it's getting slammed for being insensitive
Johnny Depp has been in and out of the headlines during the past few months because of his post-divorce drama with Amber Heard, but the internet had it out for him and Dior (mostly Dior). The actor stars in the latest video promo for the company's Sauvage fragrance, which shows a Native American dancer and other elements of the culture. The teaser trailer was released on the Dior's Twitter account on Friday.
Although Sauvage (the French word for savage) has been part of Dior's collection since 2015, this newest advertisement is being decried for tying the word "savage" to Native Americans, a derogatory term historically used by European colonizers to describe indigenous populations.
In a statement made to the Associated Press, a member of the Lower Sioux Indian Community called the ad racist, saying, "That takes it to a whole other level of ignorance and racism. You should be well aware of the implications of that word."
Depp, the face and voice of the Sauvage campaign, narrates the video which was originally set to be released in its entirety on September 1.
Social media users quickly called out the brand
Although Dior released images piece-by-piece during the week, the video caught everyone's attention and immediately set off a barrage of criticism on Twitter and Instagram. One user wrote, "Oh my god, Dior, what are you doing? Read the room, you colonialist clods. Did you just see all the other old times racist trash floating around and think HEY MAYBE WE CAN GO, LIKE, ALL THE WAY WITH THIS THING AND PARTY LIKE IT'S 1899?"
Others are taking their fury out on Dior and those featured in the video, including the Lakota dancer, Canku Thomas One Star (member of South Dakota's Rosebud Sioux Tribe), and the woman in the wolf outfit, Tanaya Beatty, an actress who was in Twilight. Both are being called sellouts, and Beatty is being accused of helping Dior sexualize Native women and culture. Someone also noted that the description for the fragrance says it uses "warm oriental tones."
As a result of the backlash, Dior has removed the tweet and the accompanying video from YouTube.
Dior is defending the product and its promotion
Representatives for Dior have stated that they consulted with a Native American advocacy organization, Americans for Indian Opportunity, while working on the project. According to The Hollywood Reporter, Dior wrote about the process in its marketing materials and noted that it was a joint effort:
"This collaboration, which started at the very beginning of the project, led to a work process that was extremely demanding and specific. On-going communication about the project, and then on the film set, had a shared aim: moving away from clichés in order to avoid the cultural appropriation and subversion that so often taints images representing Native peoples."
Lauren Harris, executive director for Americans for Indian Opportunity, told AP that she believed the commercial was tasteful and the entire "We Are the Land" campaign was an opportunity for inclusiveness and a way to serve as an educational platform; "Our aim was hopefully that the controversy would do exactly what it's done on social media and raise people's awareness."
She also shared that were no planned changes for the ads. Other advocates disagree with her sentiment and feel that there's a delicate line when it comes to cultural appropriation and profit. Crystal Echohawk, a member of the Pawnee and head of IllumiNative, stated:
"It shows that a well-intentioned collaboration can inadvertently be exploitative and racist, and I think that's what happened here. I think it's an important lesson learned. They need to pull the entire national campaign."
Currently, Sauvage is still being promoted on Dior's website with Depp (who's worked with them for years) and several videos depicting wolf and eagle mythology and with the "Great West."