Why People Are Mad At Jay-Z About The NFL Deal
On Tuesday, news leaked about a deal between Shawn "Jay-Z" Carter's Roc Nation and the NFL that would forge a new collaboration in music and sports entertainment. A small press conference that convened at Roc Nation's New York office on Wednesday was meant to outline what the partnership would entail and placed both Jay-Z and NFL Commissioner Roger Goodell front and center, ready to elaborate on the meaning of this.
"The meaning" is precisely what people want to know. Armed with information beforehand about the deal, the handful of media representatives in the room specifically had questions about the NFL's treatment of Colin Kaepernick following his protests and Jay-Z's stance on the matter. Generally speaking, people want to know why and how the rapper mogul decided to get in bed with the NFL. Many are not happy about it and are calling him a sellout.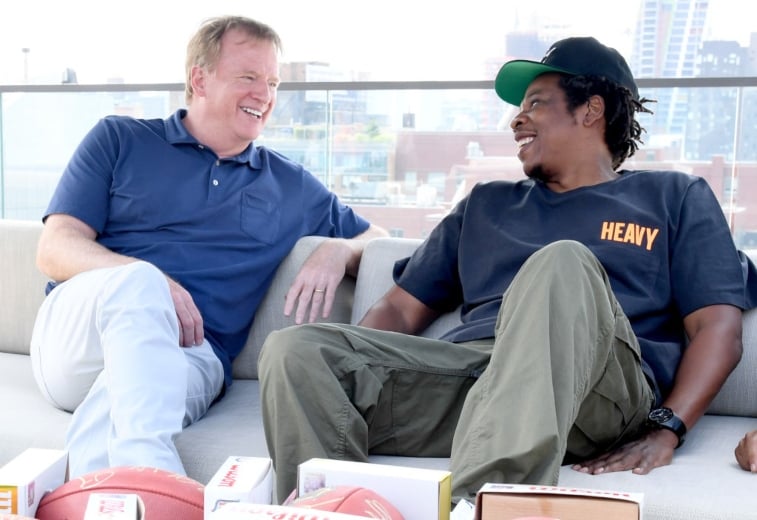 What's the purpose behind the Jay-Z and NFL alliance?
The New York Times first broke the story and revealed that the union will basically serve three purposes. Jay-Z will lead efforts to "consult on entertainment" and work with the league's social justice initiatives. At this time, the NFL is trying to extend their reach with its Inspire Change promotion.
The third, and maybe most glaring reason for the link-up, is to flip the script on the Kaepernick controversy and other players who took a knee during the anthem. By launching a partnership with a well-known hip-hop celebrity like Jay-Z, the NFL hopes to lure in other entertainers, smooth over the divide that exists among players and fans who support the protest, and make money along the way.
Jay-Z was quoted as saying, "The N.F.L. has a great big platform, and it has to be all-inclusive. They were willing to do some things, to make some changes, that we can do some good."
Jay-Z has been very outspoken against the NFL about Kaepernick
As pointed out by Kaep himself, Wednesday marked three years since he first knelt on the field during the national anthem to protest racial injustice across the country. During that time, Jay-Z was one of the former player's most vocal supporters, criticizing the league for blackballing Kaepernick. In his song "APESH*T" with Beyoncé, he rapped, "I said no to the Super Bowl – you need me, I don't need you."
There was also that moment back in 2017 when he wore a Kaepernick jersey while performing on SNL. Additionally, Jay-Z has been known to help bail out those were arrested during protests against police brutality. The point is, it wasn't a secret that he was behind Kaepernick's cause and its larger issue. But that's why so many are asking, "What's with the about-face?"
Jay-Z sees the value in working on injustice from the inside out
Both Goodell and Jay-Z fielded a slew of questions about Kaepernick during the press conference, but one thing that came up was whether or not the former San Francisco 49er would be a part of the deal. Jay-Z responded that he spoke to him but wouldn't reveal the details of the conversation, but that was later refuted by Kaepernick's girlfriend, Nessa Diab. She flashed a message on Twitter saying that the rapper never reached about the partnership and no such discussion had taken place.
Besides Diab, Kaepernick's former teammate, Eric Reid, criticized the deal and feels that the rapper has misplaced his allegiance.
Aware that the joint venture could cause skepticism, disbelief, and discontent, Jay-Z spoke about how he feels it can lead to bigger changes in how the NFL conducts business. The Associated Press reports that he tried to address those concerns during the press conference:
"I think we've moved past kneeling and I think it's time to go into actionable items. No, I don't want people to stop protesting at all. Kneeling — I know we're stuck on it because it's a real thing — but kneeling is a form of protest. I support protest across the board. We need to bring light to the issue. I think everyone knows what the issue is — we're done with that. We all know the issue now. OK, next. What are we moving (on to) next? …And I'm not minimizing that part of it because that has to happen, that's a necessary part of the process. But now that we all know what's going on, what are we going to do? How are we going to stop it? Because the kneeling was not about a job, it was about injustice."
He went on to add that this is the real world, not Twitter, and to him, eventually things would need to move beyond words and into action.
People are confused about Jay-Z's allegiance
Although he stated that he wants Roc Nation to have a hand in the NFL's entertainment dealings and social justice efforts, not everyone is convinced Jay-Z is doing it for those reasons. Some question how it can be done without Kaepernick on board, and others are wondering if Jay-Z is just in it for money, "doing what billionaires do," and is working his way toward a seat at the ownership table. "Is he really down for the cause?" is the question weighing on a lot of people's minds.
Jay-Z also shared that during his initial conversation with Goodell, he told the commissioner to count him out if he was only looking to lock him down for a Super Bowl performance. While he wants to give Roc Nation artists like Meek Mill and Rihanna a platform or opportunities to work with the league, it remains to be seen how that will shape up. Fans, the media, and skeptics will just have to wait and see what the music mogul accomplishes with this newfound partnership and whose interests will be served best.