Why Prince Harry and Meghan Markle Find Prince William to Be Controlling
There has been an ongoing rumor of a rift between Meghan Markle and Kate Middleton ever since the former joined the royal family last year. As time goes on, the rumors seem to grow, and now they include both Prince Harry and Prince William.
To many, the couples' actions as of late indicate that there is trouble between the royals, that has only continued to escalate. But many think Prince William is the key to why the couples seem to be feuding. Let's take a look at why Prince Harry and Markle find Prince William to be controlling.
Prince Harry and Meghan Markle moved away from London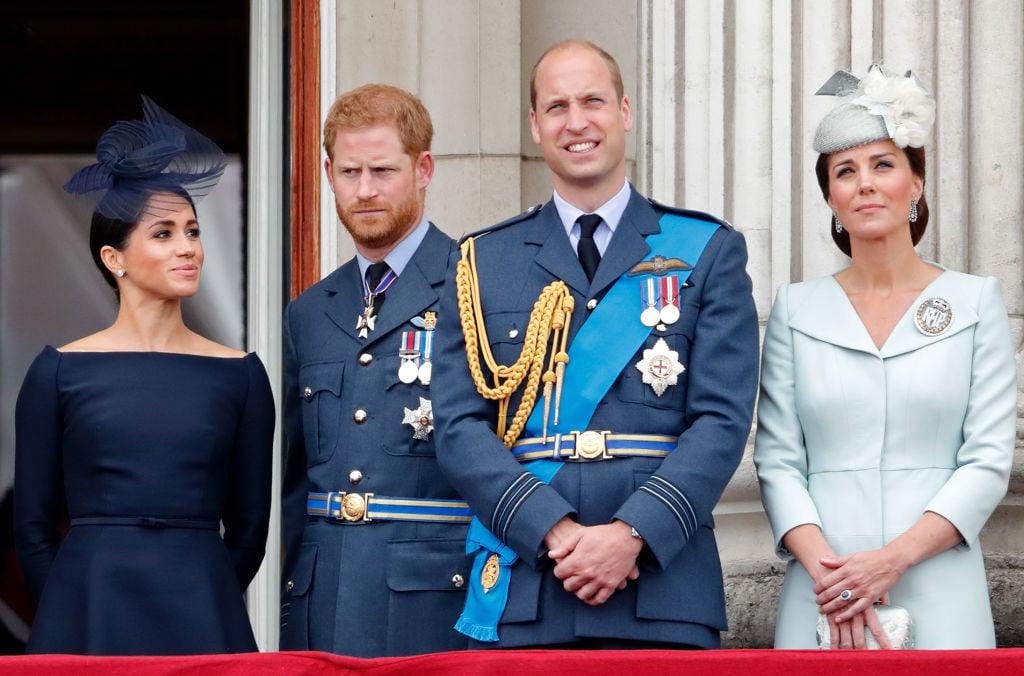 When Markle and Prince Harry were first married, the couple resided at Kensington Palace — the same estate that houses Prince William and Middleton. Many royal followers speculated that the move from Kensington Palace to Frogmore Cottage was made in an effort to create distance between the two families.
At the time the move was announced, Prince Harry and Markle were expecting their first child. The apartment that the two shared at Kensington was much smaller than the one that Prince William and Middleton live in and the move only made sense for the growing family. Frogmore Cottage provides much more room for the Duke and Duchess of Sussex and will allow them greater privacy.
While the change in residence made sense from a logistical standpoint, followers were shocked to learn that Prince Harry and Markle would be moving their offices as well. Though they previously shared office space at Kensington Palace, the royal family announced earlier this year that the Sussexes would be moving their offices to Buckingham Palace. This move included a new staff for Prince Harry and Markle and was supported by the queen and Prince Charles.
Prior to the move, a source close to Prince William and Prince Harry said that the separation would be beneficial to both couples, noting: "They will have space to develop and grow, without being in one another's shadows."
Prince Harry and Meghan Markle recently split from a joint charity
Taking things one step further, the palace recently announced that the couples would be separating their royal foundation. Upon marrying Prince Harry last May, Markle joined her husband and the Duke and Duchess of Cambridge working on the royal foundation. The foundation was set up in 2009 by Prince William and Prince Harry with their respective spouses joining upon marriage.
The Duke and Duchess of Sussex will form their own foundation, and Prince William and Middleton will remain in control of the current charity, renaming it The Royal Foundation of the Duke and Duchess of Cambridge. Once again, the palace defends this move as purely logistical, citing Prince Williams role as the future King: "These changes are designed to best complement the work and responsibilities of Their Royal Highnesses as they prepare for their future roles, and to better align their charitable activity with their new households."
Why Prince Harry and Meghan Markle refuse to be under Prince William's control
Now that Prince Harry has married and started a family of his own, it is only natural to want to get out of his brother's shadow. The Duke and Duchess of Sussex clearly have their goals and interests and are seeking to establish independence.
Royal commentator Duncan Larcombe told Fabulous Digital that the couple is ready to branch out on their own, noting this has been a long time coming for Prince Harry. "For years, before he met Meghan, he was the royal gooseberry standing behind William and Kate," said Larcombe.
Prince William is the future King of England, and as such, he does have different priorities and greater responsibility. This is likely why Prince Harry and Markle have found him to be so controlling and why they have chosen to break away in such a strong manner.