Why Prince Harry and Meghan Markle Are Facing a 'Very Hard Time' in Their Marriage
Prince Harry and Meghan Markle have only been married one year, but they've been together for a few years — which, according to one royal expert, could mean a "very hard time" is ahead for their marriage.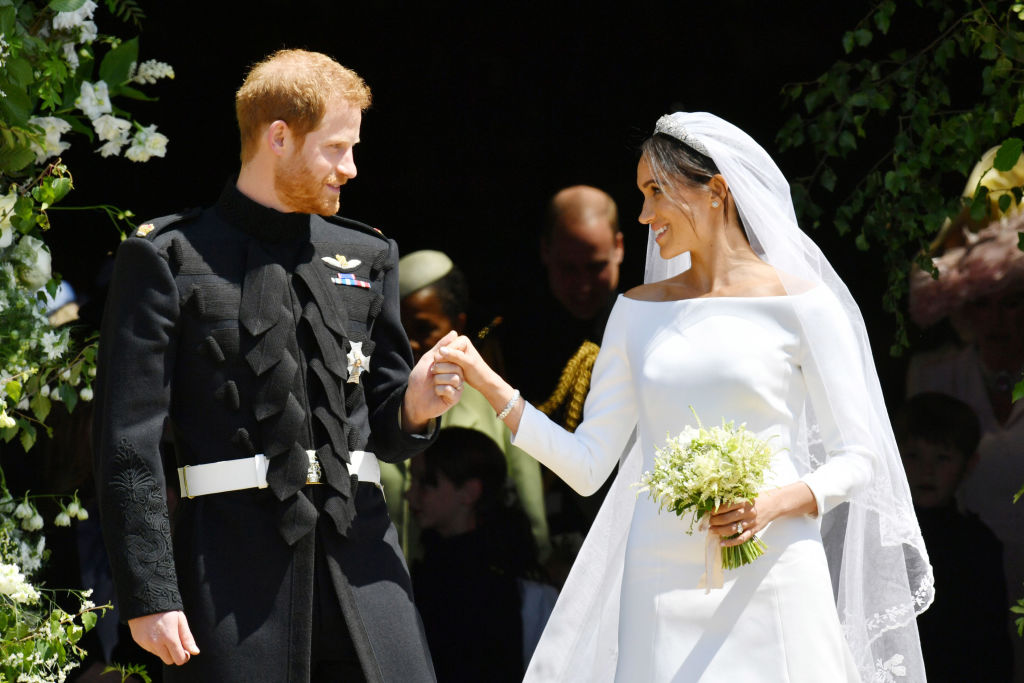 Prince Harry and Meghan Markle's relationship timeline
Prince Harry and Markle's relationship started with a blind date, when a mutual friend set them up together in 2016. Markle shared in an interview with the BBC how quickly they clicked, noting: "We met for a drink and then I think very quickly into that we said, 'Well what are we doing tomorrow? We should meet again.'"
They were married in 2018 and welcomed baby Archie in May 2019.
What's significant about their three-year mark?
Prince Harry and Markle passed the three-year mark of their relationship and there's some significance to this time.
According to royal expert Angela Mollard, "reality starts to kick in" around this time. She explained during the podcast "Royals," from New Idea magazine: "I've been thinking about this a lot, because three years is generally understood by relationship psychologists and counselors to be the point where you move out of the limerence phase."
She explained: "Limerence is deeper than infatuation, but it's the beginning of a relationship where it's all butterflies and you laugh together all the time and you're very amenable." That honeymoon phase of things starts to change, she explained, noting that, "Three years is around the stage where reality starts to kick in."
Mollard further noted: "Now, they've hit three years at a point when they've had a baby. Their relationship has moved very quickly by necessity — if she wanted to have a baby they had to move quickly."
Mollard compares this to Prince Willam and Kate Middleton, who had a different timeline, noting: "Obviously they took a completely different approach to the Cambridges, who had a very long courtship." 
Mollard explained why things can change at this point in a relationship, sharing: "It's that transition phase, to real life, with a baby, with the pressure of your jobs. There are a lot of conflicting forces within their lives."
There can be challenges with this transition, as Mollard explained: "I think they have to have a marriage that is stronger than most. And, I think that's going to be very, very hard."
'They will have to work very hard'
Certainly being members of the royal family adds another layer of pressure, especially as the two, particularly Markle, are criticized about almost everything they do.
Mollard noted: "They will have to work very hard with a lot of pressures that most people don't endure, to make sure that they focus on their relationship staying really strong."
She shared that it's important that they have "support around them to guide them through the next stage."
Mollard believes that Markle's small remark when speaking with Pharrell at a movie premiere seemed telling, noting: "We have the fairytale, with the first tour, and everyone swept up in Meghan and Harry. We know from what Meghan said at the Lion King premiere, when she was talking to Pharrell Williams, when he commented on their relationship and how much of an inspiration they are. She was heard to say, 'They don't make it easy.'"
Mollard continued, explaining: "Now, we don't know who she means by 'they,' does she mean the public, the media? But, there was a first acknowledgement ever there, that it is hard, and it is challenging for them."
She does note that she's hopeful the Sussexes will rise to the challenges they face and have a successful marriage, however, sharing: "The reason I think it's the make-or-break time, as I say, they're at the three-year point in their relationship, they've had a new baby which is a pressure in itself, and they're in this invidious position where they are Royal, but not-Royal, having ordinary lives. I'm hopeful, but I don't think it's going to be easy. It's hard enough for ordinary people."