Why 'Pulp Fiction' Is Still the Big Kahuna of Cool
Quentin Tarantino's 1994 cult classic, Pulp Fiction, celebrated the 20th anniversary of its theatrical release this week. Pulp Fiction was the first indie film to gross $100 million and has been named one of the greatest movies of all time by a variety of sources. The film is still one of the most beloved and critically acclaimed cult classics of all time, and one of the coolest movies ever made. Here are a few reasons why even 20 years later, Pulp Fiction remains the Big Kahuna of cool.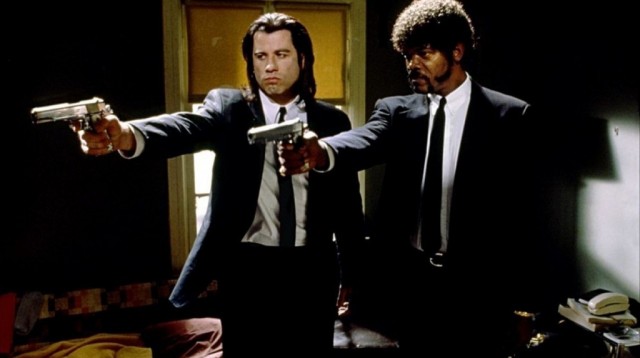 Characters
The characters in Pulp Fiction all ooze cool in unique ways, with Tarantino casting himself as one of the only lame guys in the movie. Bruce Willis's tough-but-lovelorn boxer Butch Coolidge, Samuel L. Jackson's Bible-quoting gangster, and Uma Thurman's mysterious kept woman were all perfectly cast roles that make you wish you could be those characters — maybe as long as you don't have to end up with a gun in your face or a needle in your chest. Even smaller side characters like Butch's ditzy-but-lovable girlfriend Fabienne, crime boss Marsellus Wallace, and kooky criminal couple Pumpkin and Honey Bunny fizzle with life and seem like they each have an interesting enough story to support their own movie.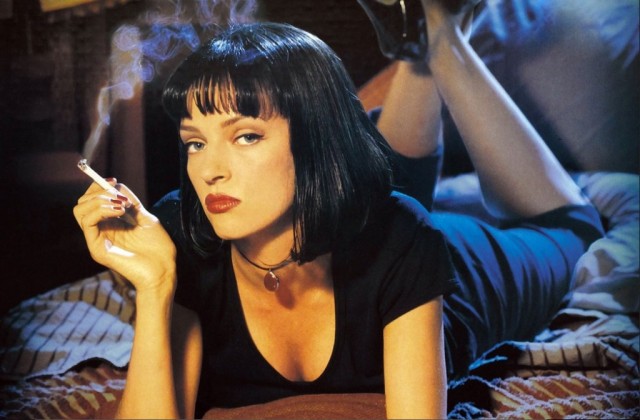 Costumes
The increased attention on the movie for its 20th birthday will make any Halloween party you go to this year likely full of Mia, Vincent, and Jules lookalikes. Uma Thurman's Mia Wallace in particular was used heavily in the movie's marketing, and the poster of her lying in bed and holding a cigarette still adorns many a dorm room wall. Tarantino's attention to detail made the characters look as cool as they act and speak; they mostly wear timeless black and white suits. Jules's "Bad Motherfucker" wallet is readily available from a variety of sources online and Mia's style is still copied by many an aspiring tough noir girl.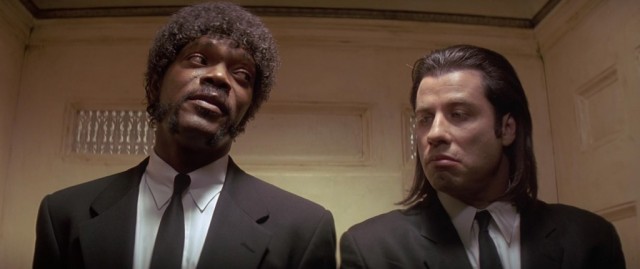 Quotable lines
Tarantino's script, written with Roger Avary, is full of smart and quotable writing that leaves lines from the film stuck in your head long after watching it. Try and think of the last time a sentence from a movie stayed with you afterwards. If you can remember one, it probably still wasn't as cool as something like, "Hey, sewer rat may taste like pumpkin pie, but I'd never know 'cause I wouldn't eat the filthy motherfucker," or knowing that a Quarter Pounder with cheese in France is called a Royale with cheese, or the relationship wisdom from Mia: "That's when you know you've found somebody special. When you can just shut the fuck up for a minute and comfortably enjoy the silence."
Samuel L. Jackson has helped a lot of people memorize a Bible passage by reciting Ezekiel 25:17 when he kills someone, a passage that famously ends, "And you will know my name is the Lord when I lay my vengeance upon thee!" The dialogue is so good that several snippets of it were featured in the soundtrack, which we will get to later.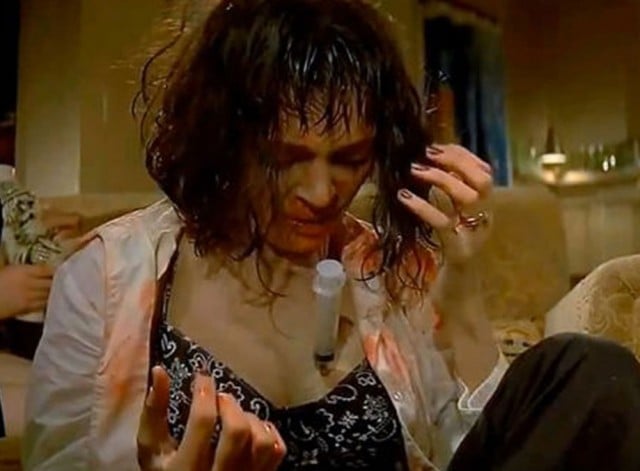 Risqué scenes
The nonchalant way the movie handles gratuitous violence, rape, and drug abuse, in addition to all of the characters' salty language, make its R-rating more than well deserved. People get their brains blown out, people accidentally OD, there's male-on-male rape — all this without some big, moralizing message. When you see this for the first time, even 20 years later, it's hard to get through it without cringing at least once. Watching all that depravity unfold with little consequence is like being a kid watching an older sibling who seems to be able to get away with breaking every rule in the book, just liking the movie almost feels rebellious and cool if you can forget for a second that it's in almost everyone's top 10 list.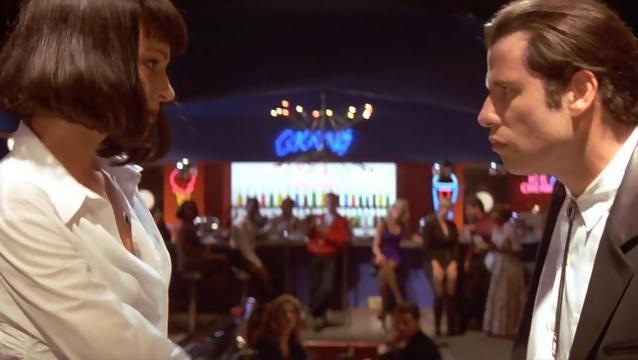 Soundtrack
Pulp Fiction's soundtrack shows off Tarantino's eclectic taste in music, with rock, pop, surf music, and soul songs all composing the film's score, rather than a more traditional soundtrack. The soundtrack actually helped repopularize surf music by featuring the tracks "Misirlou" by Dick Dale over the opening credits and the 1962 instrumental "Bustin' Surfboards" by The Tornadoes. Other notable songs from the soundtrack include Urge Overkill's cover of the Neil Diamond song "Girl, You'll Be a Woman Soon," Chuck Berry's "You Never Can Tell" during the famous dance contest scene, and Dusty Springfield's "Son of a Preacher Man."
Follow Jacqueline on Twitter @Jacqui_WSCS
More from Entertainment Cheat Sheet:
Want more great content like this? Sign up here to receive the best of Cheat Sheet delivered daily. No spam; just tailored content straight to your inbox.