Why Queen Elizabeth II Gave Kate Middleton a Blue Sash
Everyone got dressed up for a state banquet at Buckingham Palace. That includes Kate Middleton who wore a familiar crown for the night. However, she also wore a new blue sash given to her by Queen Elizabeth II. What does it mean? Here is everything you need to know.
The sash represents her position as a Dame Grand Cross of the Royal Victorian Order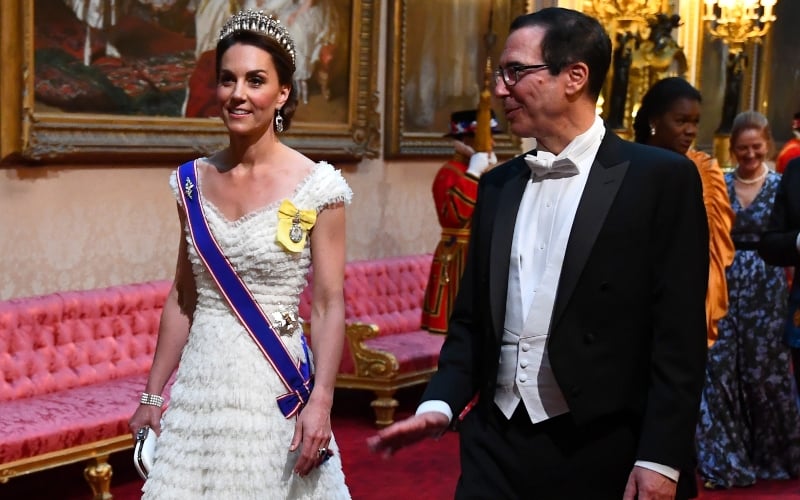 The sash represents the highest ranking of chivalry personally awarded by Queen Elizabeth, according to People. Middleton's position is a Dame Grand Cross of the Royal Victorian Order. The Victorian Order includes people who help the queen or represented her.
There is a Maltese cross that the duchess had on the bottom of the sash on her hip. This was the first time she got to wear the sash since she received the honor.
Middleton received the honor back in April
Middleton received the honor in April on her wedding anniversary with Prince William. A short statement was released to announce it reading, "The Queen has been pleased to make the following appointment to the Royal Victorian Order. To be a Dame Grand Cross of the Royal Victorian Order (GCVO) – HRH The Duchess of Cambridge."
Prince Harry, Prince William, Prince Andrew, and Prince Edward and Camilla, Duchess of Cornwall also share this honor.
The state banquet with President Trump was the first time she wore the sash. She previously has been awarded a Royal Family Order with a small portrait of Queen Elizabeth II and an attached ribbon.
Middleton also wore the lover's knot tiara
Many noticed the kind of tiara Middleton wore for the occasion. This tiara is her favorite and is known as the Cambridge Lover's Knot tiara.
The tiara was created in 1914 for Queen Mary. It was also modeled after Princess Augusta of Hesse's headpiece, according to Town and Country. The tiara was later passed down through generations. Queen Elizabeth II loaned the tiara to Princess Diana in 1981 as a wedding gift. She actually kept the tiara as part of her divorce settlement.
President Donald Trump brought five of his children to the big event. The only one who didn't attend was his youngest son, Barron. Royal reporter, Victoria Murphy claimed they "were seated with guests including members of the government, the diplomatic corps, and other notable figures connected with the visiting nation."
The monarch talked about D-Day at the event because Trump will commemorate it for the anniversary during his trip. "As we face the new challenges of the Twenty First Century, the anniversary of D-Day reminds us of all that our countries have achieved together," she said.
She continued, "After the shared sacrifices of the Second World War, Britain and the United States worked with other allies to build an assembly of international institutions, to ensure that the horrors of conflict would never be repeated. While the world has changed, we are forever mindful of the original purpose of these structures: nations working together to safeguard a hard won peace."