Why Rachael Ray Says Her New Book 'Rachael Ray 50' is More Memoir Than Cookbook
It's unbelievable that Rachael Ray arrived on Food Network in 2001. The celebrity chef still looks as youthful as she did at that time, but in reality, she's just turned 50. She's also just published a new book, Rachael Ray 50: Memories and Meals from a Sweet and Savory Life, in which she looks back at her life and career while sharing the special recipes that stood out to the chef throughout the years.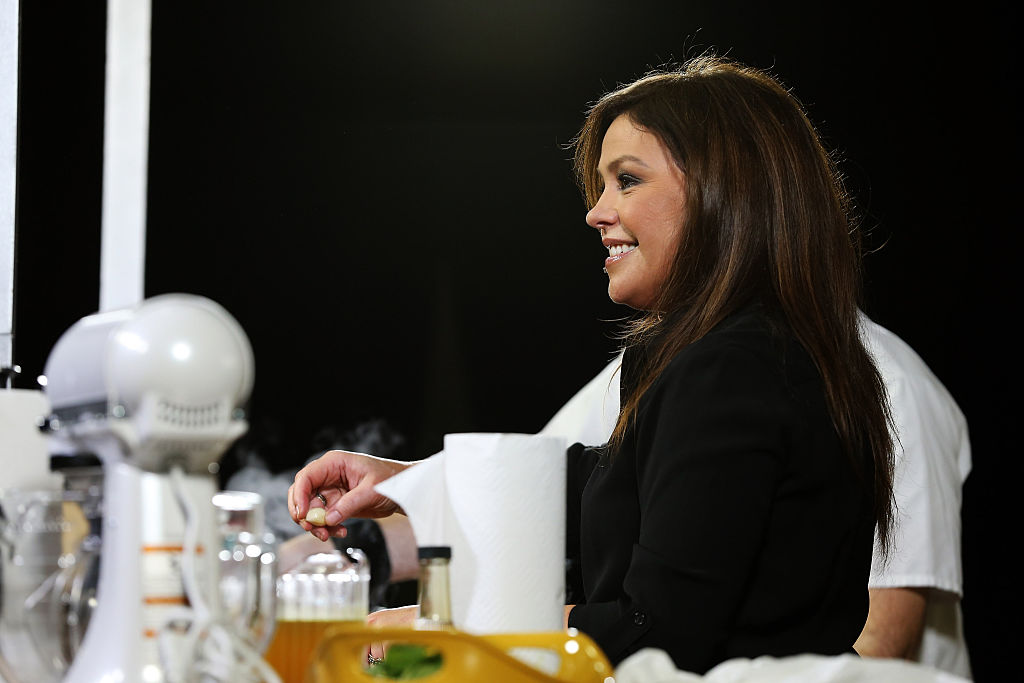 Ray has published countless other cookbooks, all with her trademark shortcut, 'anyone can do this' attitude. With the release of this new cookbook, however, Ray opened up that this one is more than a collection of recipes. Find out what she shares and how turning 50 has changed her perspective.
It all started with '30 Minute Meals'
Every fan of Rachael Ray's will remember her first show on the network, 30 Minute Meals. In a little under half an hour, the celebrity chef would whip up an entire meal, using tools and techniques that anyone could get and learn. From everyday comfort food to elegant meals for entertaining, Ray showed viewers how to get it done even with a busy schedule.
Once Food Network saw how much viewers connected to Ray, they signed her on for other programs, including $40-a-Day, Rachael Ray's Week in a Day, Rachael Ray's Kids Cook-Off, Rachael Ray's Tasty Travels, and more.
Ray's marriage is going strong
Of course, a very important part of Ray's story is her marriage to her husband, John Cusimano. Despite persistent rumors throughout their marriage of infidelities and separation, the couple renewed their vows in 2015 for their ten-year wedding anniversary.
They chose to have their vow renewal ceremony in the Tuscan castle in which they'd married a decade earlier. Ray's pit bull, Isaboo, even walked her down the aisle. Ray talked to People at the time about her very special doggie's role in the ceremony.
"She walked me down the aisle and John tied the little ring box to her. She has a little wreath of flowers around her neck and my friend who's an artist painted her harness and it was just sort of mixed in with the flowers. She was phenomenal."
Ray's new memoir/cookbook, Rachael Ray 50
With the recent publication of her new book, it's clear it has been an emotional labor of love for the author. The Rachael Ray Show star is now 51 years old and with this book, she is looking back over what she has accomplished in her life, and the people who have made an impact on her. She opened up to the hosts on The View about Rachael Ray 50 truly being more of a memoir than simply a cookbook.
"The book commemorates my 50th year. Right when I turned 50 is when I sat down to write it. This is totally different. It's not just a cookbook. It's a scrapbook, you know. It's kind of like a mini-memoir of my life."
"I wrote it because I wanted to celebrate all the wonderful opportunities — I feel like I'm going to cry — that I've had in my life," she told the daytime show. "I wanted to prove to people that anybody could be Rachael Ray. If you're an American, the American dream is still alive. It's a love story. It's an ode to being an American — a grateful American — and a grateful American waitress and food professional."
Read more: 'The Pioneer Woman' Ree Drummond Says This 1 Thing Helped Her Marriage