Why RM's Birthday Is so Special to BTS and ARMY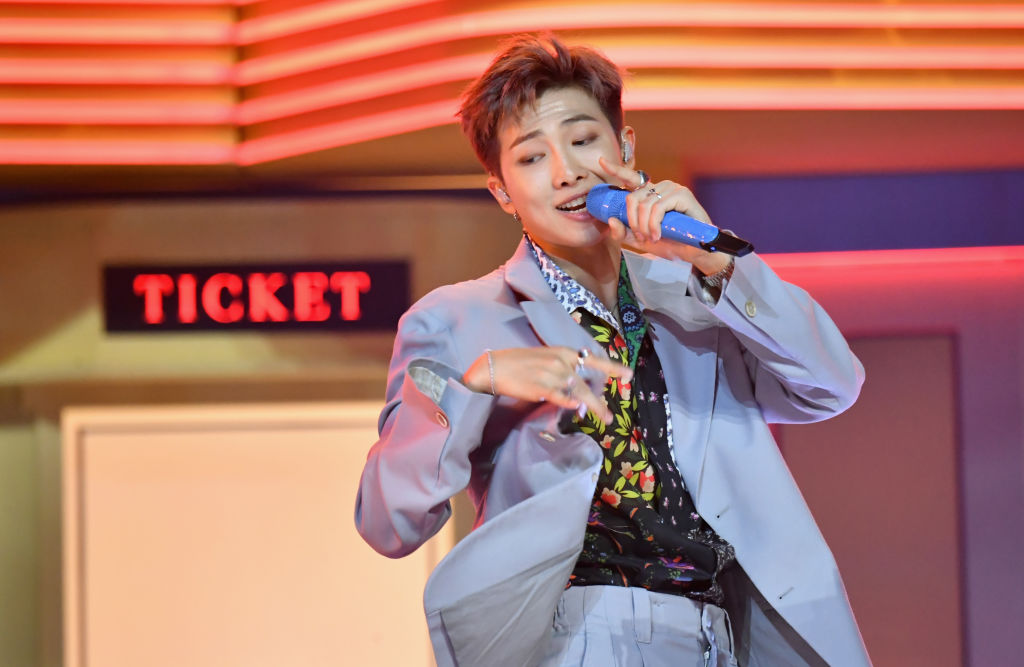 There are lots of September birthdays in the BTS fandom. Jungkook's birthday is Sept. 1, V's dog Yeontan's birthday is Sept. 7, and RM's birthday is Sept. 12. Members of BTS ARMY began celebrating RM's birthday hours before midnight KST and trended multiple hashtags on Twitter before it was officially Sept. 12.
BTS is made up of seven members, and all of the members are adamant that fans should love each member equally. In BTS, every member has their unique role and personality that they bring to the group. Celebrating the members' birthdays gives fans the chance to recognize what makes each member so special to them.
RM is the leader of BTS
In K-pop groups, one member typically takes on the role of the leader. As the leader, RM takes on responsibility for BTS. Although he is not the oldest member in BTS, the other members look up to RM for guidance. He also acts as a spokesperson for the group with the media and helps mediate any conflicts. 
His role as the leader is displayed in BTS's recent documentary Bring the Soul: The Movie and their docu-series Bring the Soul. Fans can also see the role RM plays in BTS in the documentary Burn the Stage: The Movie and their TV show, BTS: Burn the Stage. In all of these, RM shows maturity in his interviews and is often seen consoling or helping the other members.
He writes and produces BTS's music
In addition to being the leader of BTS, RM is also the group's main rapper. He released two mixtapes, RM in 2015 and Mono in 2018. RM has written and produced over 100 songs, and he has writing credits for a majority of BTS's discography. RM has also written music for 2AM, GLAM, MFBTY, and Homme.
RM is a human rights advocate
RM often writes music and uses his platform for causes he cares about. Before joining BTS, RM helped write the pro-LGBTQ song "Party (XXO)" for GLAM. A great deal of BTS's music focuses on mental health and learning to love oneself. In BTS's docu-series Bring the Soul, RM describes his struggles of learning to love himself and acts as an inspiration for fans. 
In 2018, RM delivered a speech to the United Nations General Assembly with the support of the members of BTS. The speech helped launch UNICEF's initiative, Generation Unlimited. In the speech, RM encouraged everybody to speak their true selves and to embrace the voice they have regardless of their gender, race, or background.
RM was the first member to join BTS
BTS debuted in 2013 with seven members. RM signed with Big Hit Entertainment in 2010. The Co-Ceo of Big Hit Entertainment, Bang Si-hyuk, began to form a hip-hop group around RM. That group later became K-pop idol group, BTS. 
RM's real name is Kim Namjoon, and when he first debuted he used "Rap Monster" as his stage name. In 2017, he changed his stage name to "RM." According to RM, the name "Rap Monster" was no longer representative of himself or the music he wanted to release.
"I've become keenly aware of the fact that it's become different from [what I want] to put at the front of the music I've made for the past five years, and the music I want to share in the future," he said.
BTS fans celebrated RM's birthday on social media
BTS's current hiatus has given RM time to simply be Kim Namjoon. Since going on a break, he has traveled to Europe and posted several photos of his vacation on social media. The rapper traveled to Italy, Austria, and Denmark. BTS fans reference his downtime as "Namjooning" because he is able to do the things Namjoon likes to do like explore outside and travel to museums and galleries. 
"I'm glad Namjoon was able to go away and none of us knew. He really got to enjoy his time as a young adult in his 20s. He was namjooning in peace," a fan wrote on Twitter.
To celebrate RM's birthday, fans trended #HappyBirthdayNamjoon, #OurJooniverse, and other hashtags on Twitter. 
"Happy birthday, my dear Namjoon. Being honest, I don't have many words to express my love and admiration to you. But know that you taught me important things for life and I kept them as treasure. You are a treasure," one fan tweeted. 
Knowing RM's love of nature, some BTS fans organized a special project for his birthday. In August 2019, hundreds of fans planted 1,250 trees in Seoul's Han River Park. Fans named it "RM Forest No.1."