Why Rumer Willis Was Not Supportive of Her Mom Demi Moore's Marriage to Ashton Kutcher
Watching your parent move on after a divorce is not an easy thing to do. In many cases, kids hold out hope that their parents will fall back in love and get back together.
But when it came to Demi Moore and Ashton Kutcher's marriage, it wasn't the fact that Moore had moved on that angered her daughter, Rumer Willis. It was actually a much deeper issue.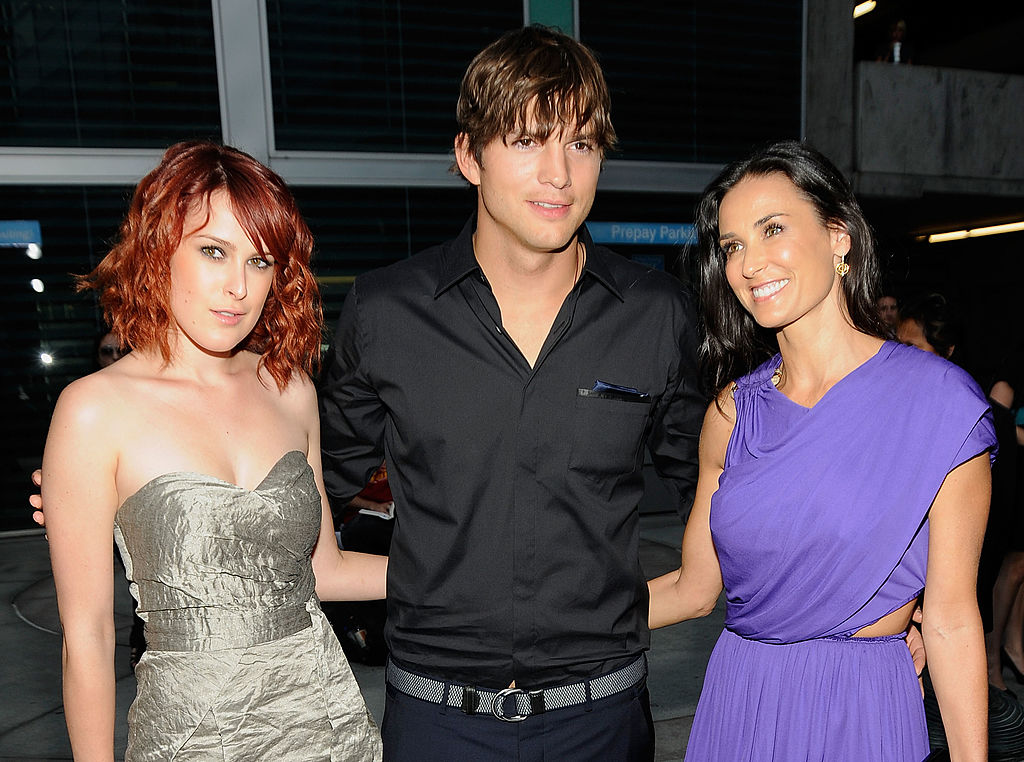 Why was Rumer Willis upset about Demi Moore's marriage?
Rumer recently sat down with Jada Pinkett Smith for an episode of Red Table Talk to open up about what was going on during the time her mother was married to Kutcher.
When Moore married Kutcher, Rumer felt jealous that her mom had a new person in her life.
"So much of that time, especially with Ashton, I was so angry because I felt like something that was mine, had been taken away," she said.
And when Moore was devastated by her miscarriage, Rumer was even more confused.
"When she wanted to have another baby, it was like, and then it wasn't happening, and then there was so much focus on that, it was like, 'Oh, well we're not enough.'"
Her jealousy got so bad that she even moved out of Moore's home.
"Part of the reason I moved out of the house was I think after you had a miscarriage I literally was just like, 'Why are you so desperate to have another kid?' and I couldn't stand the idea."
But all of that changed once she saw her mother pregnant.
"But then I found these pictures and I was like, 'Oh my God'. I saw how big her stomach was and I was like, 'Oh my God. I was so insensitive'. I never once went to you and said, 'I'm so sorry. Are you OK?'"
Demi Moore's complicated relationship with her daughters
Though Rumer has a good relationship with her mom now, it wasn't always like that for her and her sisters Tallulah and Scout.
"I felt like my mom made a choice to hold back certain things, like sharing about her past, and I think it always made me feel very far away from her," Tallulah said on the show.
"And always made me feel like I didn't know her very well. I knew she had a career, she met my dad, she grew up in New Mexico, but it was like that was it," she continued.
And part of the problem was that the girls put their mother on such a pedestal.
"I think we deified her," Tallulah said. "I think she was this larger than life being, and she was — I mean, I'm completely obsessed with her. Like I love her more than anything."
"But would you also say that you guys created a standard for me of your expectation that was also greater than what you would put on anybody else?" Moore asked. "Like, my room for error was very little."
"I will say that, but also, I think that is a by-product of — and I'm not saying this in a blaming way — but I also think that's a by-product of you not necessarily being weak in front of us," Rumer answered.
The women have since been able to heal and form a healthy relationship.
"Now, she has a beautiful relationship with all of her daughters," a source told People. "Demi feels bad about the years when she wasn't healthy. She really tries to make up for it now. Her daughters are amazing. Demi is involved in their everyday lives. And they are very supportive of Demi. They love that she wrote a memoir."