Why Some Fans Are Unhappy With the New K-pop Group SuperM
Some K-pop fans have concerns about SM Entertainment's new group, Super M.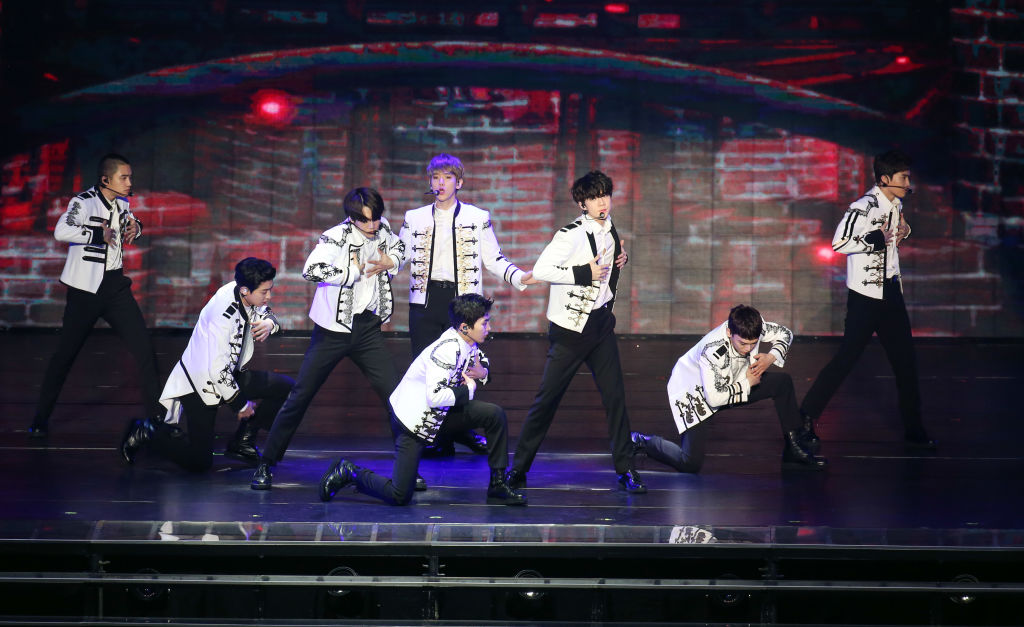 SM Entertainment recently announced the launch of the new K-pop group, SuperM. The group will debut in America and its goal is to unite the Korean and American music industries. Capital Music Group and its independent label Caroline will promote the group in the United States.
The group debuts in October 2019, but some fans are not looking forward to the group's debut. Just a few days after SM Entertainment announced the group, the hashtag #SuperGroupDisbandmentParty trended on Twitter.
Some fans do not want SuperM's members to leave their original groups
Chris Lee, an executive at SM Entertainment, said fans do not need to worry about any of the members' original groups disbanding. "We're maintaining their groups, their solo careers, and on top of this we have this 'Avengers' group to pull them together," he said. 
Lee also told fans he wanted to unite fandoms from different SM Entertainment K-pop groups. "It's a new sort of team but they will be in their own teams still, of course. We're trying to unite the fandoms. Fans, please don't worry about it. We'll make you all happy," he said. 
Even with Lee's reassurance, some fans are not satisfied. All seven members are from already established groups under SM Entertainment. Taemin is from SHINee, Taeyong and Mark are from NCT, Baekhyun and Kai are from EXO, and Ten and Lucas are from WayV. EXO fans are unhappy that Baekhyun and Kai will be taken away from the group around the same time an EXO comeback is expected. 
Baekhyun is 27 years old and will have to enlist in the military soon. His time with EXO is limited, and some fans would rather see him spend his last year before enlistment with EXO instead of SuperM.
Other fans worry the members of SuperM overwork themselves
NCT has 21 members and several different sub-units. Mark has been in three of these sub-units and Taeyong has been in two. After being in so many different groups, some fans worry Mark and Taeyong are overworked.
"additionally, this project has no benefit for anyone except for sm itself. in my opinion, it's a stunt to try to make more money. nct members are overworked, especially taeyong and mark since 127 gets almost no rest…" wrote a fan on Twitter. 
"superm gonna have a world tour but mark and taeyong are SO OVERWORKED, PLEASE LET THEM REST," wrote another. 
Ten and Lucas are part of WayV, another sub-unit of NCT. WayV debuted in January 2019, and some WayV fans are not happy SuperM will receive more promotion than WayV. Several members in WayV have waited their lifetime to debut, and now the future of the group seems unclear. 
"but does sm really have to put wayv on hiatus while lucas and ten promote with super m? nct 127 did a whole tour without winwin and dream has promoted as five on multiple occasions. i just don't want wayv to be locked up again and their talents wasted," said a fan. 
"Lmao Super M getting a tour right after they debut…. rip wayV wish we could've at the VERY LEAST made it to one year with you but it was fun while it lasted," wrote another.
SuperM's first single might drop in August
A British production duo known as London Noise participated in a panel at KCON in Los Angeles. According to the duo, they worked with SuperM to create a single. Based on what fans took away from the panel, a SuperM single could arrive as early as August. 
"'SuperM single dropping this month (August) and it's mostly in English!' – LDN at KCON Day 2," wrote a Twitter account. 
According to Lee, SuperM is a global group even though it debuts in the U.S. "… We're trying to bring K-pop and our groups to the public in the States and the world."
Only time will tell if SuperM will be successful in the way SM Entertainment predicts. While not everyone from the idols' original fandoms are on board, some fans are vocal in supporting the idols no matter what. While some fans trended #SuperGroupDisbandmentParty, others trended #SuperGroupSupportParty on Twitter.