'Counting On': Why Some Fans Doubt Joy Duggar and Austin Forsyth's Love Story
The Duggars are unlike most other American families. They don't date, they court — most of the time, they meet their life partners at a very young age. And when the Duggars want to date, their relationships need to be approved by Jim Bob and Michelle Duggar. Joy Duggar and her husband, Austin Forsyth, have always stuck by their adorable love story of falling for each other at church… But some fans just aren't buying it.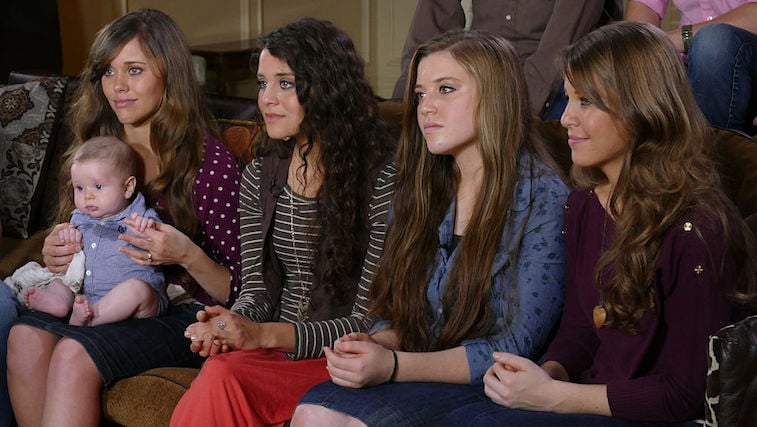 Duggar and Forsyth claim to have fallen in love at church
The love story between Duggar and Forsyth reportedly started 15 years before they actually began courting. According to the couple, Duggar always had an eye for Forsyth, but he was four years older than her. They reportedly met as young kids at church, and though Duggar claims to have had a crush on him forever, their friendship was always platonic because for years, Forsyth was far too old for her. However, once Duggar turned 18, Forsyth seemingly started to see her in a different light. He eventually asked Jim Bob Duggar for permission to court Joy Duggar, and the two had a whirlwind romance that started with a courtship in 2016 and a wedding in 2017.
Some fans think the Duggar marriages are actually arranged
Though the Duggars all have individual stories for how they met their husbands and wives, some fans believe all the Duggar marriages are arranged to an extent — including Duggar and Forsyth's. Jim Bob and Michelle Duggar want their children to be with people who share the same values that they do, which is why some think the two do their best to steer their children in the direction of a specific spouse, whether the children realize it or not. The exception is Jinger Duggar and her husband, Jeremy Vuolo. They were introduced through Jessa Duggar and Ben Seewald, and fans still think that Jim Bob doesn't like Jeremy nearly as much as he likes the other husbands.
Some believe Jim Bob played a large role in setting up his daughter with Forsyth
In a Reddit thread, fans shared their true thoughts on what they think of Duggar and Forsyth's love story. "I feel like neither noticed each other until Jim [Bob] started mentioning it to them," one user wrote. Others think that, besides Duggar's father doing his best to set the two up, Forsyth might have actually been trying to date another sister. But Jessa and Jinger Duggar had both settled down by the time Austin was looking for a wife, so he settled for Joy Duggar instead. "Maybe Austin's dad has been saying for years that there's plenty of Duggar girls to choose from. Maybe Joy was all that was left when he decided to settle down," one user added.
There have also been theories that Duggar and Forsyth got pregnant before their wedding day
When Duggar and Forsyth announced their engagement, they were originally supposed to wed in October 2017. However, they suddenly moved their big day up by five months and tied the knot in May 2017. Then, exactly nine months later, they had a baby. Fans have long thought that the couple had sex before marriage, and Joy got pregnant, which caused them to move up the wedding. However, those reports have never been confirmed.
Whether Duggar and Forsyth's marriage was "arranged" or not, the two do appear to have a strong relationship. They recently went through a miscarriage at 20 weeks, which undoubtedly tested their marriage but has seemed to only help bring them closer.