Why Some People Think Kim Kardashian And Kanye West Are Headed For Divorce
Is there trouble in paradise? Kim Kardashian and Kanye West have their differences, but they've been through a lot as a couple. However, a recent fight as seen on Keeping Up With the Kardashians has some fans speculating that they're going to split. Here's what we know.
Kim Kardashian and Kanye West have been married since 2014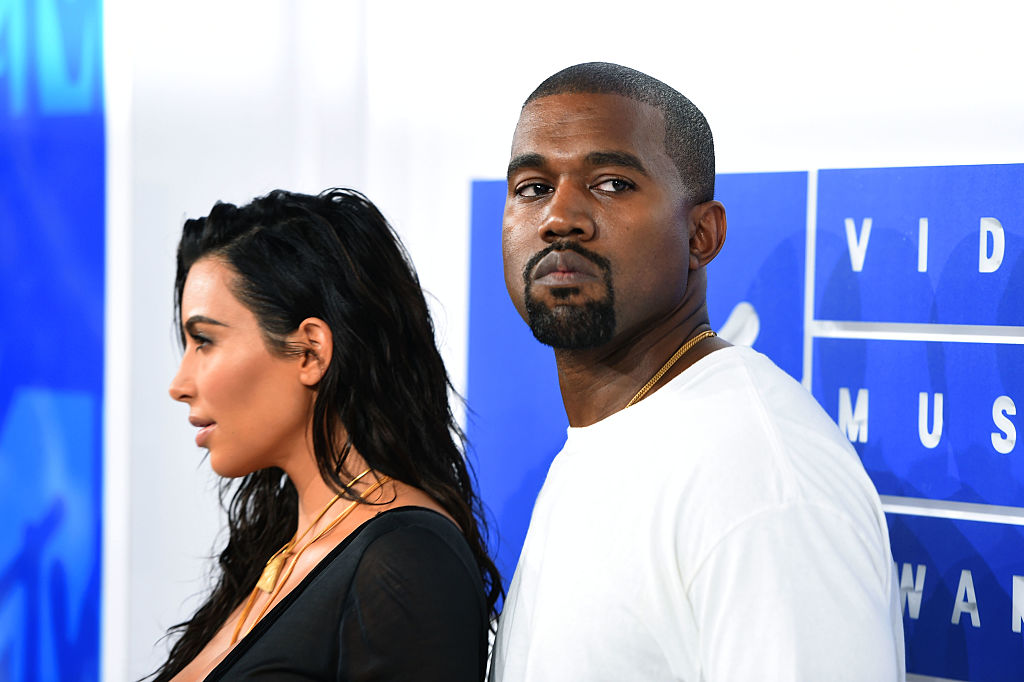 As their fans know, Kardashian and West have been together since 2012, while she was still married to her second husband, Kris Humphries. They got engaged in 2013, and were married in a lavish ceremony in Italy in 2014.
Over this time, a lot has changed. The couple has four children: North, Saint, Chicago, and Psalm. While Kardashian gave birth to the first two of her kids, the second two were born via gestational surrogate.
Their relationship is documented on 'Keeping Up With the Kardashians'
Everything that has happened to West and Kardashian throughout the course of their relationship has been, more or less, captured on camera. At the center of the Kardashian empire is the reality TV series Keeping Up With the Kardashians, which has been on the air since 2007.
In addition to Kardashian, West, and their family, the lives of her two sisters, Kourtney and Khloé, are also documented, as are their two half-sisters, Kendall and Kylie Jenner.
A recent fight has the internet ablaze
During the Oct. 13, 2019 episode of Keeping Up With the Kardashians, the couple got into a pretty big fight. Typically, there's plenty of drama going on, but they aren't usually seen actually fighting with one another. But this time was different.
West chose the night before the 2019 Met Gala to tell Kardashian he was unhappy with the dress she was choosing to wear. "I went through this transition where being a rapper, looking at all these girls and looking at my wife, like, 'Oh my girl needs to be just like the other girls showing their body off,'" he said.
The rapper continued. "I didn't realize that that was affecting my soul and my spirit as someone who is married and the father of now … about to be four kids. A corset is a form of underwear, it's hot, for who though?"
Will Kardashian and West get divorced?
Kardashian objected to this, telling West that he was giving her "really bad anxiety." He said, "You are my wife, and it affects me when pictures are too sexy." Her rebuttal? "You built me up to be this sexy person and confidence and all this, and just because you're on a journey and transformation doesn't mean I'm in the same spot with you."
What Kardashian is speaking about is how West has become more religious recently and is focusing on that as opposed to being as provocative as he has throughout much of his career. In other words, it sounds as though they're at a bit of a crossroads in their marriage. This could definitely spell divorce.
They're pressing on as normal
Of course, the Kardashians want to control the narrative. So though many think they may be trying to "villainize" West ahead of a split that may or may not have already happened, they're certainly not going to confirm it until they're ready to on KUWTK. Thus Khloé's tweet calling them "cute."
And for all intents and purposes, they're, at the very least, continuing to keep up appearances as a couple. Speaking of West's current "journey," Kardashian accompanied him to a Sunday Service at Howard University the same day the episode aired. Their children were also in attendance.