Why 'The Boys' Showrunner Regrets Not Taking That Homelander Doppelganger Scene 'All the Way'
Eric Kripke is dishing details on Season 2 of The Boys. And as the showrunner addressed the riveting Homelander Doppelganger scene in Episode 4, he admitted he regrets not taking it "all the way."
[Spoiler alert: This article contains spoilers for The Boys, Season 2, Episode 4.]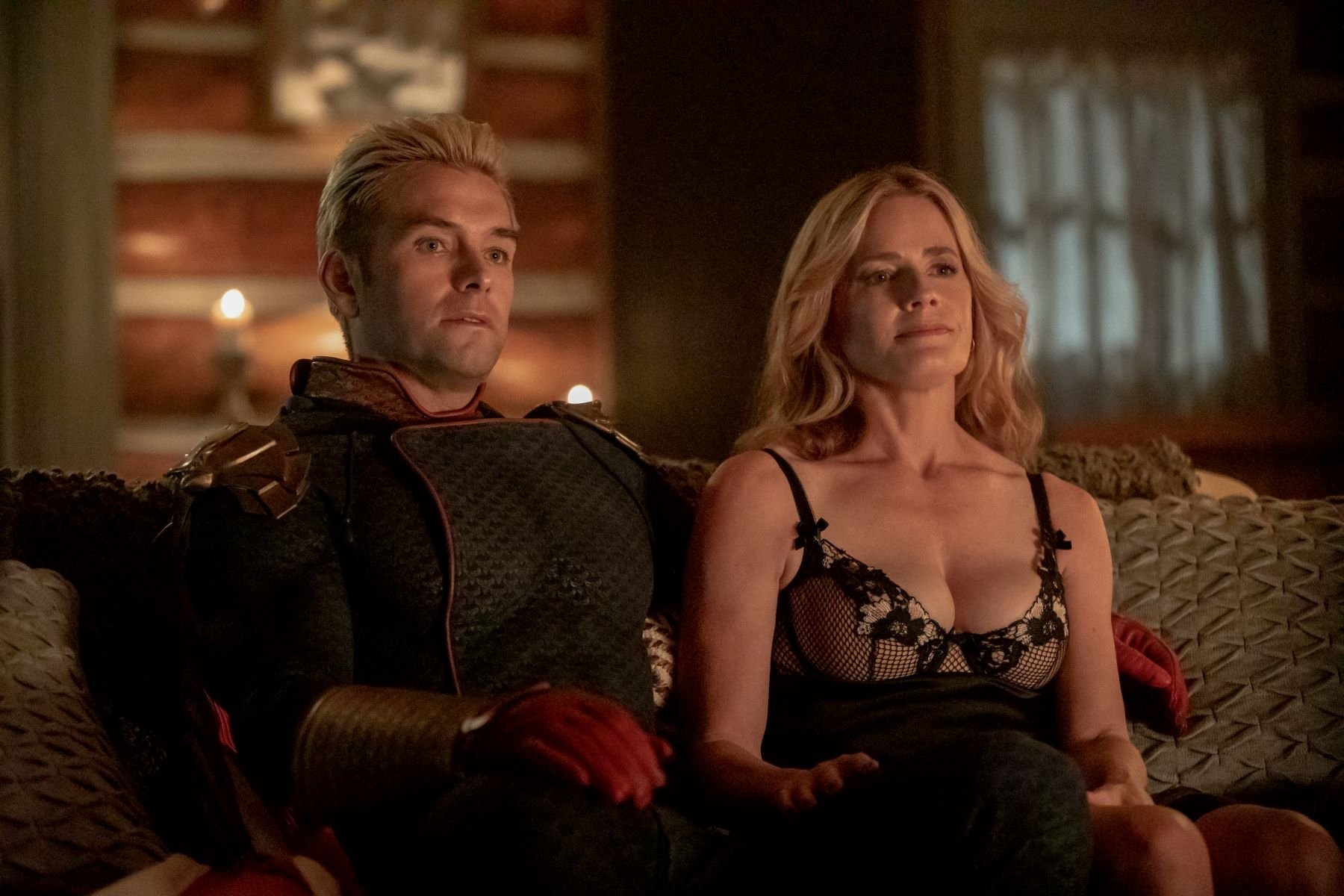 What happened with Homelander in Season 2, Episode 4 of 'The Boys'?
After unsuccessfully trying to connect with his son, and seeing his position in The Seven being threatened by Stormfront (Aya Cash), Homelander (Antony Starr) seeks comfort in the arms of the woman he killed. He heads to a remote cabin where Madelyn Stillwell (Elisabeth Shue) greets him wearing lingerie, holding a glass of milk. 
Homelander finds comfort in her arms as she tells him how powerful and wonderful he is. But moments after he lays his head in her lap, Madelyn starts twitching, until she turns into her original form, the male Supe, Doppelganger. 
It turns out Homelander has been making Doppelganger change into Madelyn to fulfill the emotional void left behind when he killed her. But on a second visit to the cabin, the Madelyn farce isn't cutting it anymore. "I don't need anyone but myself," Homelander says.
So Doppelganger transforms into Homelander, still wearing Madelyn's black negligee. "See how hot you are?" Doppelganger asks as he tries to seduce Homelander. He bends down to perform a sexual act, but Homelander slowly picks him up by the neck.
"I don't need everyone to love me," he says as he snaps Doppelgnanger's neck. "I don't need you." 
Why 'The Boys' star Antony Starr says he loved that Homelander scene
In an interview with TV Line, The Boys star Antony Starr talked about how bizarre but meaningful that Homelander Doppelganger scene was. While it was awkward to see a copy of the Supe trying to seduce himself, the actor noted that it spoke to Homelander's psychology. 
"I thought it was very obviously a strange and really crazy bananas scene," said Starr. "But then I also loved that it was deeply rooted in, really, how screwed up this character in that he's fabricated this imaginary circumstance for himself to try and find some sort of solid ground, psychologically, and it just all implodes. It's a fascinating, bizarre and weird scene, and what I love about the show is that when we have these crazy scenes that just seem so insane and nuts, they're often rooted very deeply in something for the character."
Showrunner Eric Kripke regrets not taking the scene all the way
The cabin scene had viewers on the edge of their seats, wondering if Homelander would go through with it or not. But the Supe put an end to the seduction just as Doppelganger reached into his pants. 
The Boys writers could have taken the scene further. And in hindsight, showrunner Eric Kripke wishes they did.
"It just seemed like we were right there and then we kind of got scared and backed off," Kripke told Collider. "I only slightly regret that we just didn't go through with it and had Homelander perform oral sex on Homelander. I feel we pulled back at the last minute and we should've gone all the way."
So, fans ultimately didn't get a bizarre Homelander-on-Homelander sex scene. But thanks to Doppelganger, they did see Elisabeth Shue return. 
New episodes of The Boys air Fridays on Amazon Prime Video.