Why The Chicago Trilogy Is the Best Drama on TV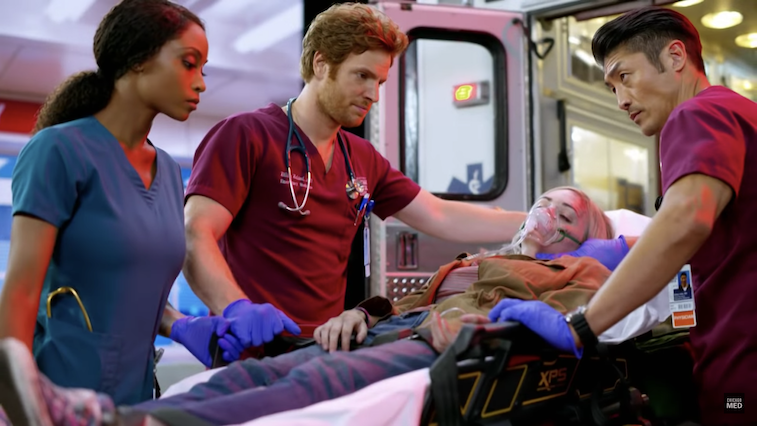 Developing an online franchise wasn't something new for producer Dick Wolf. Of his long-running Law & Order shows, one still remains Law & Order, Special Victims Unit now in its 20th season. But the Chicago trilogy is different. While Law & Order would occasionally have a crossover event, Chicago Fire, Chicago PD, and Chicago Med fans depend on them.
It started with Chicago Fire which premiered in Oct. 2012. The series centers in Firehouse 51 and the lives of one shift of its staff. Then along came Chicago PD the following year, and Chicago Med premiering in 2015. Until last fall, the three aired on different nights; now they are scheduled as a Wednesday night line-up on NBC and it is working!
Trilogy tie-ins
One of the reasons viewers watch all three shows is because of the tie-ins of the cast. From the onset one Chicago PD detective, Antonio Dawson (Jon Seda) came on as Paramedic Gabriella Dawson's (Monica Raymund) older brother.
Somewhat later, the characters of firefighter Randall "Mouch" McHolland (Christian Stolte) from Fire marries Sgt. Trudy Platt (Amy Morton) from PD.
When Chicago Med came along, Dr. Will Halstead (Nick Gehlfuss) was cast as PD Det. Jay Halstead's (Jesse Lee Soffer) brother. At some point, it was also decided that nurse April Sexton (Yaya DaCosta) had gone to school with Fire's Lt. Kelly Severide (Taylor Kinney) and that her family had taken Kelly in during high school when he was suffering tough times at home.
Seeing one of the characters from one show connect to those on another, and at times showing up on an episode of a sister-show, works in making fans curious enough to watch each of the franchise.
Real-life neighbors
As with the connection in the shows three of the actors actually do share an address in real life. DaCosta, Kinney and Marina Squerciati, who portrays Officer Kim Burgess on Chicago PD, all live in a West Loop renovated former industrial bakery building. The 180-unit condo building is about three miles from the center of the three shows, Cinespace Studios, according to Crain's Chicago Business.
Also important according to the November 2018 article is the proximity of the building, to "Rush University Medical Center, which is used in Chicago Med; the University of Illinois at Chicago police building on Maxwell Street that stands in for the police station on Chicago PD, and the Engine Co. 18 firehouse on Blue Island Avenue that's used as the firehouse on Chicago Fire."
Crossover events
Since all three series have started there have been a few crossover events that engage viewers to watch all three for that week. If you didn't, you wouldn't know the conclusion and if you hadn't, you wouldn't have known how the plot started. Engagingly actors have appeared from one of the shows to the next.
The latest crossover came in October 2018 when a fire broke out in a Chicago high-rise where the Halstead brothers' father lived. During Chicago Fire's episode, Firefighter Stella Kidd (Miranda Rae Mayo) runs out of oxygen and is rushed to Chicago Med where she has emergency surgery on her lung. The senior Halstead also arrives there by ambulance and when his condition worsens, he's declared brain dead dividing the brothers on what to do next. Naturally, Chicago PD investigates the arsonist behind the fire.
'Chicago Justice'
An attempt at adding a fourth component to the Chicagoland series failed. Chicago Justice ran for one season but did not attract the viewers needed to keep it viable, despite the PD lending Seda's character of Antonio Dawson to the show. Antonio returned to Chicago PD following the Justice cancellation.
The Chicago trilogy still going strong
Over the summer some viewers wondered about the fate of the Chicago franchise. No one wants to see their favorite characters fade away by the dismissal of one in the series.
Fans, or Chi-Hards as the Chicago Tribune fondly refers to you, fear not. For now, at least your shows are safe. Ratings are up in part thought to be the result of the full Wednesday night lineup. Each of the shows has received a two-episode extension to the end of this season bringing a 22-episode season for each. Hopefully, this is also a positive sign for the 2019-2020 year and beyond.