'The Good Place': Why the Fork Is It Ending With Season 4?
Holy forking shirt balls, we don't want The Good Place to end. Director, Michael Schur and actors, Kristen Bell and Jameela Jamil agree that it is absolutely depressing to say goodbye to such a unique, well-written series. Simultaneously, everyone recognizes that the show has found a logical stopping point. 
Bell calls the fourth and final season "beautiful and powerful." Read on to find out exactly why The Good Place is coming to an end and how the cast feels about it.
Director Michael Schur was tempted to go beyond 4 seasons of 'The Good Place'
In a long post on Instagram, Schur explained why it felt right to end the show with just four seasons. He also told viewers and fans that they enjoyed making the show and would love for it to continue. 
"After The Good Place was picked up for season 2, the writing staff and I began to map out, as best we could, the trajectory of the show. Given the ideas we wanted to explore, and the pace at which we wanted to present those ideas, I began to feel like four seasons — just over 50 episodes — was the right lifespan. At times over the past few years we've been tempted to go beyond four seasons, but mostly because making this show is a rare, creatively fulfilling joy, and at the end of the day, we don't want to tread water just because the water is so warm and pleasant. As such, the upcoming fourth season will be our last."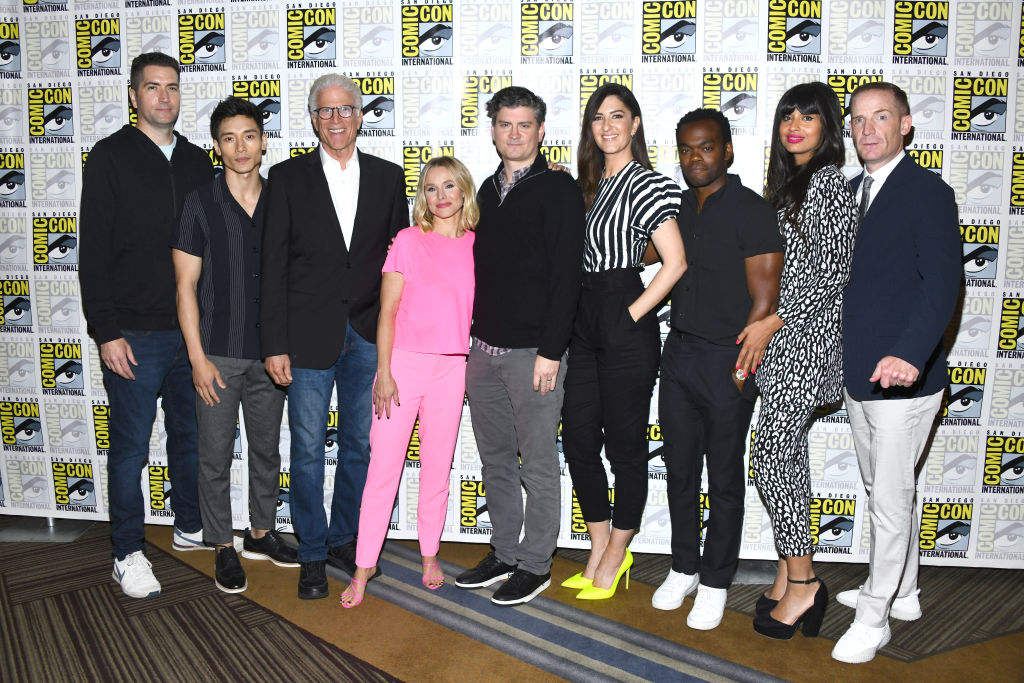 Schur also directed NBC's The Office, which was (and still is) hugely popular, but some feel could have ended well before the 9 seasons that the series ran. Parks and Recreation, another NBC show directed by Schur lasted 7 long seasons. 
It seems as though Schur may be learning from his past shows. Letting The Good Place end on a high note, with a logical conclusion before fans get bored, is a smart move. The cast is certainly saddened by the end of the show, but they support Schur's decision.
Kristen Bell spoke out about why she believes 'The Good Place' is ending
Bell told comicbook.com at the San Diego Comic-Con International 2019 that she believes Michael Schur has chosen a solid stopping point for the show. 
She explained, "He didn't want anyone to get fatigued about this journey, because the statements he's making in this show come from his soul, about what it means to be a good person." 
Bell gave examples of the deep questions Schur is discussing with the show, "'Why is philosophy important?' 'How are we supposed to share earth?' They were important enough to him that he felt like this journey deserved to have a little bit of an end, and he wrote something that I think is so beautiful and powerful, I think."
The cast of 'The Good Place' took to Instagram to voice their feelings about the show concluding
Although the actors agree with Schur's decision, that doesn't mean they are happy about it. Jameela Jamil voiced her thoughts in a lengthy Instagram post after she finished filming her last scenes for her character, Tahini. 
She shared a picture embracing her boyfriend, James Blake, with the caption: "I BAWLED MY F*CKING EYES OUT as they called out "that's a series wrap on Tahani…"
Jamil told fans, "I love this show, and I can't believe how much it changed my life, and helped my activism and allowed me to do and see things I could never have imagined." She shared the same picture and similar sentiments on Twitter the same day.
Bell also took to social media, posting a photo of her and the entire cast at Comic-Con. In the photo, Bell is clearly crying, and she writes "Smiling in a group shot is easy. Openly weeping in a group shot takes confidence, and juuuust sprinkle of crazy."
With the entire cast and even the director so openly distraught over the ending of The Good Place, we know it is going to be a season we won't want to miss. 
The Good Place Season 4 premieres on Thursday, September 26th, 2019 on NBC.