Why 'Thor: Love And Thunder' Director Says It's 'Dangerous' For Fans to Ship Valkyrie And Captain Marvel
Actresses Tessa Thompson and Brie Larson may have shown their support for a Valkyrie and Captain Marvel romance in an upcoming film, but that doesn't mean it's going to happen. Here's why the director of Thor: Love and Thunder warns against being too vocal about your Marvel dreams.
Fans are all aboard this MCU ship
Everyone has their favorite ships in the MCU, both canon and otherwise. Many first shipped Steve Rogers and James Buchanan 'Bucky' Barnes dating back to the first Captain America film. But over the years, plenty of other non-canon ships have cropped up. Enter Valkyrie and Carol Danvers, aka Captain Marvel.
Valkyrie entered the picture with 2017's Thor: Ragnarok. She didn't get a love interest in the film, but Tessa Thompson, who plays the character, said that she is canonically bisexual (this is confirmed with a Marvel Comic). As soon as fans saw Brie Larson in Captain Marvel, they were convinced the two would make a perfect match.
Tessa Thompson and Brie Larson concur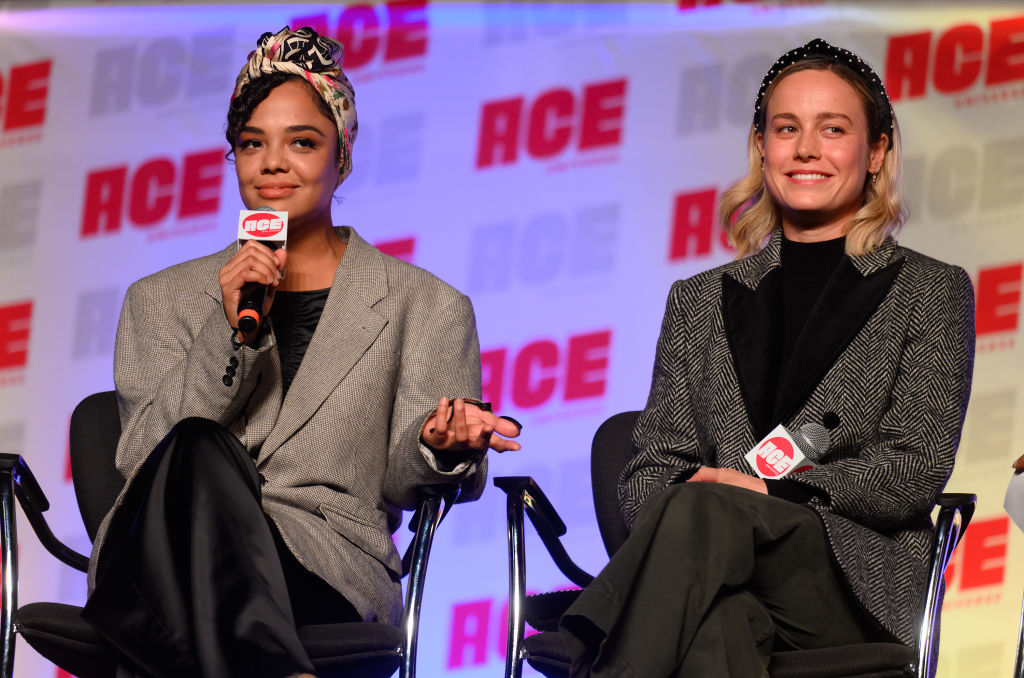 Though Carol's sexuality has not yet been confirmed — she did not have a love interest in either Captain Marvel or Avengers: Endgame –some fans were convinced that she and her best friend, Maria Rambeau, had a relationship that wasn't entirely platonic. Now, she's living in the same time as Valkyrie. And Thompson and Larson are on board with this ship.
The two stars took the stage at ACE Comic-Con in Chicago recently and set the record straight. "We're here to ship, y'all!" said Larson. The moderator asked, "So what you're saying is, Valkryie has found her queen?" "Brie is my real-life queen in general," replied Thompson. "If it becomes canon, that's cool, too."
Valkyrie will next appear in 'Thor: Love and Thunder'
Thompson's remarks echo those she made at San Diego Comic-Con back in July 2019. After much speculation that Thor would get a fourth film after the success of Ragnarok, this was confirmed with the announcement of Thor: Love and Thunder, coming in Nov. 2021.
During the presentation, Thompson said of Valkyrie, "I think first of all…she needs to find her queen. That'll be her first order of business." Fans were delighted to learn that Valkyrie would be getting a female love interest in the upcoming flick.
Director Taika Waititi's thoughts
Of course, you shouldn't hold your breath that Larson will be making an appearance. There's been no word of that, and Ragnarok and Love and Thunder director Taika Waititi doesn't think it's likely to occur.
"The thing is, I think it's dangerous for people to say too much about what they want with Marvel, because then they will tend to go the other way," Waititi told Wired in a recent interview. "You want to listen to the fans to a point. But also you don't want to have a completely fan-made film because then it doesn't feel like there's any point. You want to have people surprised."
What we know about 'Thor: Love and Thunder'
Though a Valkyrie-Captain Marvel romance is probably off the table for Love and Thunder, Waititi did share some of his plans for the upcoming film. Marvel obviously won't allow him to say much, other than that Chris Hemsworth will be back and Waititi will reprise his role as Korg.
"It's going to be bigger and louder and more bombastic," Waititi told Wired of the upcoming flick. "It's only interesting to me if we're doubling down on how nuts Ragnarok was." Sounds like we're in for a very exciting film, regardless of who Valkyrie's love interest may be.