Why Tom Cruise's Latest Comeback Is Sadly Going to Fail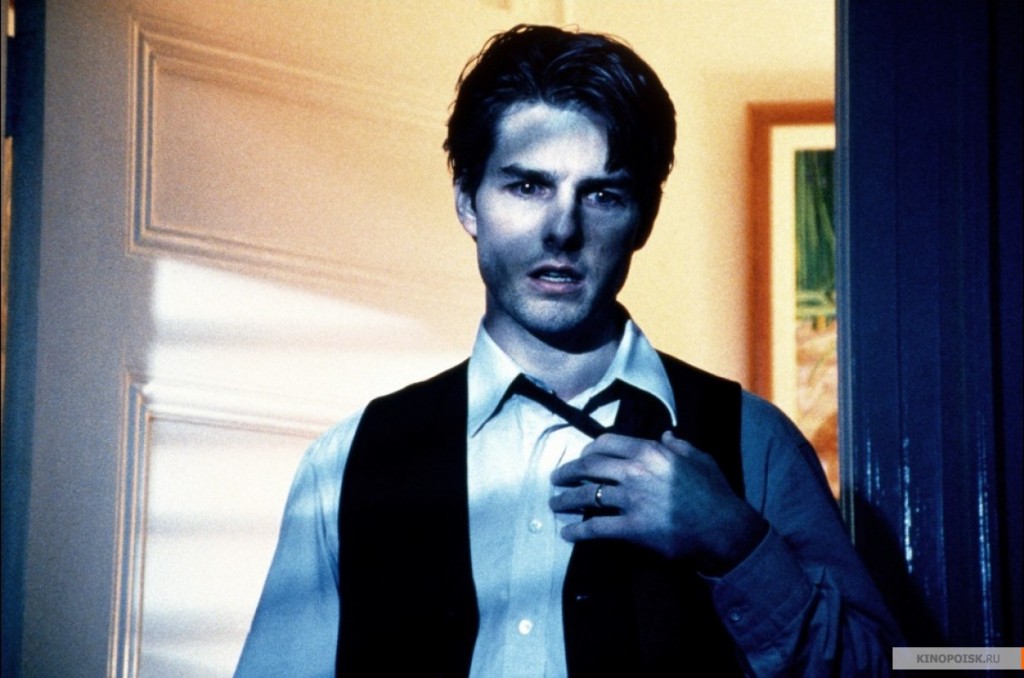 Tom Cruise is one of the highest paid, highest earning, most instantly recognizable stars in the history of American cinema, and he's about to embark on yet another career comeback.
In the '90s, no one was as cool or desirable as Tom Cruise. People now seem to think of him as an action star, which is sort of misleading. Top Gun made Cruise a household name in 1986, but it's not really an action movie; it's more of a romance and proto-bromance drama that happens to have an achingly sweet pop music soundtrack and some fighter jets. The Color of Money, for which Paul Newman finally won an Oscar, also came out in 1986, just three years after Cruise's breakout Risky Business, and it established him as a genuine talent, not just a pretty face and a hot bod. Rain Man was '88, his Oscar nominated turn in Born on the Fourth of July in '89, and A Few Good Men in '92. It wasn't until Interview With the Vampire in '94 that Cruise returned to the forefront of huge, explicitly blockbuster films, though the film is now best remembered for being one of Brad Pitt's first big roles (Cruise and Pitt "won" a Golden Raspberry for Worst Couple.)
It was Brian De Palma's 1996 hit Mission: Impossible that certified Cruise as an action star, and it was his first real action film. The scene in which Cruise slowly drops from the ceiling on a thin cable while sweat licks his face is iconic, as is the Cruise mask that Jon Voight wears, though the rest of the film is largely, and fairly, forgotten. The idea of Cruise as an action star proliferated and swelled even as Cruise went on to do Jerry Maguire (also in 1996) and his two finest performances to date in Eyes Wide Shut and Magnolia in 1999.
Eyes Wide Shut, the final film by Stanley Kubrick, is long, sprawling, hallucinatory and slow, the visual-aural manifestation of a D-minor sustained by a gaggle of violins. Though rumors have long swirled regarding Kubrick's tendency to cut films after their world premiere (he didn't live to see Eyes Wide Shut screen in front of an audience), the film remains a gorgeous if flawed and overlong masterpiece, and that's largely thanks to Cruise, who subverts his own charisma and megawatt superstar prowess and gives a dark, navel-gazing turn as a man who ostensibly has everything but who is corroding away on the inside.
With his then-real life wife Nicole Kidman playing his character's wife, Cruise used his absurd on-screen phosphorescence to lure viewers down a long, enigmatic, labyrinthine tunnel not unlike the one he finds himself wandering alone in the dark. The film is set in New York, though it was filmed on sets in England, and the claustrophobic confines of the fake New York and jarring lack of people on the cut-off streets lends an air of dreamy loneliness to everything. Cruise, walking down the sidewalk with his perfect hair, is on the losing end of a deal he didn't make and all his good looks and popularity — all his money and his "power" — are useless.
Magnolia is similarly vast and sprawling, and Cruise has never been better. Playing a narcissistic, misogynistic pick-up self-help artist who hides behind a muscular veneer of self-esteem while slowly withering away in self-loathing, Cruise again uses his star power and charisma to give a shockingly dark, mean performance that seemingly seeks to undo all of the popularity Cruise had accrued up to that point. He was nominated for a Best Supporting Actor Oscar for his tragic turn, and he deserved it.
Next came Mission: Impossible II, an awful film that made an awful lot of money; Vanilla Sky, hugely ambitious and stunning terrible, earned over $200 million at the box office but baffled moviegoers and left an acrid taste in everyone's mouth; Minority Report, one of Spielberg's great films, a paranoid tale of authoritative abuse and deception that only feels more urgent and relevant with each passing year; Collateral, which saw Cruise playing a villain (arguably) with surprising dexterity; and then the Oprah Couch Jumping incident, which isn't exactly how you remember it.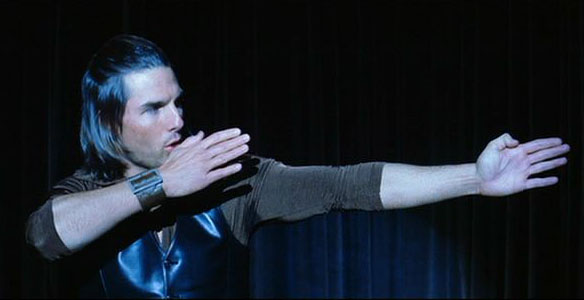 Spielberg's War of the Worlds was "a comeback" for Cruise after his PR nightmare, but the film's massive $590,000 gross — the biggest of Cruise's career — couldn't erase the memory of Cruise on that couch.
Cruise was brilliant in his incognito supporting role as a thick-waisted, hairy, fist-slamming media mogul in Tropic Thunder, for which Cruise wore a prosthetic face, neck, hands, forearms, and stomach, rendering him virtually unrecognizable. The performance was praised and thought to be his comeback. However, Knight and Day, his return to action stardom,  bombed. Brad Bird's hugely fun Mission: Impossible — Ghost Protocol was a hit, and Cruise received praise, but somehow Cruise still wasn't "back." Jack Reacher flopped, Oblivion flopped, and now Cruise has his newest comeback, Edge of Tomorrow.
A sort of science fiction Groundhog's Day, the film, directed by Doug Liman (The Bourne Identity), depicts a solider (Cruise) who relives the same battle, over and over, dying and being reborn and repeating the vicious cycle. The film has, surprisingly, been getting really, really good reviews. Cinema Blend probably put it most bluntly: "This is why we go to the movies."
The reviews have been so good, in fact, that one may be wondering why they haven't heard of the film. The marketing campaign has been weak at best; the trailers haven't had good TV spots and the posters look like Asylum knock-offs of Elysium or Oblivion. There's been very little hype, and that's a shame if the film is as good as critics are saying. The film isn't slated to make very much money, even though it has a fat budget. Liman had a nearly $500 million hit with Mr and Mrs Smith … in 2005. Since then, not much. Co-star Emily Blunt, while a fine actress, isn't a marquee name like Cruise, so it's Cruise's name that carries the burden of publicity, and PR isn't holding up their end of the deal. It looks like Tom Cruise will need another comeback.
More From Wall St Cheat Sheet