Why Vanessa Grimaldi Says She Didn't Want to Get Engaged to Nick Viall on 'The Bachelor'
Vanessa Grimaldi and Nick Viall didn't make it far in their relationship after 'The Bachelor.' Grimaldi is now speaking about why she didn't want to get engaged on the show.
We all know by now it is a hit or miss for couples to remain together after being on The Bachelor franchise. One of the couples that didn't make it that far in their relationship is the pairing of Vanessa Grimaldi and Nick Viall. Now, Grimaldi is setting the record straight on her acceptance of Viall's proposal on the show's 21st season in 2017.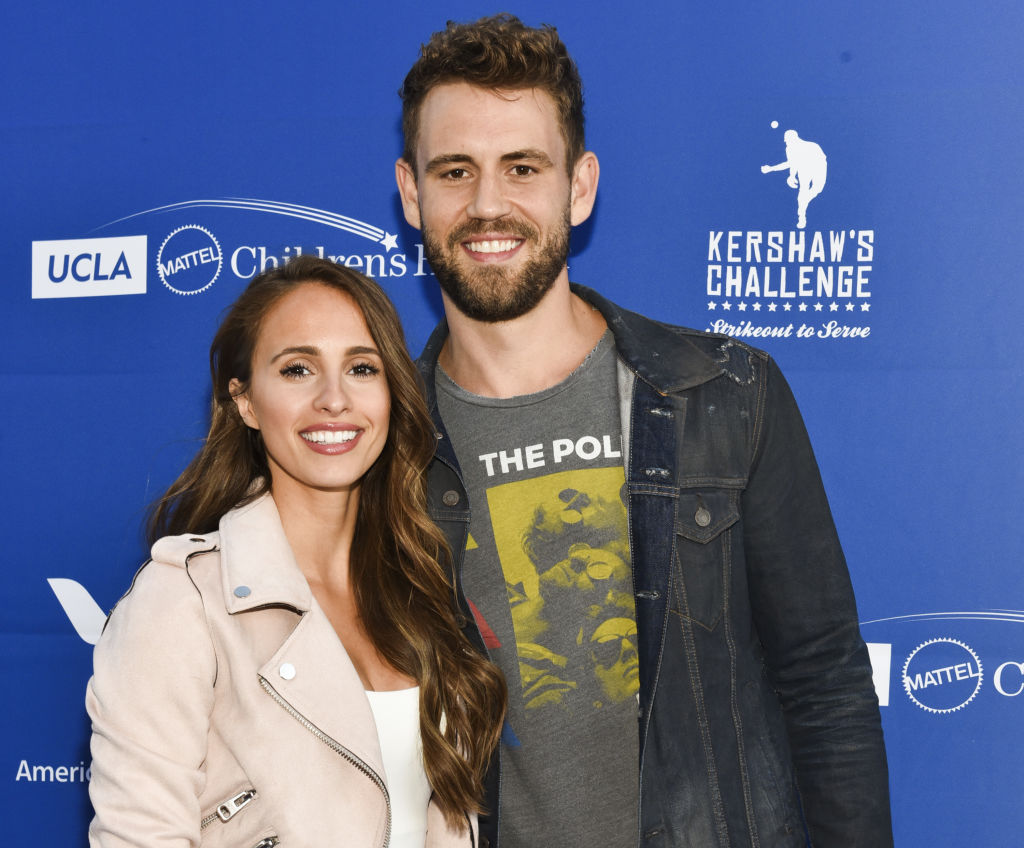 Vanessa Grimaldi was hesitant to accept Nick Viall's proposal
On a recent episode of the podcast Let's Talk About It, Grimaldi explained that she didn't want to accept Viall's proposal on-air and wanted to opt for experiences outside of the show.
"I didn't want to get engaged. They didn't air this. I had a conversation with him, and I said, 'Listen, wouldn't it be better if we just date outside of the show and then get engaged? Because that'd be more meaningful. We'd get to know each other,'" she said.
Grimaldi continued to recall the story, saying, "He said, 'I know to you it could be just a piece of jewelry, but there's so much meaning towards us leaving engaged because there's going to be so much attention. There's going to be so much backlash on us once we're done with the show. At least this is going to hold us so much more. It's going to hold us together. It's going to hold us together more than it's true. 'Cause you have, like, something you're working towards, right?'"
The couple ultimately did not stay together long
Just five months after the finale Grimaldi and Viall had broken up. She admits that the proposal on The Bachelor is what had kept them together that long.
She said, "I think if we weren't engaged, we would've broken up sooner." Since their breakup, rumors have been rampant that Viall could be dating actress Rachel Bilson.
"I'm not really defining any relationships these days. But I do think she has a great Instagram and it is very easy to comment on her content," he said recently when asked about her.
Who is Vanessa Grimaldi dating now?
Grimaldi is now dating Josh Wolfe, a Canadian businessman. It seems like she may have marriage on the mind as well! On her podcast with Jared Haibon and Dean Unglert, Help I Suck at Dating, she explained that she has been throwing hints at Wolfe.
"Just FYI, I've been sending Josh pictures of engagement rings. Is that like a no-no," she said.
Maybe we'll hear wedding bells for Grimaldi and Wolfe soon? Stay tuned!