Why Was Ted Danson Arrested?
Plenty of celebrities have been arrested. From embarrassing drunk driving incidents like Reese Witherspoon's to the more recent college admissions scandals of Lori Loughlin and Felicity Huffman, we've seen our fair share of stars in handcuffs. So why has Ted Danson joined them? Let's find out.
Actor Ted Danson has been arrested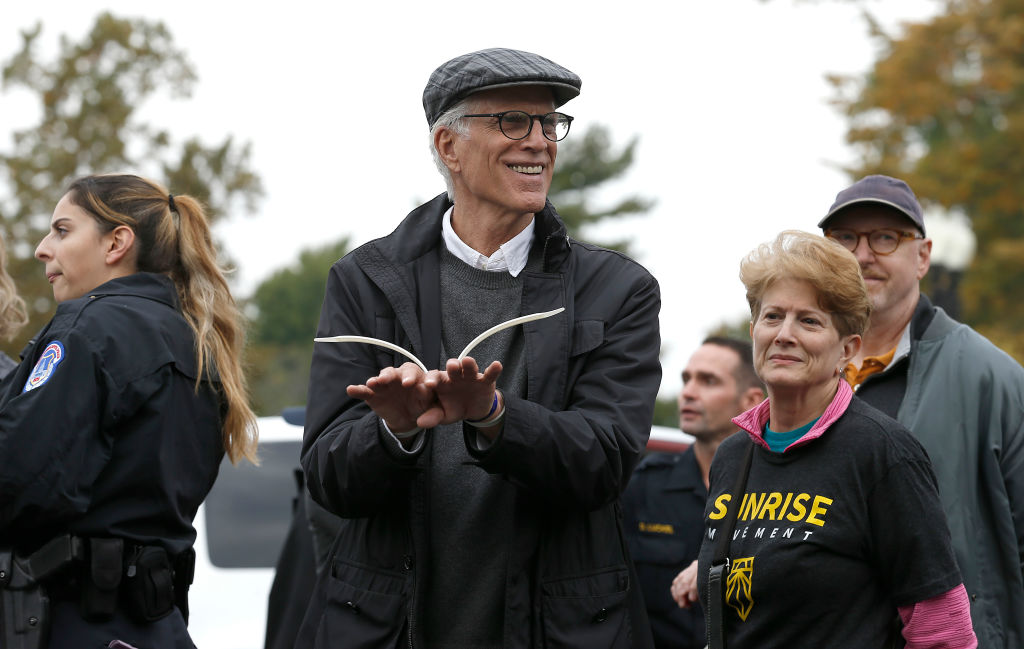 On Friday, Oct. 25, 2019, in Washington D.C., Emmy Award-winning actor Ted Danson was arrested. The star is perhaps best known for starring in the long-running sitcom Cheers. He currently portrays Michael in The Good Place on NBC.
"Today, the United States Capitol Police arrested 32 individuals for unlawfully demonstrating in the intersection of East Capitol and First Streets," Capitol Police communications director Eva Malecki told Variety. They were charged with "crowding, obstructing or incommoding."
He joined Jane Fonda at the capital
Another famous face who was arrested that day? Jane Fonda, who, like Danson, is well known for her activism. She spoke to the crowd with her, saying, "I'm glad you're here. I'm glad we're all here because it's so important that we help people understand that this crisis is urgent."
"I'm Jane Fonda's new trainee," said Danson to the crowd, and was met with laughter and applause. "I'd go anywhere for you, Jane," he told the actress. Danson continued, "I'm an actor, an activist. This is what I've been doing for the last 30 years."
What are 'Fire Drill Fridays'?
So why were they there? For what's being called Fire Drill Fridays. This is the third Friday in a row that Fonda has gone to the Capitol and been arrested during what is now an ongoing climate change protest.
According to the website, the protest, led by Fonda, was inspired by the words of Greta Thunberg, who said, "Our house is on fire," of the world. Fonda has been leading these weekly demonstrations to focus on various issues affection climate change. This week, the focus was on protecting and restoring the oceans.
Danson isn't the first celebrity to join Fonda on Fire Drill Fridays. On Oct. 18, 2019, Sam Waterston, who stars opposite Fonda on Grace and Frankie on Netflix, was in attendance. Like Danson and Fonda, he was arrested.
His 'The Good Place' co-stars support him
Danson is a beloved celebrity, and one of the few with a near-perfect record when it comes to, well, everything. Given the reason, it's safe to say that this arrest won't harm his reputation one bit — in fact, it's likely to endear him to fans even more.
Among those fans? His The Good Place co-star, D'Arcy Carden. Carden portrays Janet, the all-knowing entity who assists him on the show. She took to Twitter to retweet an article about his arrest, adding simply, "I LOVE YOU @TEDDANSON."
Carden also shared a photo of Danson on Instagram, where the actor looks as happy as can be with his hands tied together. Kristen Bell, who plays Eleanor Shellstrop in The Good Place, reposted the image, adding, "There is noone[sic] better than @teddanson." As you can see, his co-stars support him all the way.